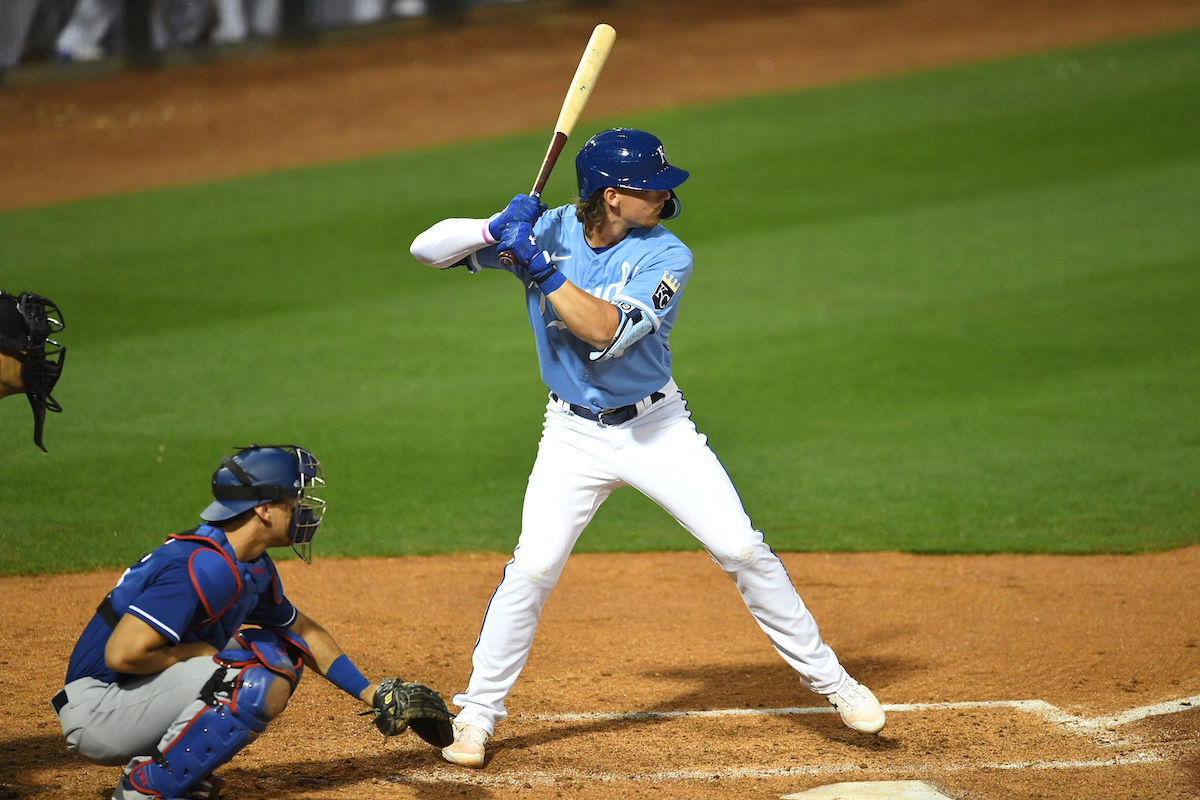 Buying or Selling Hottest MLB Spring Training Hitting Performances: Byron Buxton, Bobby Witt Jr., Keston Hiura, Edward Olivares
Should you buy or sell the hot springs of Byron Buxton, Keston Hiura, Edward Olivares, and Bobby Witt Jr.? We've got you covered with all the answers.
How much can you really learn about the 2022 MLB season from watching spring training?
Well, it depends on the player. Top prospects can validate the perception of their futures, and struggling players can show off revamped arsenals or approaches at the plate — or vice versa. Contributors who seemed close to breaking out can put explosive games on full display. Preexisting issues rearing their ugly heads once again can be disastrous.
But it all has to be taken with a grain of salt because the level of competition and game environment is so different that caution must be exercised. And that's why we're here to help break down four of the many standouts making headlines in both local and national markets, determining the legitimacy of their success once and for all. (Or, really, until games actually start to matter. We're doing the best we can here.)
Plenty of others are thriving. Established stars like Bryce Harper, Paul Goldschmidt, Aaron Judge, Francisco Lindor, and Juan Soto are hitting the cover off the ball, for example. But we're interested in the players who, for one reason or another, aren't sure things, starting with the poster child for injury-ruined seasons in recent years and proceeding alphabetically from there.
Byron Buxton, Minnesota Twins
Age: 28
Spring Training Stats: 30 AB, 7 R, 5 2B, 0 3B, 4 HR, 12 RBI, 1 SB, .433/.485/1.000
Byron Buxton is flat-out crushing the ball in spring, even going yard in back-to-back at-bats with Carlos Correa to make the excitement palpable for fans of the Minnesota Twins. He's mashed everything thrown in his direction, and even some of his singles have been smashed with exit velocities well over 100 mph.
"I don't like hitting behind you because I don't get many chances to drive you in," Correa jokingly complained to Buxton after Friday's 8-7 victory over the Atlanta Braves, per Phil Miller of the Star Tribune.
The talent isn't in question here, so this is an easy buy. Buxton has always been capable of this level of performance, and health has been the only thing holding him back in recent years. Some maladies seemed to legitimize the injury-prone label, and other fluke incidents, such as suffering a boxer's fracture in his left hand after getting hit by a pitch, were just unfortunate accidents that could happen to anyone.
Buxton spent part of the offseason working with a nutritionist to keep inflammation and soreness down and prevent injuries, so he's at least aware of the reputation and working to avoid playing into it. If he does, the sky is the limit for a player who slashed .306/.358/.647 last year and had a 162-game pace of 50 homers and 24 steals.
Verdict: Buying
Keston Hiura, Milwaukee Brewers
Age: 25
Spring Training Stats: 25 AB, 6 R, 3 2B, 0 3B, 4 HR, 10 RBI, 0 SB, .400/.500/1.000
It's no secret that Keston Hiura has plenty of upside, which is why he featured prominently in my list of first base sleepers for your fantasy team. But one line from that writeup should stand out in particular: "Cut bait quickly if the Ks start piling up (17 in 49 plate appearances last spring training), but buy into the cheap upside otherwise."
Well, Hiura has put the power on full display with four homers in his first 25 at-bats. Seven of his 10 hits have gone for extra bases, and the offseason work to reduce his leg kick and eliminate his toe tap at the plate has clearly begun to pay off. He's swinging the bat with more confidence and speed, which could be a byproduct of offseason elbow surgery to alleviate some issues that were ailing him in 2021.
But he's also missing the ball a lot.
Hiura has walked three times and struck out 10 times in those 25 at-bats, giving him an unpalatable 40.0 strikeout percentage that's higher than both the ugly marks he's put up in the big leagues and last year's spring flailing training. The discipline and contact rates still aren't there even if he's producing when his bat does connect with the ball.
Plus, the Milwaukee Brewers still have a crowded depth chart, and his best-case scenario might involve carving out some time in a first base platoon with Rowdy Tellez.
Verdict: Selling
Edward Olivares, Kansas City Royals
Age: 26
Spring Training Stats: 29 AB, 7 R, 5 2B, 1 3B, 3 HR, 10 RBI, 2 SB, .517/.545/1.069
Edward Olivares was never considered a top prospect even within his own organization — the Toronto Blue Jays and San Diego Padres before he was sent to the Kansas City Royals midway through the 2020 season as part of the Trevor Rosenthal deal — and his lack of glovework in the outfield made it seem like the power in his bat would be his primary calling card.
But to this point in his career, he seems more like a Quad-A player than an MLB standout. Yanked up and down during his two years in the big leagues, which has admittedly prevented him from gaining comfort and establishing a rhythm, he's slashed .239/.280/.391 with eight homers and 44 strikeouts to just nine walks over 212 plate appearances. The 80 OPS+ is nothing to write home about, and neither is the -0.7 WAR he's accumulated.
During spring, though, he's toppled the Arizona Diamondbacks on a walk-off double, crushed three homers, legged out a triple, and basically refused to record any outs when he's at the plate. He's even looked more comfortable playing outfield defense, parlaying his athleticism into a number of catches that might otherwise have eluded him in previous years.
On the flip side, his .517 batting average has come with a .480 BABIP, and the quality of opposing pitchers has graded out at 6.9, just under the 7.0 mark that registers as Double-A. He's essentially feasting on lesser matchups, and that does nothing to dispel the notion that he's good enough to mash at the highest levels of the minors but not good enough to do the same against big league pitching.
Verdict: Selling
Bobby Witt Jr., Kansas City Royals
Age: 21
Spring Training Stats: 32 AB, 11 R, 3 2B, 0 3B, 3 HR, 8 RBI, 2 SB, .406/.441/.781
Spoiler: We're buying Bobby Witt Jr.
Bigtime.
He's considered one of the top prospects — if not the top prospect — in baseball for many reasons, including his eye at the plate, his power-speed combination, his hit tool, and, well, basically everything. MLB.com has him beating out Adley Rutschman, Julio Rodriguez, and Spencer Torkelson for the top spot in its prospect rankings, giving him 60 grades for everything but power, which received a straight-up 70.
Often, the term "five-tool prospect" is used hyperbolically, to the point that it sometimes feels like it's lost any and all meaning. But Witt embodies the term, and he's shown exactly why during a scorching spring in which he's knocked the ball well over the fences. Sometimes, it just sounds different when a batter barrels up a pitch, and you need only watch the 21-year-old for proof.
He'll inevitably go through some first-year struggles, but even if it sounds like mere confirmation bias — it might be! — Witt has used the games that don't really count to validate the future superstardom that might be coming even sooner than anyone expected
Verdict: Buying
All stats, unless otherwise indicated, courtesy of MLB.com and Baseball Reference.