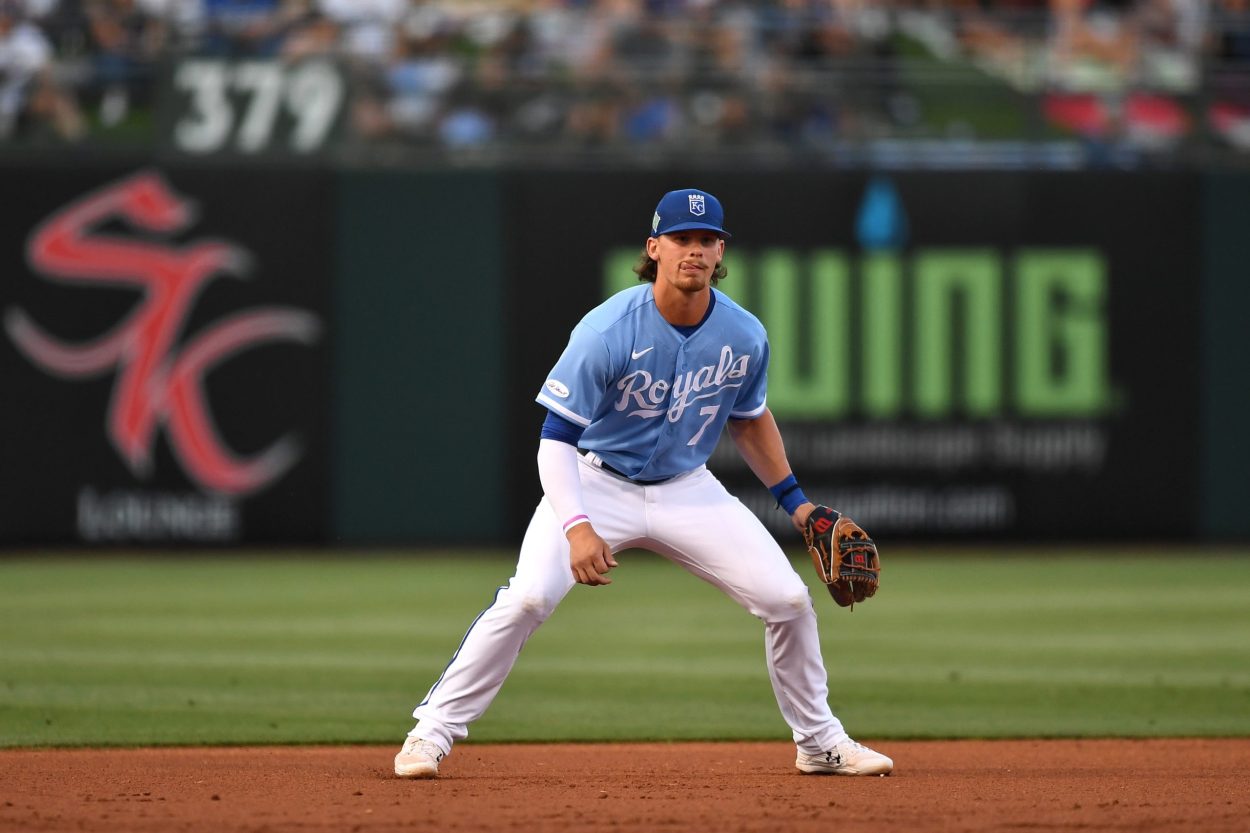 Top MLB Prospect Bobby Witt Jr. Has Arrived, and He's Glorious
The best prospect in Major League Baseball will get immediate reps with the Kansas City Royals. It's an awesome development for the sport.
Unfortunately, service-time manipulation is far more than a fad when it comes to top MLB prospects. Most clubs purposefully keep young players down early in the season as a means of accruing more club control, regardless of whether said youngsters are deemed ready or not. Luckily, the Kansas City Royals will not take that approach with 21-year-old infielder Bobby Witt Jr.
Witt comes into 2022 as MLB.com's top prospect in all of baseball. Whereas last year's No. 1 guy, Tampa Bay Rays shortstop Wander Franco, had to wait until the summer to make his debut, Witt will have the chance to showcase his all-world talents right from the jump.
Bobby Witt Jr. made the Royals' Opening Day roster
Witt's star turn during 2021 MLB Spring Training ultimately wasn't enough to land him a spot on Kansas City's Opening Day roster. That isn't the case this time around.
Jon Heyman of MLB Network reported that baseball's best prospect has cracked the Royals' 2022 Opening Day roster after a stellar spring. Witt slashed .407/.448/.741 in 10 games, showing an advanced hit tool with plenty of pop and good speed on the basepaths.
The Royals will throw the Texan out there and see what he can do. The move is also a solid reflection of the talent in their pipeline.
Kansas City will trot out guys with tremendous upside. Shortstop Adalberto Mondesi has rarely been healthy in recent seasons, but he's one of the most dynamic players in the sport when he's on the diamond. Outfielder Edward Olivares might not start in the outfield, but he has major pop. The same is true of Kyle Isbel. Brady Singer, Kris Bubic, and Daniel Lynch are all guys to keep tabs on in the rotation, with right-hander Jackson Kowar probably getting another look.
The Royals also have quality veterans. All-Star catcher Salvador Perez followed up an $82 million contract by clubbing 48 homers and driving in 121 runs. Andrew Benintendi had a decent bounceback in 2021, with two-time hit leader and speedster Whit Merrifield also patrolling the outfield. Kansas City brought Zack Greinke home to anchor the pitching staff.
The Royals could sneak up on some people in a somewhat shallow American League Central, especially if Witt realizes his superstar potential.
All eyes will be on Witt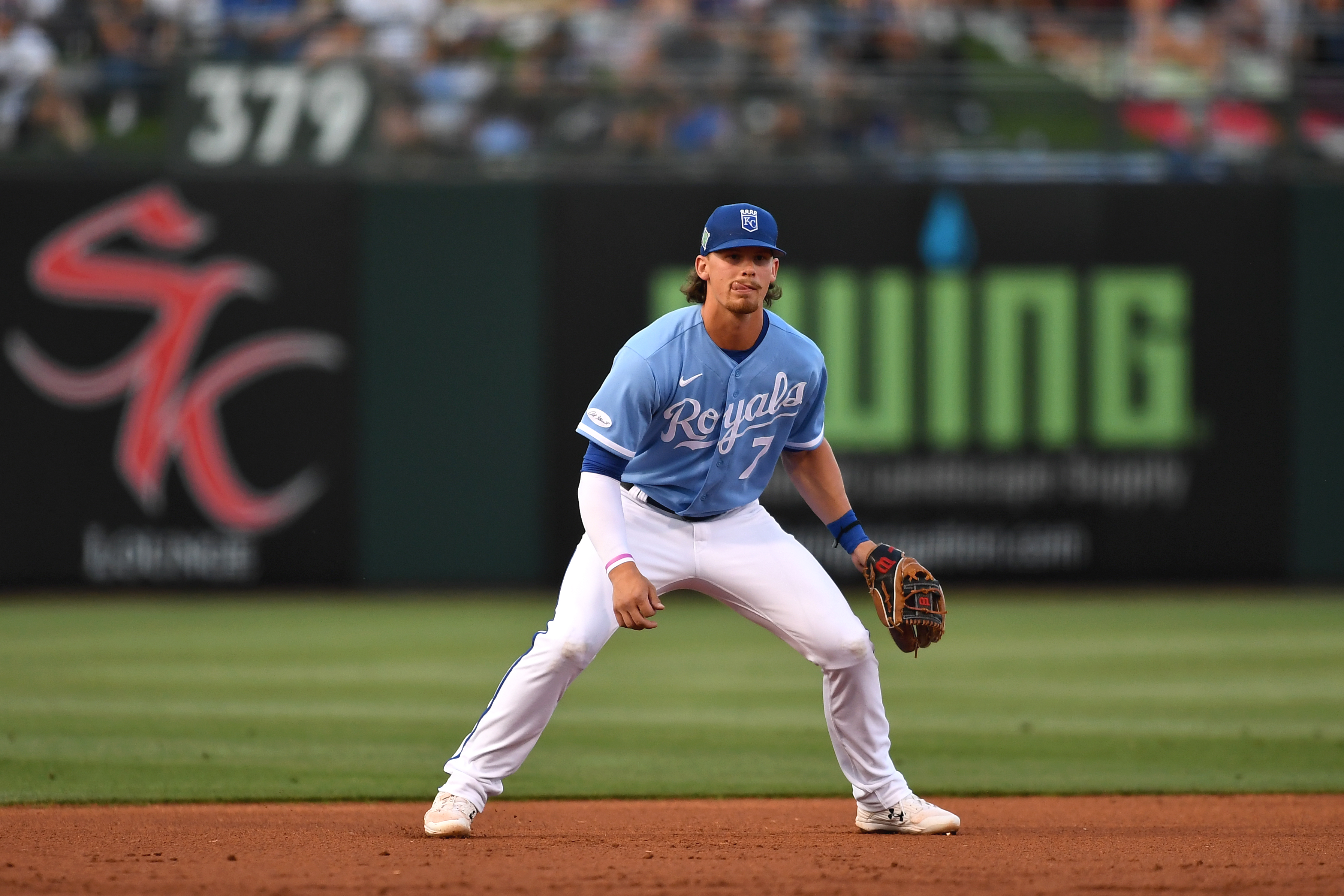 Bobby Witt Jr. should immediately garner the attention of the masses, much as Wander Franco did last June.
Witt is a legitimate five-tool athlete. FanGraphs gave him a 60 grade in raw power and speed, which speaks volumes about his athleticism and upside. There's a chance he becomes a plus third baseman (where he'll start the season), though it could take time to adjust to the hot corner.
The Royals star excelled in the minors last season. He slashed .290/.361/.576 with 33 homers and 29 steals in 124 games, split almost evenly between Double-A and Triple-A ball. The momentum from 2021 has carried into the spring, with Witt finally getting a chance in The Show.
It would be a tad unfair to expect instant success from Witt. Young players need time to work out the kinks and overcome swing-and-miss pitfalls.
Franco hit .239 with a .699 OPS in his first 29 games before embarking on his historic on-base streak. Seattle Mariners youngster Jarred Kelenic hardly saw the ball early in his MLB career before posting an .854 OPS in his final 29 games.
Witt might not dazzle out of the gates. But he has the tools and physical build to become a superstar. The fact that the Royals are willing to see what he can do in April should excite baseball fans.
Actually, top prospects making Opening Day rosters is something of a trend this year.
Other elite MLB prospects also made Opening Day rosters
Bobby Witt Jr. won't be the only young star taking the field on Opening Day. Several franchises have decided to let their top prospects get instant reps.
The Detroit Tigers included slugger and 2020 No. 1 overall pick Spencer Torkelson on their Opening Day roster. Outfielder Riley Greene likely would have joined him if not for a foot fracture.
Tall right-hander Hunter Greene and his 104 mph fastball will join the Reds' rotation from the jump in Cincinnati. Meanwhile, magnetic Seattle Mariners outfielder Julio Rodriguez could get the call, particularly with 2020 AL Rookie of the Year Kyle Lewis out due to injury.
Teams around baseball are showing less interest in gaming the system and allowing players in the pipeline to strut their stuff. It's a big plus for a sport that constantly needs young, star-caliber talents.
Witt has the chance to be the best of the bunch. Keep tabs on the Royals infielder.
Stats courtesy of Baseball Reference unless otherwise noted.