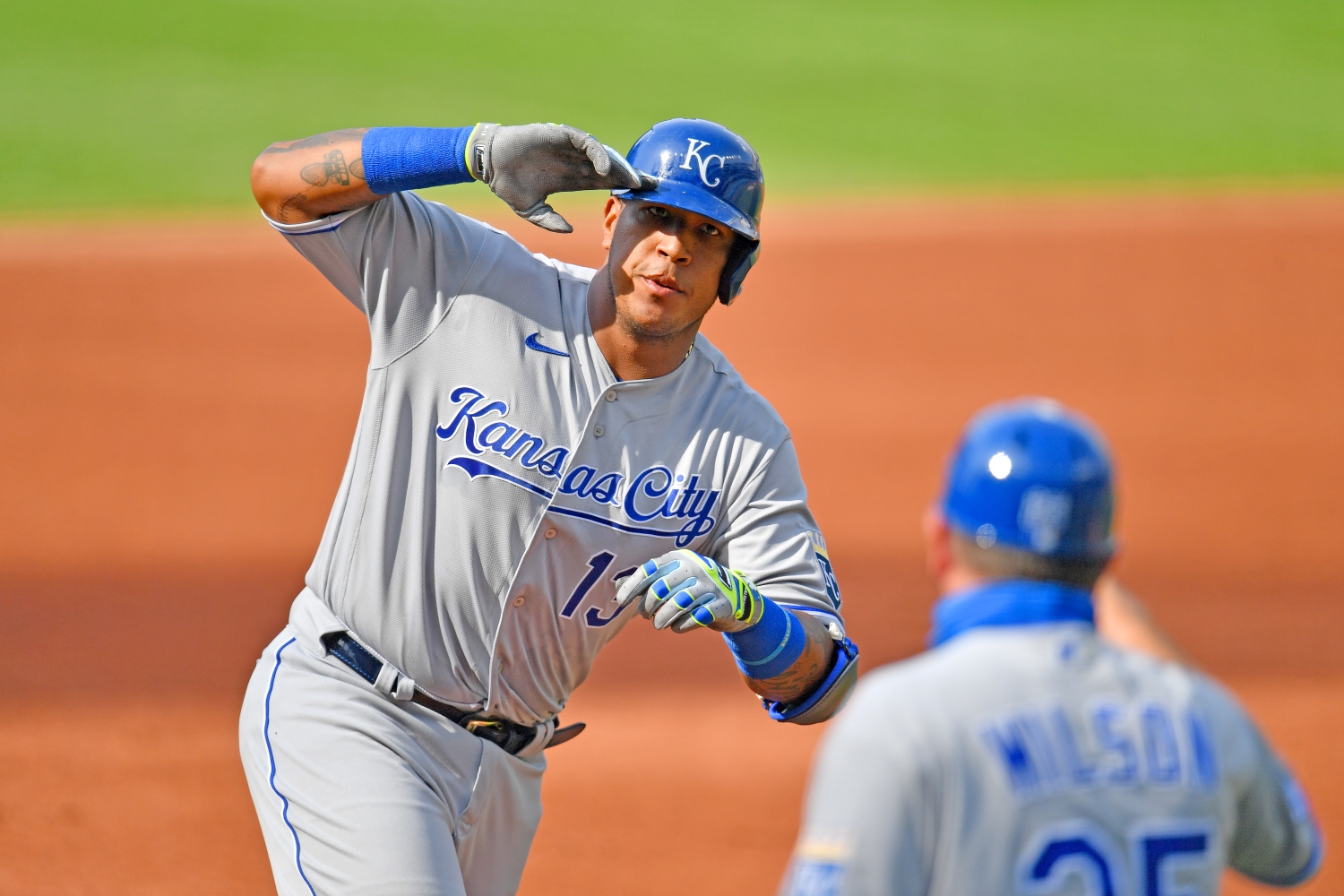 Former World Series MVP Salvador Perez Went From Using Women's Perfume to Securing a Record-Setting $82 Million Payday
Kansas City Royals catcher and former World Series MVP Salvador Perez just secured an $82 million payday a few years after he revealed his affinity for wearing women's perfume on gamedays.
MLB players can be highly superstitious. After all, many go through elaborate routines before, during, and after games to get their minds and bodies in sync. Luckily for Kansas City Royals catcher Salvador Perez, one of the secrets to his success requires little physical effort.
But whether women's perfume has actually helped fuel his fantastic career or not, the former World Series MVP can certainly afford to buy as many bottles as he wants. Because after establishing a reputation as one of the most productive and respected players in franchise history, Perez recently secured a record-setting payday from the Royals.
Salvador Perez has never shied away about his affinity for women's perfume
Coming off their first winning season since 2003, the Royals entered 2014 as a team with legitimate World Series aspirations. And due in large part to Salvador Perez's bat, glove, and arm, Kansas City won the American League pennant.
While his natural skills shined through, the young star also relied on some outside help, too.
As the Royals entered the final stages of the regular season, Perez told a Kansas City TV station about a hidden key to his success. But anyone who stood in his vicinity that year probably wouldn't have described it as a secret.
The talented catcher revealed his habit of wearing women's perfume during games.
"I learned that from [teammate Alcides Escobar], because every time he plays, he uses Victoria's Secret," Perez said, per ESPN. "So one day I said, 'Alcides, let me try it.' In the first inning, the umpire says, 'You smell good, Salvy.' I said, 'Thank you.' And that game, I hit a ball and everything, so I started to use it every day. Now I use Victoria's Secret every time."
The former World Series MVP just secured a record-setting payday
A year after losing to the San Francisco Giants in a thrilling seven-game series, the Royals finally achieved championship glory. And of course, Salvador Perez continued relying on Victoria's Secret scents for good luck.
Although Kansas City has fallen off dramatically in recent years, the team's longtime catcher hasn't stopped producing at the plate or behind it.
From 2015-18, Perez totaled 97 home runs and 294 RBI while earning Gold Glove honors three times. And after missing the 2019 season with an elbow injury, he won AL Comeback Player of the Year honors in 2020.
Now, the six-time All-Star can call himself the highest-paid player in franchise history.
On March 21, the Royals locked up the former World Series MVP to a four-year, $82 million contract extension. Perez will make $18 million in 2022, $20 million in 2023 and 2024, and $22 million in 2025. The deal also contains a club option for 2026.
By securing an $82 million payday, he surpassed Alex Gordon's previous franchise record of $72 million.
Can the Royals take a step forward after a busy offseason?
With Salvador Perez officially under contract for at least another half-decade, the Royals just ensured their star catcher won't leave Kansas City anytime soon. But will the veteran secure a second World Series ring before his career ends?
The Royals have steadily declined since winning a title in 2015. However, after posting a combined record of 117-207 from 2018-19, they did show slight improvement by going 26-34 during an abbreviated 2020 season.
Luckily for Royals fans, the team took a more aggressive path to upgrading the roster this offseason.
Veteran starting pitcher Mike Minor signed a two-year, $18 million contract to fill a spot in the rotation. Power-hitting first baseman Carlos Santana will try to rediscover his vintage form after agreeing to a two-year, $17 million deal to come to Kansas City.
Andrew Benintendi also has a chance for a fresh start following an up-and-down tenure with the Boston Red Sox. If the 26-year-old outfielder can harness his wealth of physical tools, the Royals will have no regrets about trading for the former collegiate star.
It may not all come together this year, but the 2015 World Series champions did well to retain a key part of their past as they continue to build toward a brighter future.
All statistics courtesy of Baseball Reference. All contract data courtesy of Spotrac.