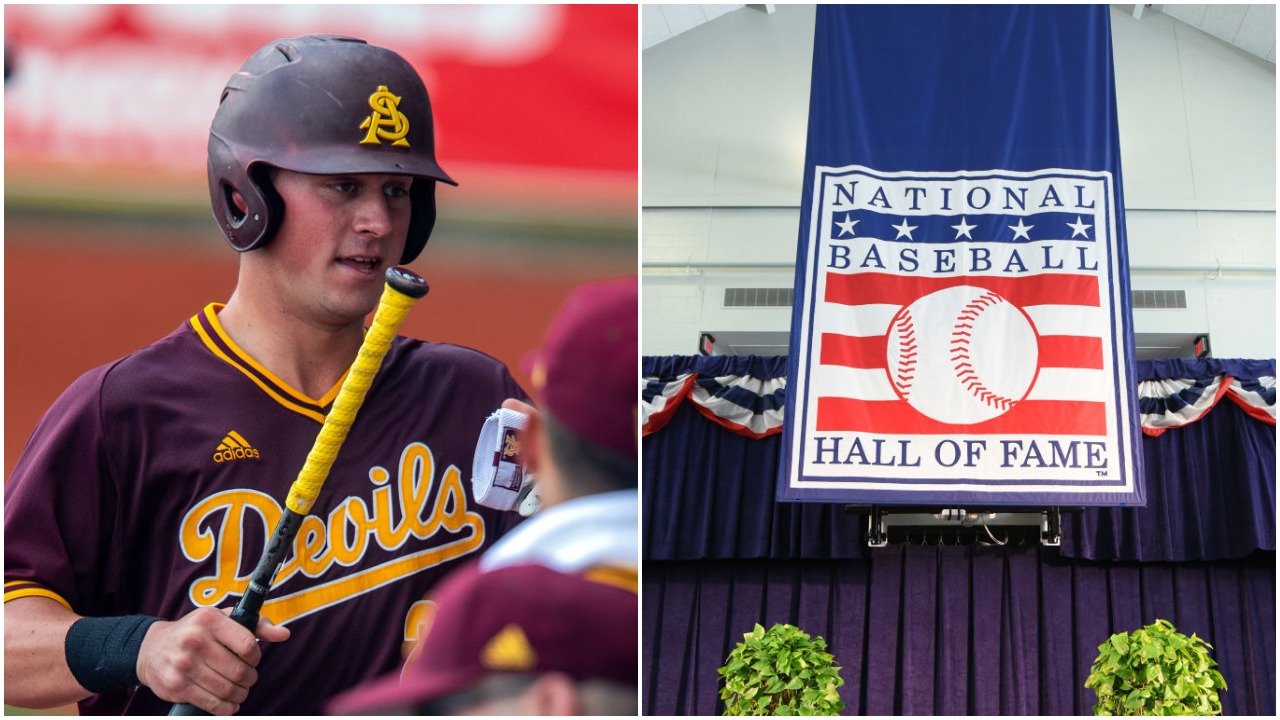 MLB Draft: Spencer Torkelson Just Made History but the Hall of Fame Hasn't Been Kind to No. 1 Picks
Can Spencer Torkelson, the No. 1 pick in the 2020 MLB draft, become one of the select few top picks to make it to the Baseball Hall of Fame?
The 2020 MLB draft is now underway and, as expected, the Detroit Tigers have chosen Arizona State first baseman Spencer Torkelson with the No. 1 overall pick. As they should have. Undrafted out of Casa Grande (CA) High School, where he hit .430 in 110 varsity games, Torkelson took his talents to Tempe and thrived in three seasons (well, not a full three as COVID-19 shut down this year's college baseball season) with the Sun Devils. He was a two-time unanimous All-American and hit 54 home runs (sadly three short of breaking the all-time ASU record), 25 of those coming in his freshman season in 2018, breaking the Pac-12 freshman record and also breaking Barry Bonds' school record for most long balls by a freshman.
There are certainly plenty of benefits to being the top pick, one certainly being the massive signing bonus that comes along with it. The No. 1 slot has been kind to some and not so kind to others in the last 55 years. The spot has produced six MVPs and 24 MLB All-Stars and Spencer Torkelson certainly has the potential to be both at some point in his career. But there have also been four No. 1 picks that never played a single game at the major-league level, not including the top picks from the last few years that are still making their way through the minor leagues. And the Baseball Hall of Fame certainly isn't overly receptive to No. 1 picks.
The Baseball Hall of Fame hasn't been kind to No. 1 overall picks
As far as reaching the Hall of Fame is concerned, history is certainly not on Spencer Torkelson's side. Since the first-year MLB draft began in 1965, only three No. 1 overall picks have been immortalized in Cooperstown, although this historic trio could have some company down the line when the likes of Joe Mauer, Bryce Harper, and Gerrit Cole become eligible. Something tells me that Carlos Correa is going to have a tough time getting votes once he retires given the Houston Astros cheating scandal.
But, for now, it's just three.
Ken Griffey Jr. became the first No. 1 overall MLB draft pick to be inducted into the Hall of Fame
Drafted first overall in the 1987 MLB draft, Ken Griffey Jr. became one of the best players the game of baseball has ever seen. With arguably the sweetest swing in the game's history and an amazing glove to boot, Griffey was a 13-time MLB All-Star, a 10-time Gold Glove Award winner, a seven-time Silver Slugger Award winner, a one-time AL MVP, and hit 630 home runs over 22 seasons with the Mariners, Reds, and White Sox, good for seventh on the all-time list. He was inducted into the Baseball Hall of Fame in 2016, becoming the first No. 1 pick to make it to Cooperstown.
Chipper Jones was the No. 1 pick in the 1990 MLB draft and made it to Cooperstown in 2018
Drafted first overall in the 1990 MLB draft by Atlanta, Chipper Jones played his entire 19-year career with the Braves. He was an eight-time All-Star, helped lead the team to a World Series victory in 1995, won two Silver Slugger Awards, was the NL MVP in 1999, and won the batting title in 2008. His 468 home runs are good for third on Atlanta's all-time list, behind only fellow Hall of Famers Hank Aaron and Eddie Mathews. Jones was inducted to the Hall of Fame in 2018.
Harold Baines became the third No. 1 overall pick to be inducted in 2019
It took Harold Baines close to two decades to make it to the Hall of Fame but the first overall pick in the 1977 MLB draft finally got to Cooperstown in 2019. In 22 seasons with five teams, 14 of which came with the Chicago White Sox, Baines was a six-time All-Star and also won a Silver Slugger Award in 1989. He had a lifetime batting average of .289, adding 384 home runs and 1,628 runs batted in.
Can Spencer Torkelson join Ken Griffey Jr., Chipper Jones, and Harold Baines in the National Baseball Hall of Fame someday? Perhaps. After all, he just made history by becoming the only collegiate first baseman to ever be selected with the No. 1 overall pick in the MLB draft and also the first right-handed first baseman to be taken in the top spot. The only other pure first baseman to be selected with the top pick was Adrian Gonzalez by the Florida Marlins in 2000 and he was a lefty and never played college ball.
On paper, Spencer Torkelson has a bright future. But as it goes with every other player that will be taken over the next two days, we'll just have to wait and see how it goes.
*All stats courtesy of Baseball-Reference