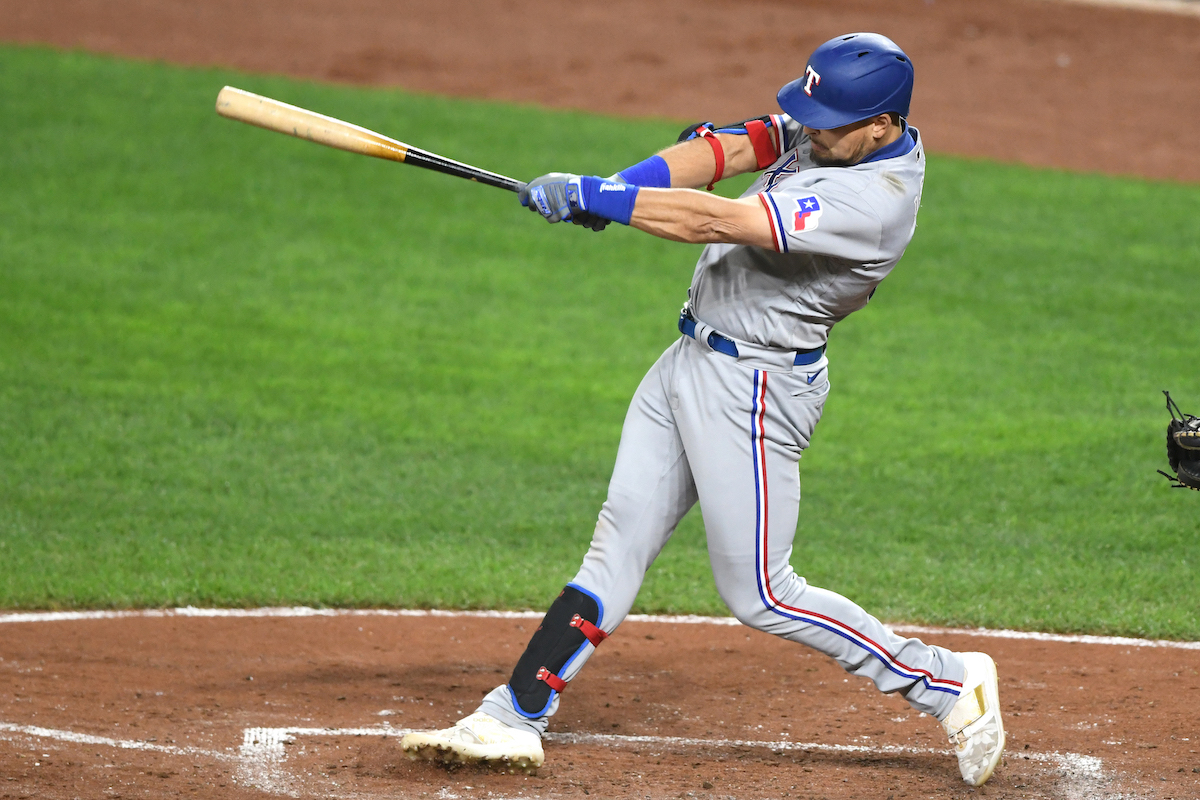 Fantasy Baseball Sleepers: 3 Late-Round First Basemen With Huge Breakout Potential
If you're looking for sleepers in your fantasy baseball draft, target one of these three overlooked first basemen.
Remember when MLB was brimming over with high-quality first basemen who could buoy your fantasy roster even if you failed to land one of the true standouts at the position? Well, so much for that.
If you're able to land Freddie Freeman, who should feature prominently in a ridiculously loaded Los Angeles Dodgers lineup, more power to you. The same is true if young Toronto Blue Jays superstar Vladimir Guerrero Jr. ends up in your lineup. No one should complain about rostering Matt Olson (Freeman's replacement in Atlanta), Paul Goldschmidt, Pete Alonso, or Jose Abreu, either.
But the positional drop-off comes hard and fast, and you could be out of luck quickly as you seek out a first baseman who provides the power you so desperately need at that roster spot.
Enter the sleepers.
These late-round options might not do enough to win you a title on their own, but they have a serious chance to provide a huge return on a minimal investment since they all have average draft positions (ADP) outside of the top 200.
We're not looking for safer picks such as Luke Voit or Miguel Sano after No. 200, nor are we featuring the obvious young upside plays such as Spencer Torkelson and Andrew Vaughn. These three players are flying even further beneath the radar but could exceed expectations rather dramatically.
Bobby Dalbec, Boston Red Sox
ADP: 259.2
Age: 26
2021 Stats: 453 PA, 50 R, 21 2B, 5 3B, 25 HR, 78 RBI, 2 SB, .240/.298/.494
Bobby Dalbec has a free-swinging approach, which means a true breakout would hinge on two factors: making good contact when he does put the bat on the ball and swinging at the right pitches. Those "right pitches" don't necessarily have to be over the heart of the plate, but they do have to be offerings he can get some wood on.
The average MLB batter last season had a chase rate of 27.7% and made contact on 55.8% of those swings. Dalbec sat at 28.4 and 43.3%, respectively, in 2021, but he trended up in the second metric throughout the latter portion of the campaign, to the point that he was routinely putting the ball in play with his aggressive approach.
When he did make contact, he put a hurting on the ball. Dalbec sat in the 91st percentile for average exit velocity, the 98th percentile for barrel percentage, the 85th percentile for hard-hit percentage, and the 87th percentage for expected slugging percentage.
Does he whiff a lot, strike out a lot, and rarely walk? Sure. Is he going to help you out in the batting average department? Probably not. But the power is real and only improving, and he made strides in each and every one of those problematic departments during the season's second half.
From the beginning of August through the end of the regular season, he hit 14 homers while slashing .288/.369/.684. That put him on a 162-game pace for 47 bombs, which is obviously unsustainable but speaks to the upside with this improving approach.
If he's learned how to hit fastballs in the upper 90s and maintains the aggressive approach that yields more contact, he'll put to bed any conversations about Triston Casas taking his job.
Keston Hiura, Milwaukee Brewers
ADP: 362.7
Age: 25
2021 Stats: 197 PA, 16 R, 9 2B, 1 3B, 4 HR, 19 RBI, 3 SB, .168/.256/.301
You can basically land Keston Hiura for free right now, which makes sense when he'll likely begin the season either backing up Rowdy Tellez or trying to get in more work in the minors. But considering his pedigree, his incredible debut back in 2019, and the enduring upside he's trying to tease out with significant changes to his swing, he provides as much upside as anyone you'll find in the final round of a draft.
Lest we forget, Hiura debuted with the Milwaukee Brewers in 2019 when he launched 19 homers in 84 games and excelled as a power source whose legs could carry him down the basepaths expediently. He slashed .303/.368/.570 and looked like a future star at second base.
The position switch to first base didn't come until 2021, and at that point, Hiura's stock had already fallen significantly. His struggles to make consistent contact left him vulnerable to constant strikeouts and an inundation of the breaking balls he couldn't hit, and he bottomed out last season — between stints in the minors — at .168/.256/.301 with 77 strikeouts in 197 plate appearances for a pathetic 39.1 strikeout percentage.
But the power should still be laying dormant in his 6-foot-0, 202-pound frame, allowing him to fall rather definitively into the "post-hype sleeper" category.
Hiura has spent the offseason working to dial down the high leg kick that was a trademark of his early-career swing and could be the source of the timing issues that prevented him from following up on his extreme success as a rookie.
Spring training is spring training is spring training, but any positive results are notable for the 25-year-old after he thrived at every level in 2019 and struggled at every level in 2021. Highlighted by the long-ball off Chris Paddack seen above, Hiura has two hits in his first four at-bats, has drawn a walk, and has only struck out once. That last number is even more significant than the homer because without consistent contact, he won't receive consistent at-bats.
Cut bait quickly if the Ks start piling up (17 in 49 plate appearances last spring training), but buy into the cheap upside otherwise.
Nathaniel Lowe, Texas Rangers
ADP: 255.8
Age: 26
2021 Stats: 642 PA, 75 R, 24 2B, 3 3B, 18 HR, 72 RBI, 8 SB, .264/.357/.415
As opposed to the free-swingers joining him here, Nathanial Lowe — note: not Nate — employs a more cautious approach. He's got a careful eye at the plate and is one of the best in baseball at working the count to his advantage, drawing free passes on 12.5% of his plate appearances to sit in the 90th percentile during the 2021 season.
If you're in a league that uses on-base percentage as one of its categories, he's likely already on your radar, as he should be. But even in standard formats, Lowe should be heavily considered in the later rounds because of the room for growth.
That's not just a reference to hitting behind Marcus Semien and Corey Seager in what should be a vastly improved Texas Rangers offense. Nor is it playing off the fact that he was even more disciplined in the minor leagues and chased the right pitches when he did choose to swing.
No, his spot here is all about his batted-ball profile and the potential improvements it offers.
Lowe struggled to find the barrel in 2021, often coming over the top of the pitch and driving it straight into the ground. A skyrocketing ground-ball percentage left him at a whopping 54.5%, well above the marks of 41.3 and 46.2% he'd posted with the Tampa Bay Rays in 2019 and 2020, respectively.
He struggled against sinkers in particular, which explains why 17.2% of the pitches thrown to him fell into that category. Tellingly, Lowe had a positive run value against every other pitch type he faced and provided some of the most value against four-seamers throughout MLB (mostly a product of the inordinate volume of such pitches he faced since he was slightly above-average and struggled to generate power against them).
Donnie Ecker and Tim Hyers, both of whom were added this offseason as hitting coaches and enjoy sterling reputations, should be making that one of the main focuses this offseason. Putting the ball in the air and optimizing his launch angle would go a long way in upping his power output.
All stats, unless otherwise indicated, courtesy of Baseball Reference, Fangraphs, and Baseball Savant. ADP data courtesy of FantasyPros.