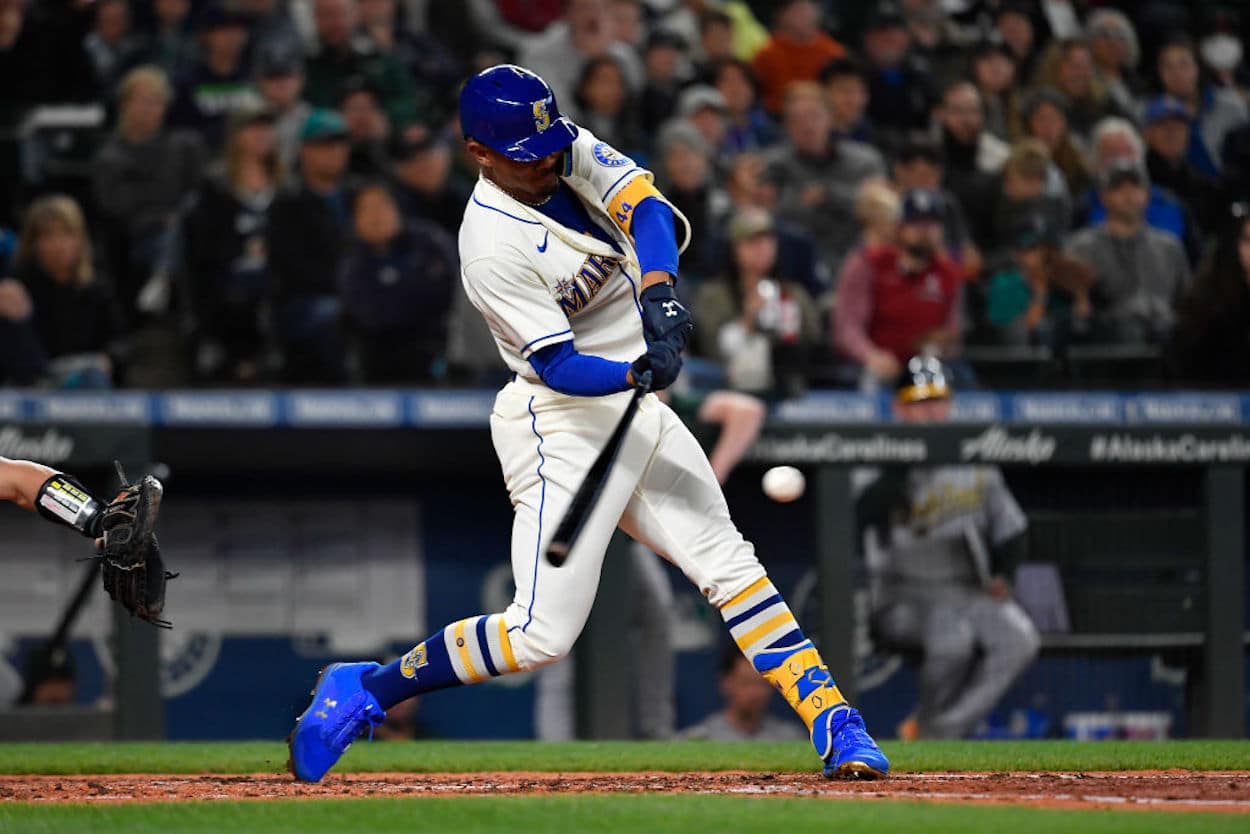 Julio Rodríguez Is the Rare MLB Prospect Who's Exceeding the Hype
If you're looking for the next must-watch baseball player, Seattle Mariners outfielder Julio Rodriguez should be at the top of your list.
Being a Major League Baseball player isn't easy. The transition from the minor leagues to the Show can come with a steep learning curve. Despite that, we've watched several rookies put together dominant performances over the past few years. Seattle Mariners outfielder Julio Rodríguez is just the latest player to do it. 
This is also the perfect example of how quickly things can change. Entering 2022, Rodríguez hadn't played professional baseball beyond Double-A. However, he effectively torched opposing pitching at every level since 2018 (including a .362/.461/.546 line with a 173 Weighted Runs Created Plus [wRC+] through 206 plate appearances in Double-A). The Mariners decided to have him skip Triple-A to see if he could hack it in the big leagues, and the results are pointing to yes. 
It didn't take Rodríguez long to get acclimated to life with the Seattle Mariners
There was indeed an adjustment period for the 21-year-old upon landing in Seattle. In the first 12 games of his MLB career (48 plate appearances), he slashed just .136/.208/.159 with a 45.8% strikeout rate, all of which led to a 12 wRC+. That wRC+ number was the 12th-worst in baseball among qualified hitters. It wouldn't have been unreasonable to think he'd be sent down to Triple-A if his bat didn't show any signs of life soon. 
Well, it did. Since April 22 (295 plate appearances), Rodríguez is slashing .297/.356/.535 with 15 home runs, 17 steals, 41 RBI, and 45 runs scored. This performance has led to a 157 wRC+. Oh, and his strikeout rate has dropped all the way down to 24.4% during this time. The turnaround has been incredible, and the pace he's been on since that point would lead to an extremely valuable performance if it were projected over a full season:
Even with that slow start in his first 12 games, Rodríguez's 15 homers and 21 stolen bases gives him a solid chance at producing a 30-30 season. That'd be one way to make a first impression.
Julio Rodríguez did this faster than Ellis Burks and Barry Bonds
The Mariners were in San Diego to face the Padres on July 4. No postgame fireworks were needed, thanks to the absolute tank that Rodríguez launched to the top of the Metal Supply Co. building at Petco Park, which you can see above. 
That was his 15th home run of the season in his 81st game played. At the time of this blast, he had already swiped 20 bases. As The Score noted on Twitter, no rookie in MLB history has reached 15-plus homers and 20-plus stolen bases in fewer games than Rodríguez. The previous record-holder was Ellis Burks, who did it in 82 games. Barry Bonds was right behind him at 90 games. 
Similar to what we talked discussed in regard to Yordan Álvarez and the company he's keeping as a 25-year-old, this is an incredible feat by the Mariners outfielder. 
For what it's worth, Burks finished with 20 homers and 27 steals through 606 plate appearances in 1987 for the Boston Red Sox (133 games played). As for Bonds, he slugged 16 dingers with 36 steals through 484 plate appearances in 1986 (113 games played). If Rodríguez keeps some semblance of his current pace going, he could easily bypass both of these dudes. 
Where could Rodríguez's performance eventually rank all-time?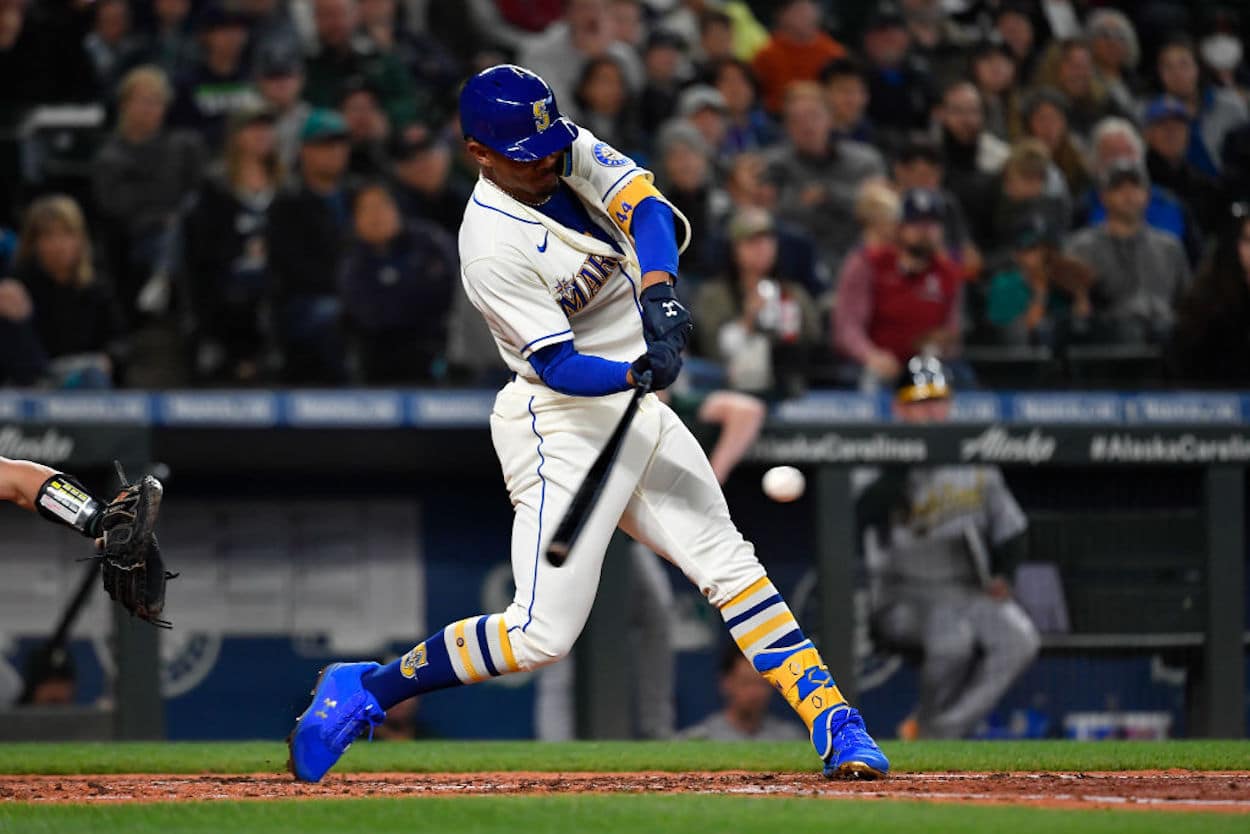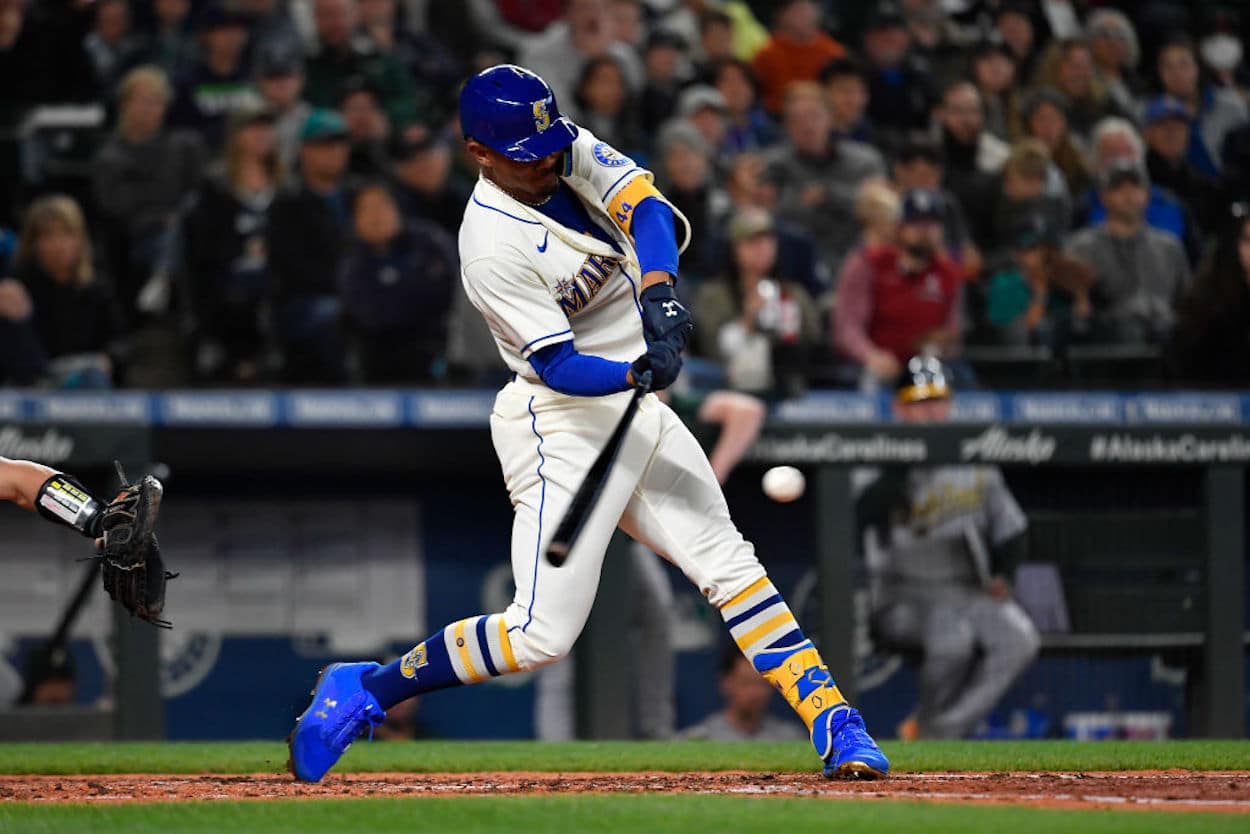 For someone who is just dismantling their competition at every opportunity, thinking about the historical context is the next logical step. In Rodríguez's case, it makes what he's doing even more impressive – especially if he can keep it going. 
Looking at rookie-year performances since 1900, there have been just 32 players who have slugged 30 or more home runs. When we add speed into the equation, though, this group shrinks. Only nine of those players paired all those home runs with 10 or more stolen bases. 
And within that group, only three have swiped 20-plus bases in their rookie season. These players include Nomar Garciaparra in 1997, Chris Young in 2007, and Mike Trout in 2012. To make the final distinction, Trout is the only rookie in MLB history to post a 30-30 season since 1900. While he finished second to Miguel Cabrera in AL MVP Award voting that year, Trout still slugged 30 dingers and swiped 49 bags. 
The Los Angeles Angels outfielder also accrued 10.1 FanGraphs WAR (fWAR) in the process, which is the highest of any rookie ever. Are we surprised? No, it's Mike Trout – when we talk about the best of anything, he's usually included in some way. Regarding Rodríguez and the historical implications of his own rookie season, he has a chance to do some things we don't often see from a big leaguer in their first campaign. 
With the power and speed he's shown during the first half, securing the second-ever 30-30 performance from a rookie is certainly within his sights. He still has some work to do in the homer department, but he's hit all 15 of his homers since May 1 after not going yard at all in April. He's stayed consistent in stealing bases each month so far, too. Rodríguez stole nine in April and five in both May and June. He's currently at two in July, so one would imagine he'll get to at least five before the calendar flips to August. 
Trout's fWAR record is likely safe – J-Rod has accumulated 2.9 fWAR so far this season. But if we look at the best rookie performances in this category since 2000, he's on pace to be in striking distance of Ichiro Suzuki (6.0 in 2001) and Kris Bryant (6.1 in 2015). If that were to happen, his rookie year would be among the top five since the turn of the century. 
Rodríguez has shown all his jaw-dropping tools on the baseball diamond over the first half of MLB's 2022 regular season. The next test for him will be to show how sustainable his current pace is in the second half as the league adjusts to find ways to get him out more consistently. 
All stats courtesy of FanGraphs.