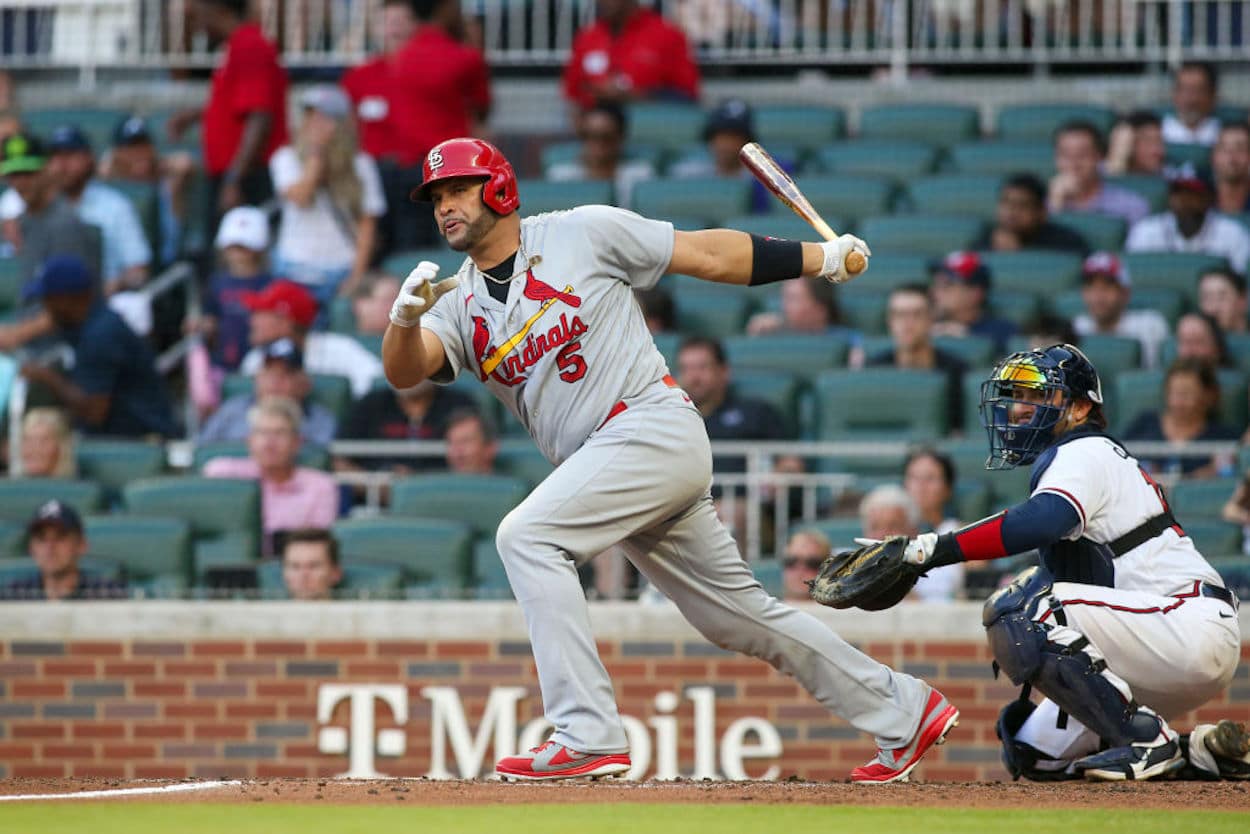 Albert Pujols Is 'The Machine', And He's Programmed for More Than Home Runs
Albert Pujols earned plenty of nicknames during his career, but he more than lived up to his title of 'The Machine.'
Thanks to MLB Commissioner Rob Manfred (and a clause in the new Collective Bargaining Agreement), baseball fans will get one more glimpse of Albert Pujols at the Midsummer Classic. He'll also be participating in the Home Run Derby for the fifth time in his career. 
There's no doubt about it – once Pujols officially retires following the 2022 season, he'll be a first-ballot Hall of Famer when he becomes eligible. His Baseball-Reference page has several interesting nicknames he's acquired over the years. My favorite is "The Machine" because of how automatic his production was during his first stint with the St. Louis Cardinals. 
And sure, Pujols was programmed to hit home runs, but his offensive excellence includes more than just slugging round-trippers at a prodigious rate. 
Albert Pujols' legacy goes far beyond hitting home runs
It's easy to look at his 22-year career and simply point at one statistic that summarizes how dominant he was. That'd be his 685 career home runs, which currently rank fifth all-time. Pujols only trails Barry Bonds, Hank Aaron, Babe Ruth, and Alex Rodriguez in this department. 
That accomplishment alone is worthy of enshrinement in Cooperstown. But like the other sluggers within a similar stratosphere of production, Pujols has done much more during his time as a big leaguer. Earlier this week, he hit a double for the Cardinals – something he's literally done hundreds of times since 2001. It was significant because that knock was the 1,378th extra-base hit of his career. 
If that sounds like a lot, that's because it is. As it turns out, only two other players in MLB history have registered an extra-base hit more often than him. You might have heard of them, too: 
Just over 20,000 players have appeared in a big-league game. The fact that only two hitters have done something more often than Pujols has during his career is just completely mind-blowing. 
Since we already know about the 685 dingers, let's turn our attention to the other two possibilities: doubles and triples. Although Pujols has racked up 117 stolen bases over the years, he's certainly not known for his speed. So, it's not surprising to see he's racked up just 16 career triples, and none have come since 2014. As for doubles, though, that's been a much more common outcome for the right-handed slugger. 
While he's only led the league in that category once (51 in 2003), Pujols has been quite consistent. He's posted 12 seasons of 30-plus doubles, with seven of those going for at least 40 and three of those performances finishing above 50. To date, his 678 total doubles rank fifth all-time, trailing only Tris Speaker, Pete Rose, Stan Musial, and Ty Cobb. When combining all the extra-base hits with his 1,952 singles, Pujols' 3,331 career hits rank 10th all-time in baseball history. 
After seeing all these facts and stats, it's not shocking to learn that his 6,096 total bases also rank third, but this time, he's trailing Aaron and Musial. He's led the league in that category on four different occasions throughout his career (2003, 2004, 2008, 2009). 
Pujols has also been a run production machine
For a player who has been as productive as Pujols has been at the plate, it's reasonable to assume he'd also put up some gaudy run production numbers along the way. That's certainly the case here. 
Pujols scored 100-plus runs in a season 10 times. It all came during his first stint in St. Louis, meaning he did that over an 11-year span. The one time he didn't hit the century mark in runs scored was in 2007 when he "only" scored 99. The Machine had a similar streak regarding RBI. He collected at least 100 RBI on 14 different occasions, including each of the first 10 seasons of his career. 
That elite consistently paid off in his overall numbers, too. Pujols' 1,886 career runs scored rank 13th all time. When it comes to RBI, can you believe that he's only led the league once throughout his whole career? That lone occasion came in 2010 when he drove in 118 runs. Despite that, Pujols has still managed to become one of just five players to surpass the 2,000-RBI mark. His 2,170 RBI rank third behind Aaron and Ruth. 
So, saying that the 42-year-old was a valuable lineup contributor is probably the understatement of the century. He's quite clearly not only one of the best home run hitters of all time, but he's also one of the league's most prolific run producers. 
Pujols' overall value is nearly off the charts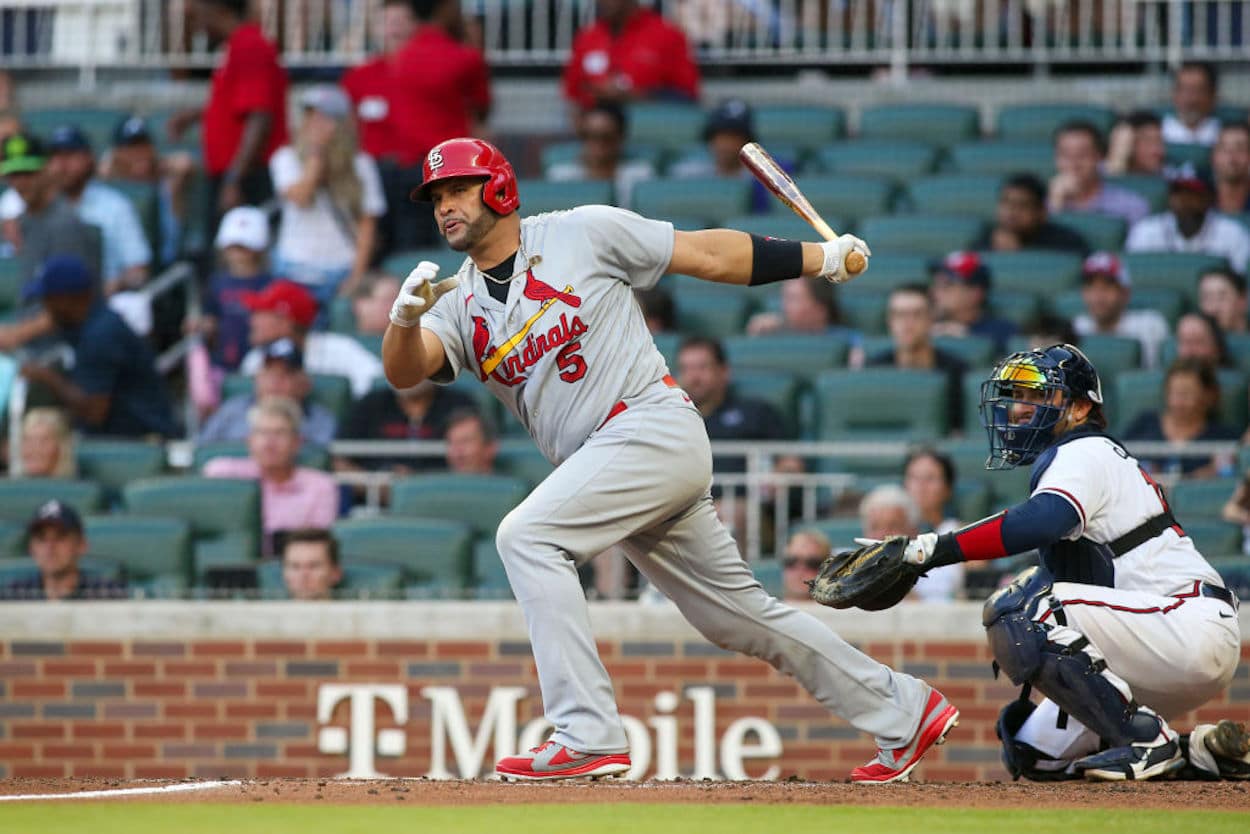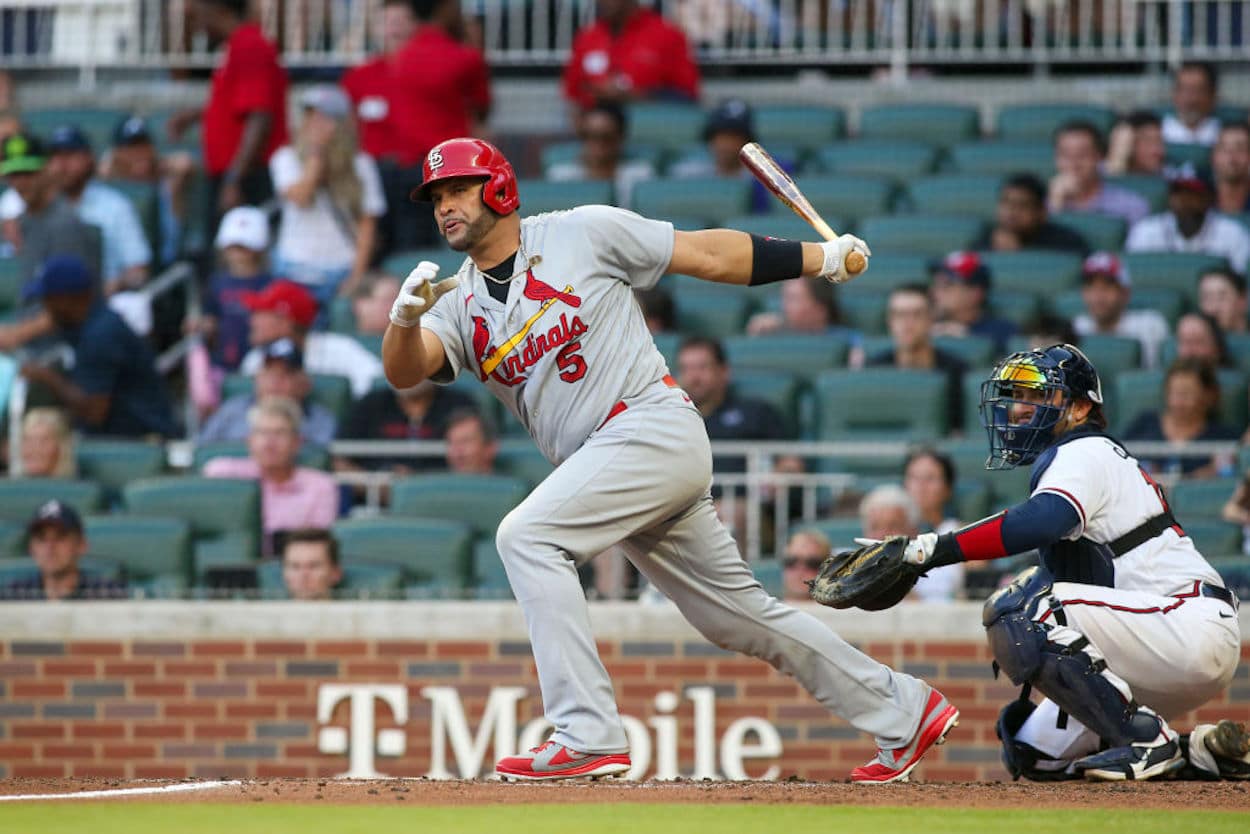 All these numbers are great and truly show how multidimensional Pujols was as an offensive contributor. But what about his overall value? Thankfully, advanced statistics have a few ways for us to quantify just how valuable Prince Albert has been throughout his career. 
Obviously, to accumulate the career numbers he has to this point, plenty of opportunities are needed. During his 22-year MLB tenure, Pujols has appeared in more than 3,000 games. Only 10 big leaguers have appeared in that many games. Among that group, they're all Hall of Famers (except for Pete Rose, who leads the way with 3,562 games played). 
An interesting statistic to show a player's value is MVP Award Shares. Barry Bonds and his seven MVP Awards are easily at the top, but Pujols has won that honor three times. His 6.91 MVP Award Shares currently rank third all-time behind Bonds and Musial. 
Pujols hasn't produced a positive single-season FanGraphs WAR (fWAR) since registering 0.8 in 2016 with the Los Angeles Angels. Prior to that, he began his career with 12 straight seasons of at least 3.0 fWAR. His career mark of 86.8 at the time of this writing ranks among the top 30 in MLB history. 
Whenever someone takes time to discuss Pujols' career accomplishments, the number of home runs he's hit will be one of the first things (if not the first thing) many people mention. It makes sense – home runs are awe-producing events that'll always get fans excited. But still, his impact and the legacy he's leaving on the game goes far beyond that one statistical category. 
All stats courtesy of Baseball Reference and FanGraphs.