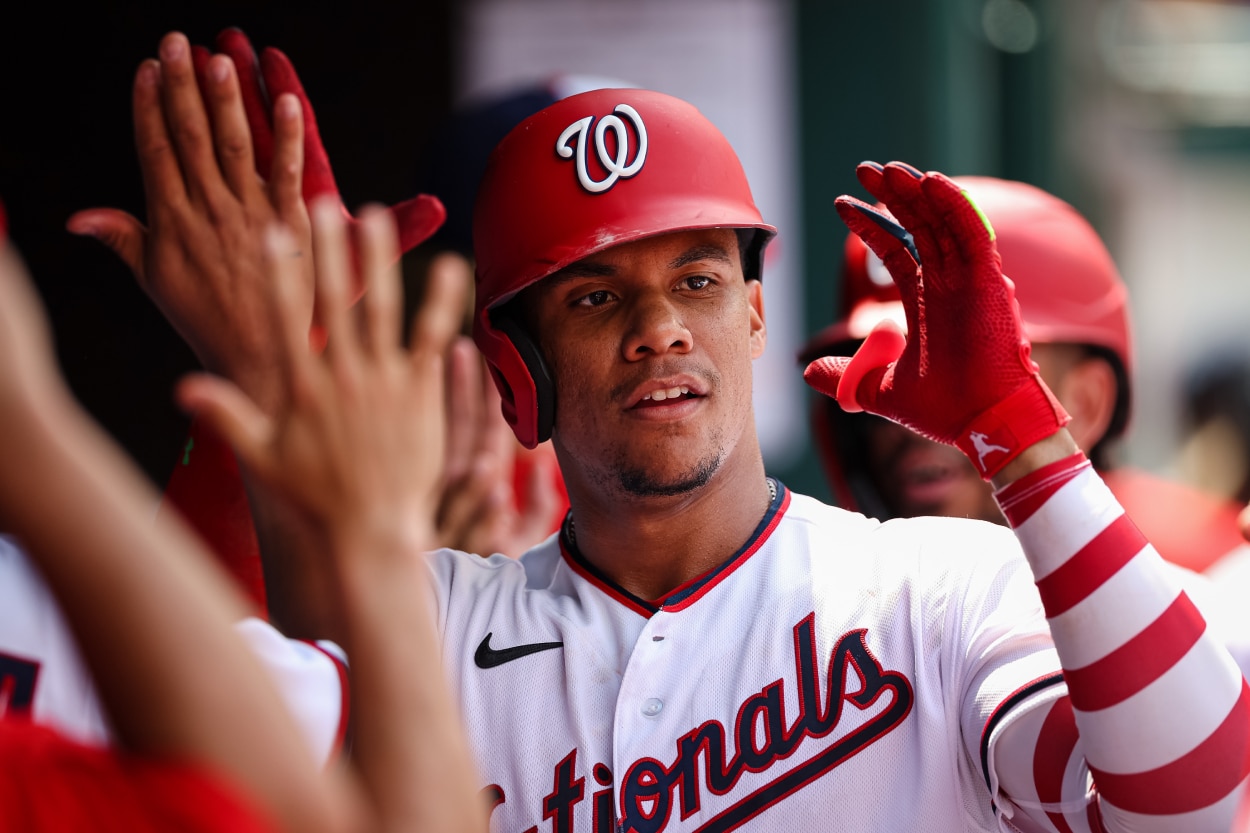 Juan Soto Has Gone From Star-Struck Prospect to an All-Star Turning Down $440 Million
Juan Soto reportedly shot down a $440 million offer from the Washington Nationals.
It wasn't that long ago when Juan Soto was that star-struck minor leaguer looking to make a name for himself. He was just another ballplayer from the Dominican hoping to land in the big leagues.
Not only did Soto land in the big leagues, but he's become one of Major League Baseball's biggest stars. Soto is 23 years old, yet he's in his fifth year with the Washington Nationals. The team recently tried to lock him up for the next 15 years, enticing him with what would be a major-league record $440 million deal. Soto said no thanks.
Juan Soto quickly went from giddy rookie to big-time star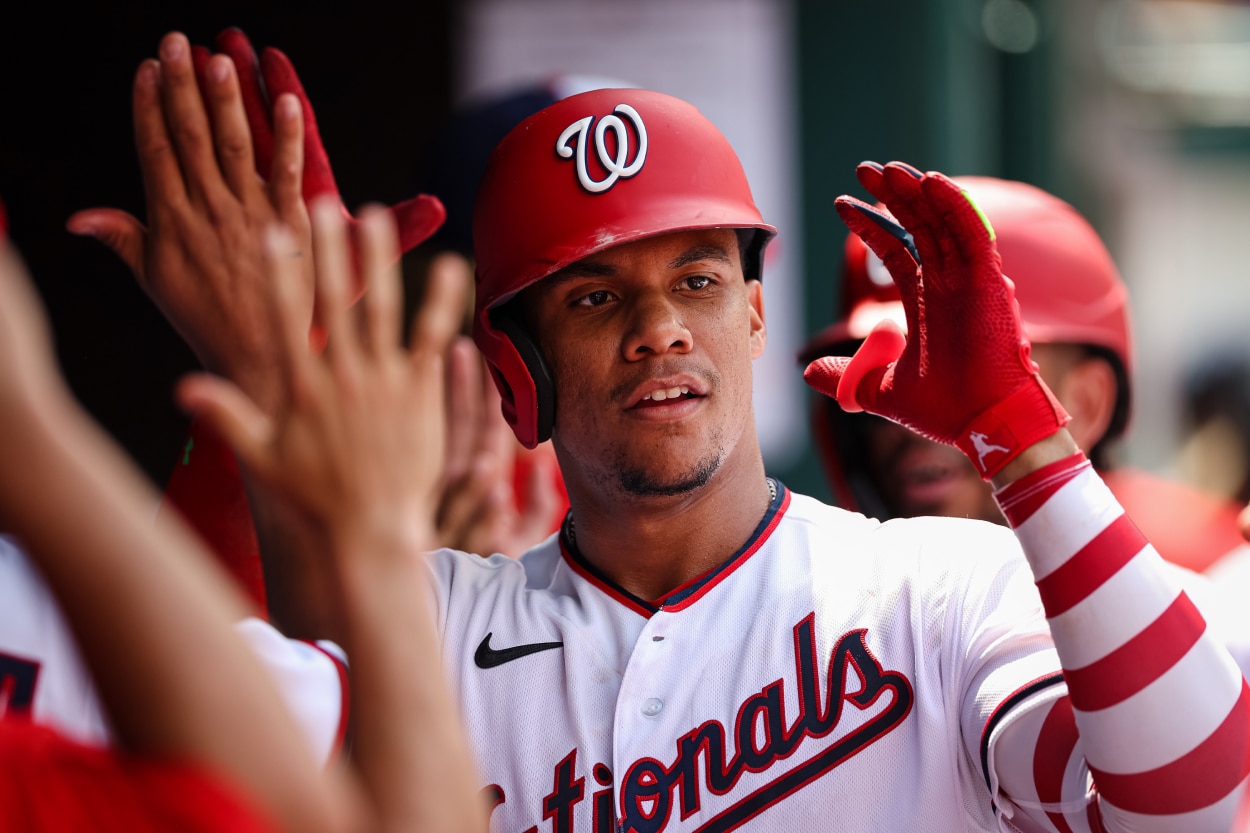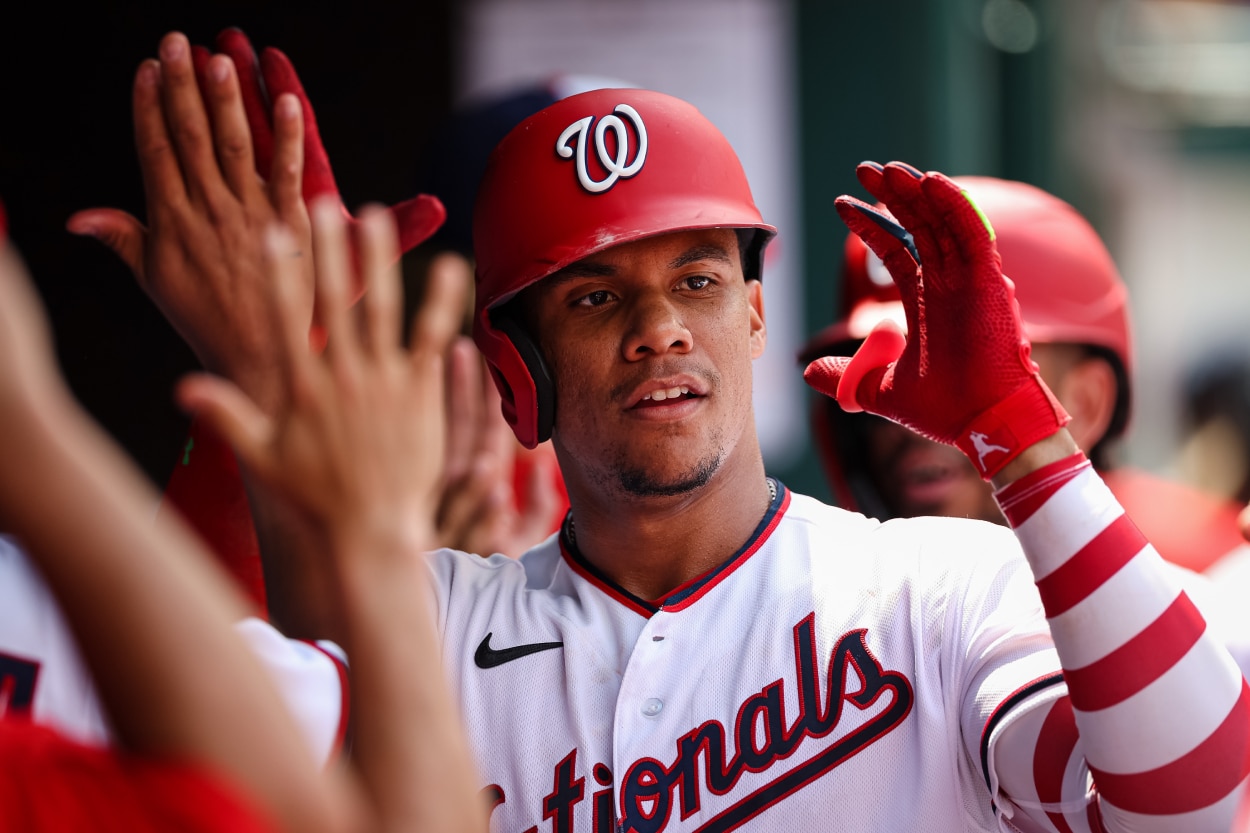 When Soto was 8 years old, he took a liking to MLB star Robinson Cano. According to The Washington Post, Cano first came across the former New York Yankees star in YouTube videos. He then tried to find a way to watch Yankees games on television. He mimicked Cano's batting stance. Cano became Soto's idol.
The Nationals signed Soto at 16. At 18, he made his way into the big leagues, finishing second in Rookie of the Year voting after smacking 22 home runs and hitting .292. He quickly became a recognizable figure and a blossoming star.
In January 2019, his phone rang. He didn't know the number. He answered anyway.
"I didn't recognize the number, and they were trying to FaceTime me," said Soto in 2019, per The Washington Post. "Then I swipe to answer, and it is Robinson Cano. He starts talking and me? I am speechless. I didn't know what to say."
The man Soto grew up idolizing now played against him. Soto knew then he made it big.
"Imagine being a kid in the Dominican one day, and the next you are playing against your hero," Soto said. "It's so special. It's maybe the coolest thing that has happened to me."
Cano heard Soto looked up to him and wanted to reach out and give him his number in case he ever needed anything.
"I take a lot of pride in being someone that he looks up to," Cano said in 2019. "I got to play alongside my idol, Bernie Williams, and that was one of the most special things in my career. So for us, me and Juan, to be able to be in the same games is also an honor for me."
Soto recently turned down a $440 million offer from the Nationals
Now, Soto is the star. He's been an MLB All-Star the last two seasons and likely would have made it during the 2020 season that was shortened by the pandemic, but the All-Star Game was canceled. That year, he led the league with a .351 batting average.
Soto keeps putting up big numbers each season, and that's why the Nationals have been eager to lock him up. They've had no luck.
Soto reportedly turned down a historic deal worth $440 million over 15 years to remain with the only MLB team he's known. The offer came despite Soto hitting a career-low .250 this year.
Soto and the Nationals won the World Series in 2019. Since then, they've experienced nothing but losing. They've seen stars like Trea Turner and Max Scherzer leave. They're in a rebuild and are in the midst of their third straight losing season. At the All-Star break, Washington is 31-63 and 27.5 games out of first place.
On Saturday, Soto told reporters, "I don't want to keep losing," per ESPN.
Soto's contract runs out after the 2024 season, and now the Nationals must shift gears and try to trade their star. Baseball is a funny game. It's a sport where you can hit .250, get offered $440 million, and still be unhappy.