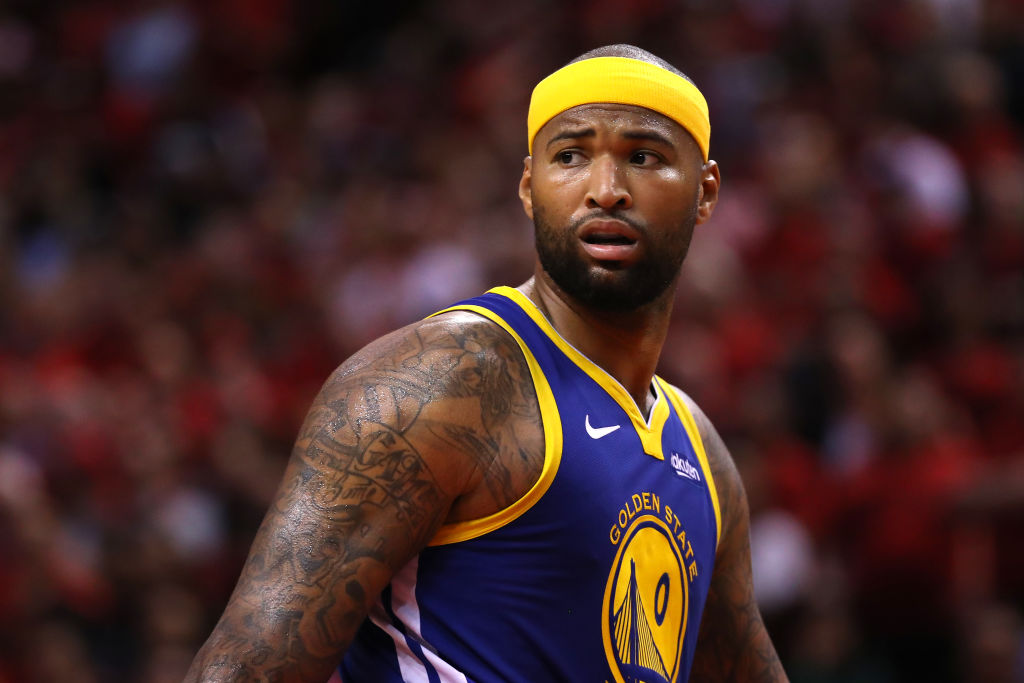 Ranking the Top 7 NBA Free Agents Based on Value
NBA free agency is in full swing. Finding the right player isn't enough. They need to have the right value. Who are the best value free agents?
With NBA free agency in full swing, there will be a few dominoes to fall that will change the landscape of the future of the league. Kemba Walker will be headed to Boston and Klay Thompson is re-signing with Golden State.
Walker's move to the Celtics could shift the narrative in the East, and it will be interesting to see where other big-name free agents go. However, today we aren't looking at the max contract players dominating the headlines.
Here are the seven players we think will be the best free agents based on their value.
7. DeAndre Jordan
DeAndre Jordan has gone from a max deal player to an afterthought around some NBA circles. He can still play good defense and throw down amazing dunks, so it was thought a $10-$15 deal on the table could have been enough to land him.
We suspected the New Orleans Pelicans would make a strong run at him. The pick and roll tandem of Zion Williamson and Jordan would have been tough for Western Conference front courts to slow down. But Jordan signed a four-year $40-million deal with the Nets.
6. Harrison Barnes
Harrison Barnes is a very talented scorer but for some reason, he declined to opt-in to his $25 million final year of his contract. If Barnes expected to get more on the open market, he certainly would have found himself without many suitors, unless Phoenix came calling. Luckily Barnes reportedly was able to work out an extension with the Kings worth $85 million for four years.
5. Brook Lopez
Brook Lopez has completely re-define his game. Coming out of Stanford he was viewed as a post scorer that couldn't do anything else well on the basketball court. However, he has quickly turned into a lethal threat from behind the arc.
After putting up 12 points and five rebounds per game last season, it was expected that Lopez may get around $12 million annually after his bargain basement deal he signed with the Bucks last season. The Bucks re-upped him for a cool $52 million and are teaming him up with his brother, Robin Lopez.
4. Julius Randle
If you're noticing a trend of players declining their player options, it's not a fluke. A lot of these players are banking on someone to offer them a max deal.
After putting up 21 points and almost nine rebounds per game for New Orleans, Julius Randle was within his right to expect that big payday. We predicted he would slot in the $18 million range and be a good No. 3 option for a title contender. He signed with Knicks within the first eight hours of free agency, landing a three-year deal worth $63 million.
3. DeMarcus Cousins
The only reason DeMarcus Cousins is on this list is because he didn't have a full season to play with the Golden State Warriors. We think he will play one more season at the mid-level exception and put up his former All-Star numbers. That will help him get a max contract during the 2020 free agency period.
2. Al Horford
The long-time center for the Celtics turned down $30 million to leave Boston. While he may have thought he would get a long-term deal offer from several teams, Horford may have been looking at $18-$20 million on the books.
He is a great presence in the locker room and does an excellent job shutting down opposing big men in the playoffs, which may be a few of the reasons the Sixers offered him a four-year, $109-million deal.
1. J. J. Redick
When it comes to finding a quality shooter, it doesn't get any better than J. J. Redick in this class. We predicted he would look for a longer deal in the $13 to $15 million range as he gets near retirement. We expected both teams in Los Angeles to try to sign him, but there was also the possibility he could have ended up in Brooklyn to team up with D'Angelo Russell and another superstar. Turns out the Pelicans landed him with a two-year $26.5 million deal.
Who do you think will be the biggest bargain in NBA free agency?
After going through our list is there anyone that you think is a bigger bargain than the others? Be sure to check out our NBA section as we get ready for more amazing deals to happen around the league.