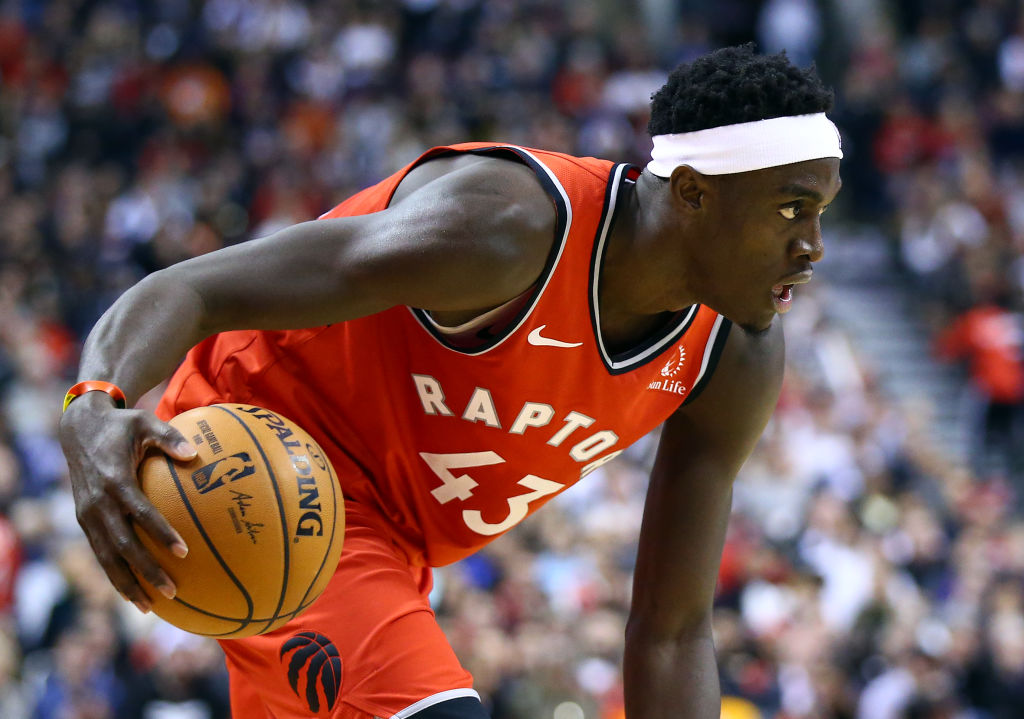 Raptors President Masai Ujiri Believes This Is the Key to Pascal Siakam's Stardom
In a matter of years, Pascal Siakam has blossomed into an NBA star. Toronto Raptors president Masai Ujiri shared the forward's key to success.
When the Toronto Raptors captured the 2019 NBA title, it would be easy to give Kawhi Leonard all of the credit. But after the star forward left town in free agency, something strange happened; the Raptors didn't crumble. Instead, Pascal Siakam stepped forward to keep the team near the top of the standings.
While Spicy P had already been on an upward trajectory, he has truly come into his own this season. Raptors President Masai Ujiri, however, isn't surprised. He recently highlighted one specific trait as Siakam's key to success.
Pascal Siakam's rise to NBA stardom
Growing up in Cameroon, Pascal Siakam never considered becoming a professional athlete. Instead, he was focused on joining the priesthood, but had a change of heart as a teenager. Siakam had always played basketball for fun, however, and attended Luc Mbah a Moute's basketball camp; that scored him an invite to a Basketball Without Borders session, where he first crossed paths with Masai Ujiri.
With his athletic abilities starting to take center stage, Siakam moved to the United States and enrolled at New Mexico State Univesity. He spent two seasons with the Aggies, capturing the WAC Player of the Year, before declaring for the 2016 NBA draft. The Toronto Raptors picked him towards the end of the first round.
While Pascal Siakam spent stretches of his rookie year with the Raptors, he split time between the big club and their G-Leauge affiliate. He helped the Raptors 905 win the championship, taking home the Finals MVP award in the process. He proved to be a solid bench player for the Raptors during the 2017-18 season and truly came into his own during the 2018-19 run to the NBA title. In addition to the Larry O'Brien Trophy, Siakam also won the Most Improved Player Award.
What does Masai Ujiri sees in his young star?
This season, Pascal Siakam has taken his game to the next level. While some might have thought that the absence of Kawhi Leonard would be too much for the young forward to handle, Spicy P has stepped up with an MVP-caliber performance. Masai Ujiri, however, wasn't surprised that he took charge.
"He's worked unbelievably hard. Great character person and somebody that really believes in himself. He believes in what he's trying to do," Ujiri recently told Matt Galloway of CBC's Metro Morning. 
"Pascal has always believed that he's a superstar and that's half the battle. From day one, he hasn't told me anything different," he continued. "He knows where he wants to get to. And he goes on, he busts his butt every single day. You see the character of the guys on the team. It's high level and I'm proud of that. And I'm proud of Pascal for that."
The sky's the limit for Spicy P
While it's impossible for us to know what's really going on behind the scenes in Toronto, Pascal Siakam seems to be doing the little things that translate into big improvements on the floor. His average points, assists, and rebounds have all increased over last season; he's also taking more three-pointers each game without shooting a significantly worse percentage from the outside. Even if the Raptors can't defend their title this year—which, despite Siakam's improvements, will still be an uphill climb—the Raptors are still in a good position going forward.
A few years ago, Pascal Siakam was an unknown prospect; now, he's shining on the NBA stage and proving Masai Ujiri right.