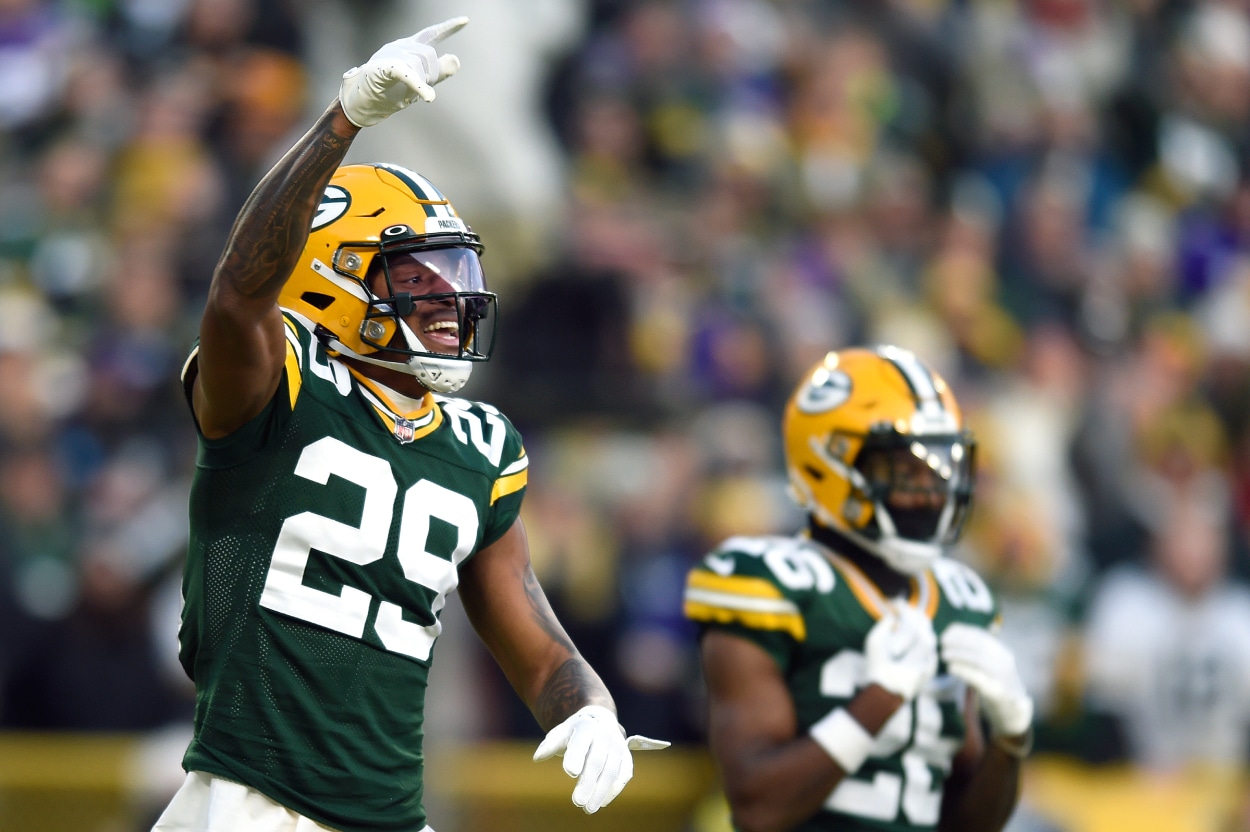 Rasul Douglas' Explanation of His Penalty Was Just as Foolish as the Play Itself
Rasul Douglas accounted for one of two absurd penalties by the Green Bay Packers on Sunday.
Not only did the Green Bay Packers continue to struggle in games that mean anything, but they also looked foolish in doing so Sunday night. In a win-and-get-in matchup against the Detroit Lions at home, the Packers were outplayed, outcoached, and outclassed by a Lions team that had nothing to play for but pride.
The Packers made two of the most foolish penalties in the NFL this season in Sunday's game. Rasul Douglas and Quay Walker made two bonehead plays that proved costly to the Packers and embarrassed the organization. Douglas tried to explain his bizarre move that ultimately resulted in a 15-yard penalty, but his explanation was just as absurd as his antics. There was absolutely no excuse for Walker's antics.
Rasul Douglas tries to explain his foolish penalty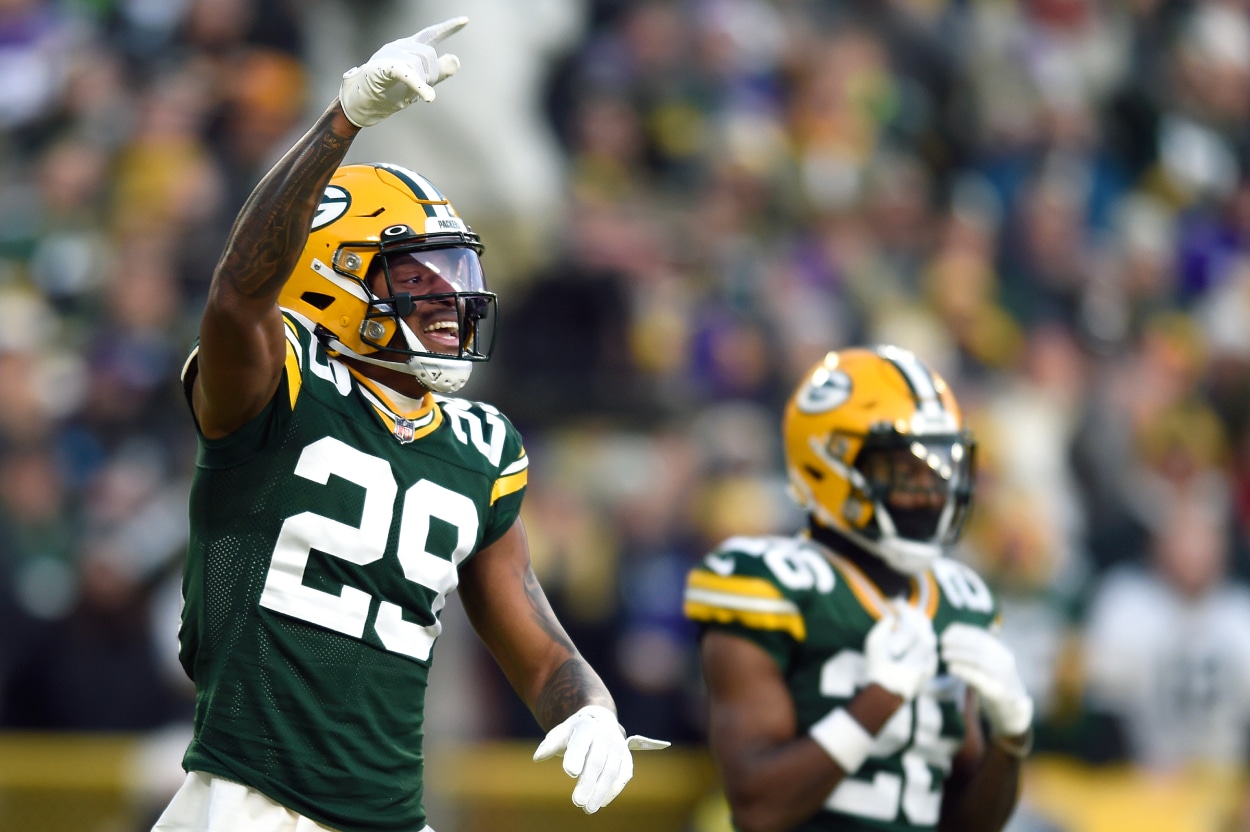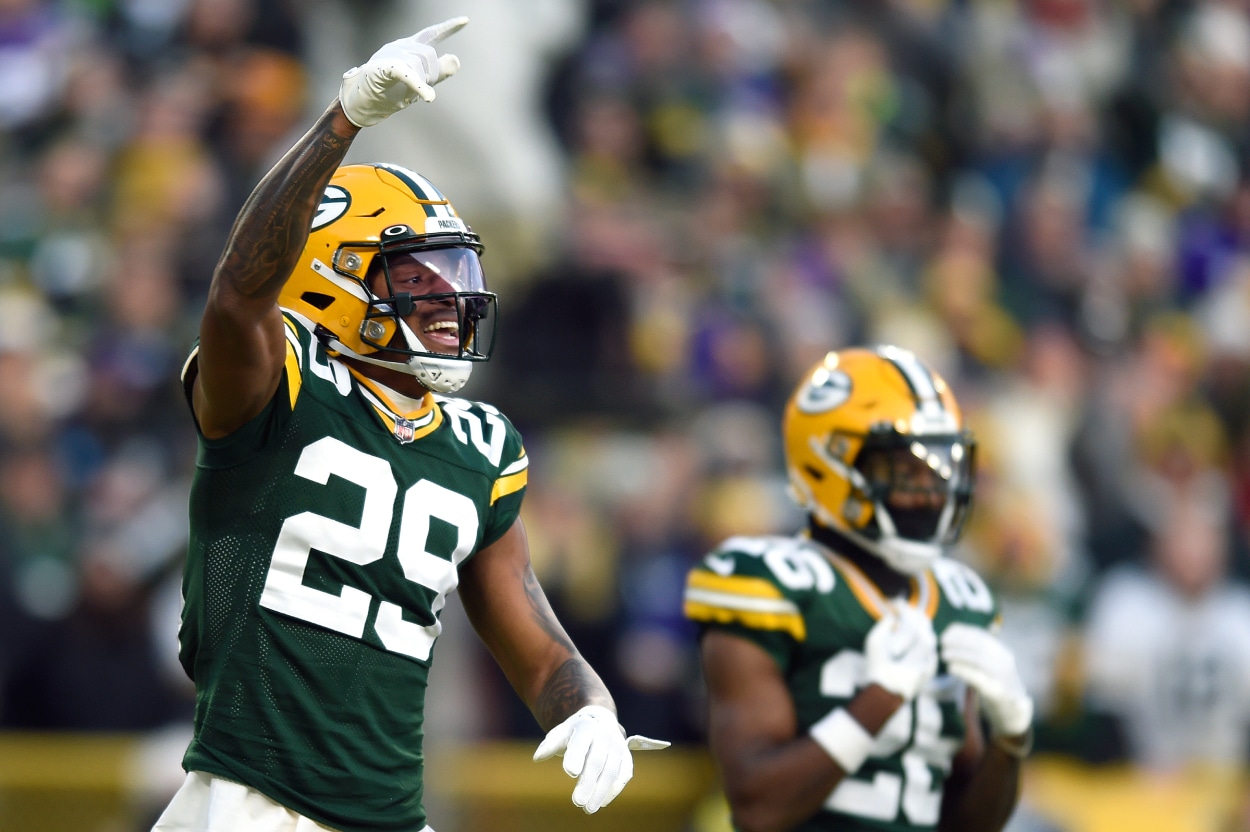 There's plenty of blame to go around for Green Bay's 20-16 loss to the Lions on Sunday. What it ultimately came down to, though, was the team that had little incentive wanted it more than the team with a playoff berth on the line. It also came down to an early foolish coaching decision and stupid penalties from Douglas and Walker.
With his team holding a 3-0 lead with 8:35 left in the first quarter, Packers head coach Matt LaFleur inexplicably decided to go for it on fourth-and-1 from the Green Bay 32. The Lions stopped them, setting up Michael Badgley's 37-yard field goal that made it 3-3.
While LaFleur's decision wasn't the smartest, it was nothing compared to what Douglas and Walker did. With two seconds left in the half, the Packers held a 9-3 lead as Badgley lined up for a 48-yard field goal in frigid Lambeau conditions. The Packers called a timeout to ice Badgley as he lined up for the kick. With the ball still in place for a snap, Douglas walked between Detroit's offensive line and Green Bay's defensive front and swatted the ball from Detroit long snapper Scott Daly.
The Lions weren't fond of the move. Detroit's right tackle, Dan Skipper, pushed Douglas, who responded by hitting Skipper in the helmet, drawing a 15-yard penalty and making Badgley's kick a chip shot. Douglas' explanation for what he did was just as poor as the play.
"I smacked the ball out of the snapper's hand and he just pushed me, so I turned around and pushed him back and they called a flag on me," he said, per Matt Schneidman of The Athletic. "I'm not doing no free kicks … I feel like that was a good thing for me to do, but the result at the end is a bad thing."
He decided to play tough guy and take things into his own hands and not let Badgley attempt a kick that wouldn't count. Instead, he made Badgley's boot much easier, costing his team in the process.
Douglas was outdone by Quay Walker in the stupidity department
LaFleur's decision and Douglas' move were foolish, but Walker outdid them both at a critical point in the game.
With 7:55 left in the game and the Packers holding a 16-13 lead, Lions quarterback Jared Goff hit running back D'Andre Swift on a 2-yard pass on first-and-10 from the Green Bay 11. Swift was injured on the play. As Detroit's medical staff tended to Swift, Walker shoved Detroit's team physician T Sean Lynch as he tried to reach Swift.
Walker's actions resulted in a 15-yard penalty (half the distance since the ball was at the 9) and an immediate ejection. What's worse is this happened six days after medical personnel saved the life of Buffalo Bills safety Damar Hamlin, who suffered cardiac arrest Monday night in a game against the Cincinnati Bengals.
The Lions now had first-and-goal from the 4 and scored when former Packer Jamaal Williams ran in from a yard out on third down with 5:55 left to give his team a 20-16 lead.
Sure, Aaron Jones fumbled in Detroit territory, preventing the Packers from taking a two-score lead earlier in the game. Aaron Rodgers overthrew a receiver or two. Those are football plays that happen all the time. There was no excuse for what Walker did. It was also Walker's second ejection this season for shoving a member of the opposing team's staff.
The Packers embarrassed themselves all night, keyed by the foolish antics of Douglas and Walker.