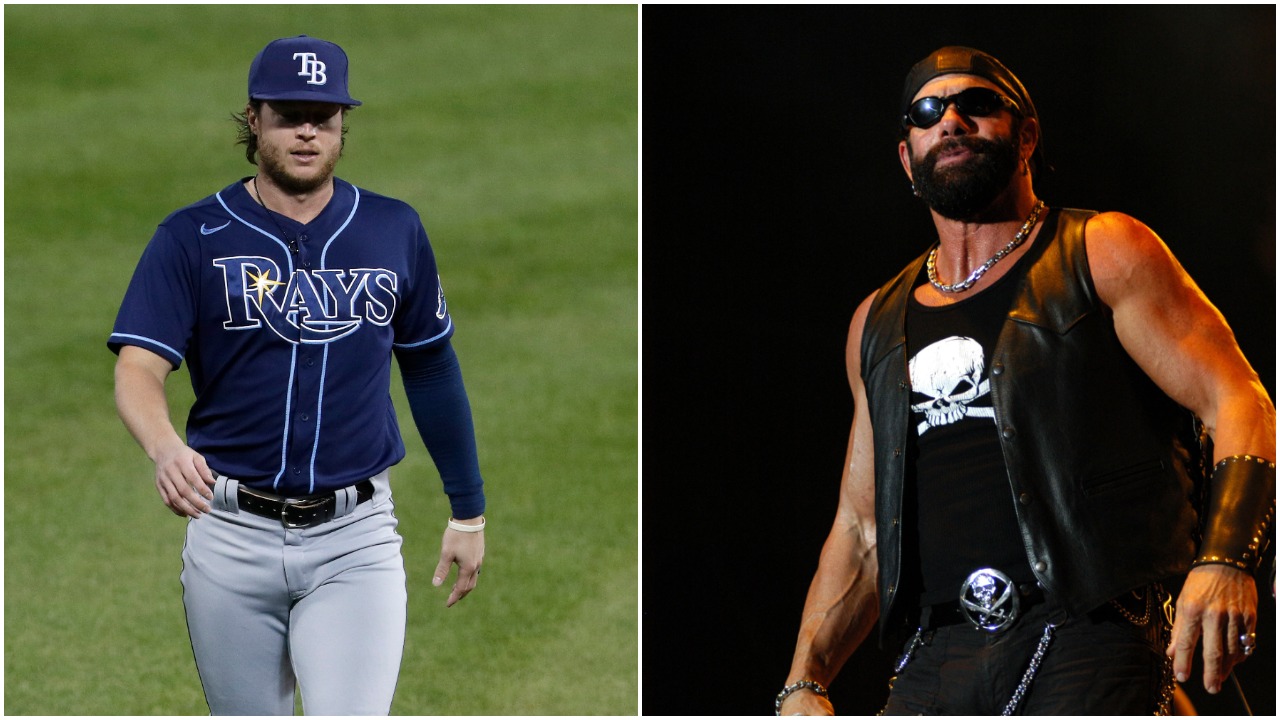 Rays World Series Hero Brett Phillips Was Taught Lessons in Competitiveness by His Old Neighbor, WWE Legend 'Macho Man' Randy Savage
Tampa Bay Rays outfielder and 2020 World Series Game 4 hero Brett Phillips once lived next door to WWE Hall of Famer 'Macho Man' Randy Savage.
"How can you not be romantic about baseball?" Never has this incredible line from Moneyball been more true than it was during Game 4 of the 2020 World Series. The Tampa Bay Rays and LA Dodgers played one of the all-time great Fall Classic games on Saturday night that ended with one of the craziest series of events you'll ever see. The game also featured an unlikely hero in Rays outfielder Brett Phillips, a career .202 hitter that is essentially the 28th man on a 28-man roster.
Guys like Brett Phillips are what makes baseball so beautiful. More than any other sport, any team on any given night can win and any player on any team can be a hero, even guys you may have never heard of before.
Phillips is one of those guys who knows how lucky he is to be a professional athlete, which is probably why he's smiling all the time. Seriously, like all the time. And that smile was on full display on Saturday night after he delivered the biggest hit of his life to lead Tampa Bay, the team he rooted for as a youngster growing up in Seminole, Florida, to an incredible 8-7 walk-off victory, tying this fantastic Rays-Dodgers World Series at two games apiece.
But, like any pro athlete, he's also a competitive guy and once got some lessons in competitiveness from his old neighbor, the late, great WWE Hall of Famer "Macho Man" Randy Savage.
Brett Phillips' path to the Rays
Once a star at Seminole High School, Brett Phillips was taken in the sixth round of the 2012 MLB draft by the Houston Astros. Two years later, he was named the franchise's Minor League Player of the Year after hitting .310/.375/.529 with 17 home runs in Single-A ball.
However, he was traded in the summer of 2015 to the Milwaukee Brewers, for whom he made his big-league debut in June 2017. He appeared in 37 games for the team that season, hitting .276 with four home runs and 12 runs batted in. Phillips began the 2018 season in Milwaukee's minor-league system and appeared in just 15 games for the big-league club before being traded to the Royals just ahead of the trade deadline in the deal that sent Mike Moustakas to the Brewers.
In parts of three seasons with Kansas City, Phillips appeared in 84 games for the Royals and hit just .178 with five home runs and 15 runs batted in.
He was traded to the Rays in August and is now a World Series hero
After being traded to the Rays on August 27, Brett Phillips had just three hits in 25 plate appearances for Tampa Bay in the regular season, the last coming on September 25 against the Phillies. He actually had two hits in that game and before his heroics on Saturday night, he hadn't gotten a hit since. But he'd also only made five plate appearances in that time and only two of those had come in the postseason, both against the Yankees in the ALDS. Phillips is on the World Series roster to be a defensive substitution and to pinch run, which he did in Game 2. But then Saturday night happened.
With the Rays trailing by two heading into the bottom of the ninth, Phillips was due up fifth as he'd entered the game in the eighth as a pinch-runner for first basemen Ji-Man Choi. With two outs and two strikes (both questionable calls), Kevin Kiermaier on second, and Randy Arozarena on first, Brett Phillips lined a shot into right-center.
The speedy Kiermaier was always going to score but when Chris Taylor bobbled the ball, Arozarena bolted for home as well. Taylor had recovered and relayed to Max Muncy, who threw home and had Arozarena, who'd fallen down, dead to rights. But Dodgers catcher Will Smith never secured the throw, which allowed Arozarena to slide in safely in one of the most dramatic moments you'll ever see.
Brett Phillips was living the childhood dream and acted accordingly. He raced into the outfield and extended his arms as if he were an airplane and was then mobbed by teammates. With tears in his eyes, he just kept saying that he couldn't believe what had happened. Trust us, Brett, nobody else could either.
Brett Phillips was neighbors with WWE legend 'Macho Man' Randy Savage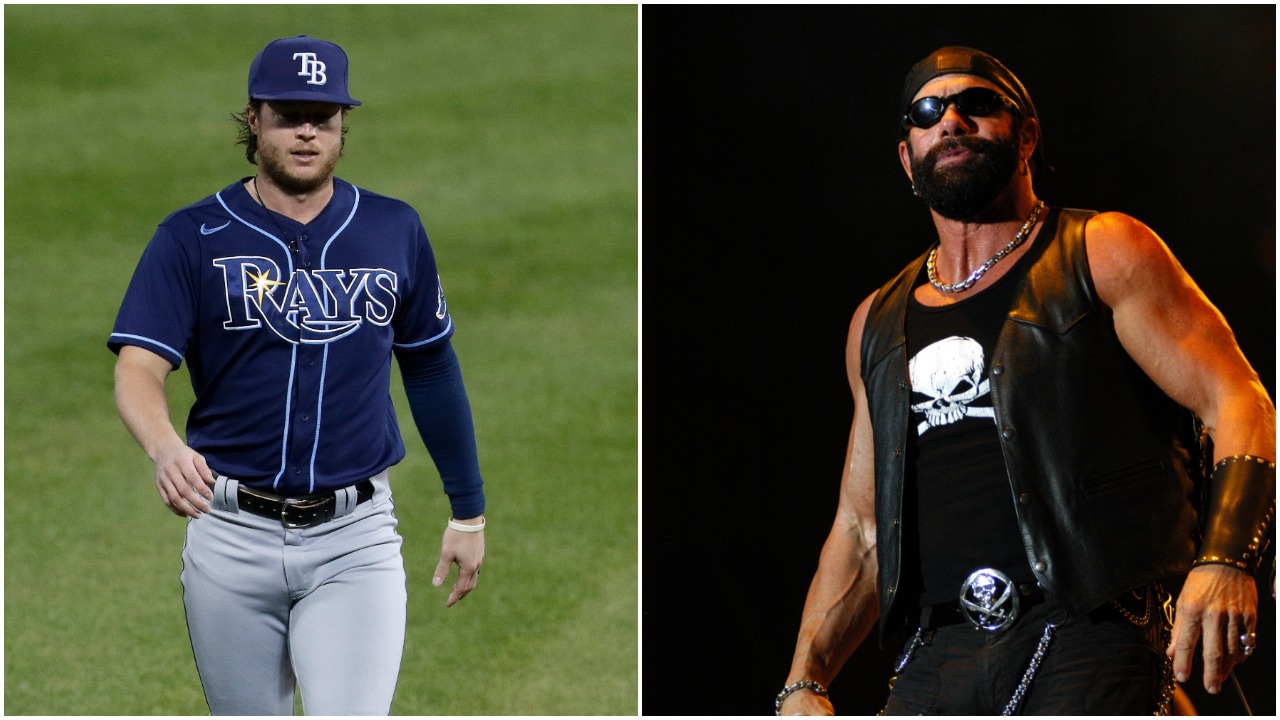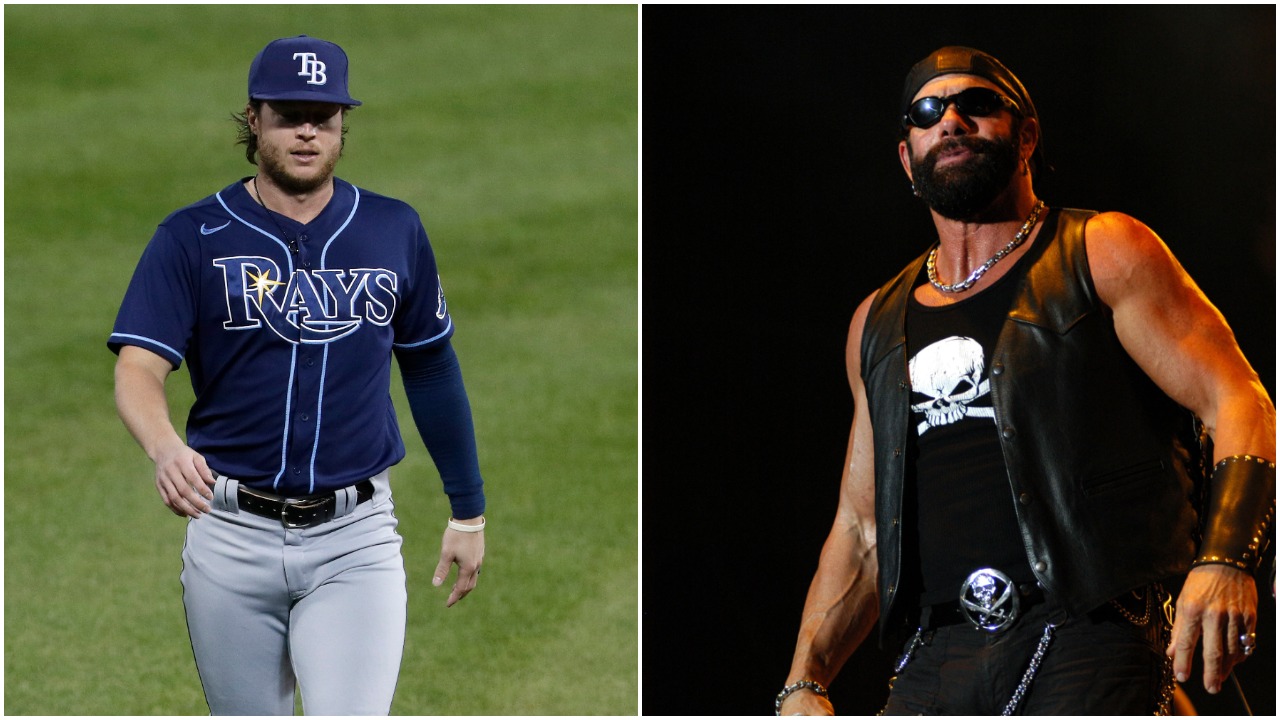 Brett Phillips' big moment is certainly one about never giving up and always remaining competitive as you just never know when your big shot might come. Perhaps those are lessons he learned from WWE legend "Macho Man" Randy Savage, who showed no mercy on a young Phillips when the two were neighbors in Seminole.
Before the WWE Hall of Famer, who actually spent time in the St. Louis Cardinals organization before transitioning to a career in pro wrestling, passed away in 2011, he would invite Brett Phillips over to play basketball in his driveway and would never let him win, essentially teaching him that if you want to win at anything, you have to work hard to get better. Phillips once told the incredible story of his matchups with Randy Savage to MLB.com.
"It's a funny story. "Macho Man" was my neighbor from seventh until 11th grade before he passed away. Every day, he'd see me riding my bike home from school and he'd call me over to play basketball. You would think one of the days, one of the games, he would let up on me, but that was not the case. I got beat every time. You know how kids are always like 'one more game, one more game'? No, he was the one saying 'one more game, we're going again' and I'd be exhausted."

Brett Phillips on playing basketball with "Macho Man" Randy Savage
Now that's an incredible story in itself.
All stats courtesy of Baseball Reference