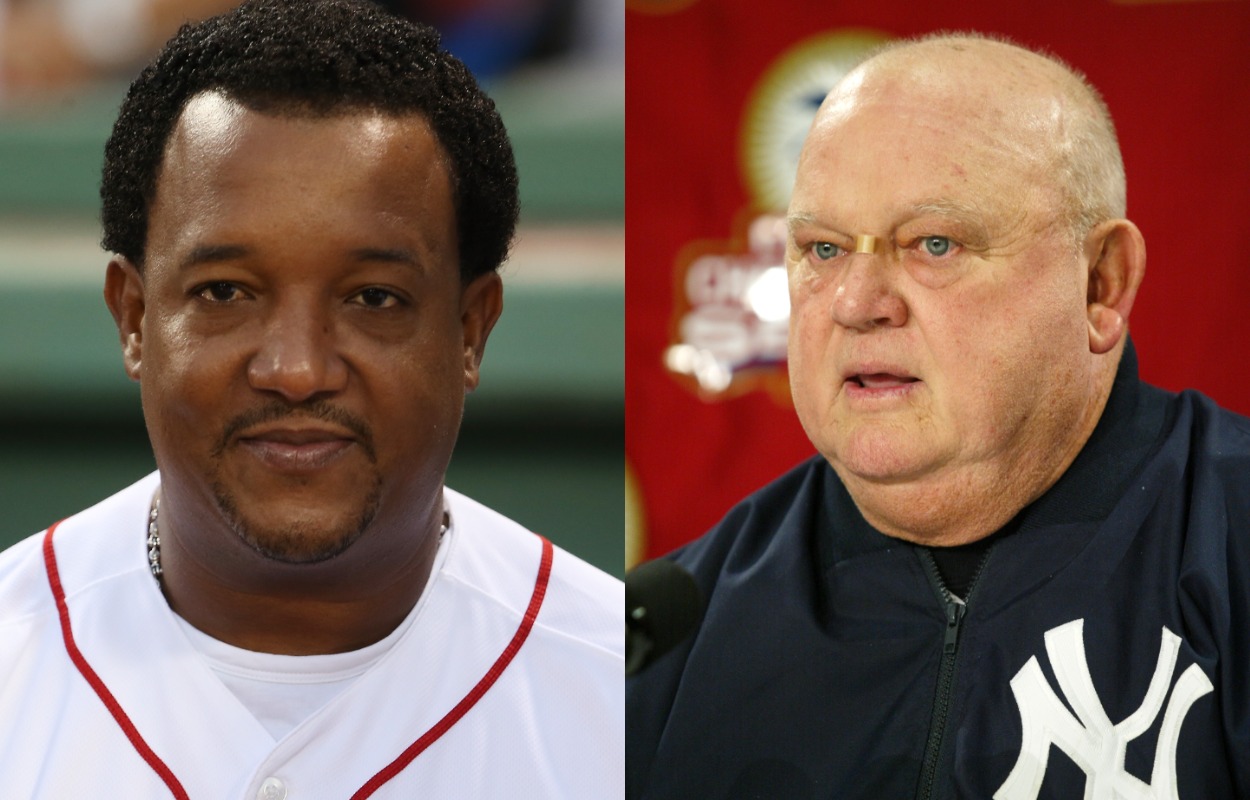 Red Sox Legend Pedro Martinez Regrets Throwing Elderly Yankees Coach Don Zimmer to the Ground: 'There Hasn't Been Any Other Moment Where I Felt Worse'
Boston Red Sox legend Pedro Martinez admitted he regrets fighting former New York Yankees coach Don Zimmer.
Article Highlights:
Boston Red Sox legend Pedro Martinez said he regrets throwing former New York Yankees coach Don Zimmer to the ground
Martinez and the then-72-year-old Zimmer clashed during the 2003 American League Championship Series
Martinez previously apologized for the incident in 2015
A generation of baseball fans has seen a familiar sight in many showdowns between the Boston Red Sox and New York Yankees, and it has nothing to do with the lethargic pace of play.
Local and national broadcasts often show an infamous clip of former Red Sox ace Pedro Martinez throwing then-Yankees coach Don Zimmer to the ground during the 2003 American League Championship Series. Martinez, who entered the National Baseball Hall of Fame in 2015, takes no joy in witnessing the footage.
Pedro Martinez admitted he regrets brawling with former Yankees coach Don Zimmer
Much of Game 3 of the 2003 ALCS is easily forgotten. How can you recall Derek Jeter hitting a game-tying home run or rookie outfielder Hideki Matsui's go-ahead double in the Yankees' 4-3 victory with what happened in the fourth inning that day?
Well, let's back up a bit. Martinez hit Yankees right fielder Karim Garcia in the back with a pitch in the fourth inning. Minutes after Martinez gestured at Yankees catcher Jorge Posada, Garcia slid into Red Sox second baseman Todd Walker.
Yankees ace Roger Clemens threw high at All-Star left fielder Manny Ramirez in the bottom of the fourth inning. Ramirez charged the mound, and pandemonium broke loose at Fenway Park.
On the Oct. 14 episode of Bleacher Report's Untold Stories, Martinez gave his side. Originally using a bathroom when the brawl began, the three-time Cy Young Award winner rushed back onto the field during the fight.
According to Martinez, he heard "mumbling" and saw Zimmer, 72 years old at the time, rushing toward him. He said the Yankees' bench coach used inappropriate language but did not specify what those words were. 
"[Zimmer] actually tried to jab me, so I pulled it, and that's why it looked like I grabbed him. But in reality, that's the only blemish I would love to erase from my career. There hasn't been any other moment where I felt worse in my life — I will tell you, in my life — than that moment. And that moment led to a lot more."

Pedro Martinez
Major League Baseball fined Martinez $50,000 and Zimmer $5,000 for their actions. Ramirez ($25,000) and Garcia ($10,000) were also punished.
Martinez has tried clearing the air about the fight in recent years
In hindsight, the fact that Martinez escaped significant punishment — either during the 2003 postseason or to begin the 2004 regular season — is shocking. As for the $50,000 fine, he reportedly made $15.5 million during the 2003 season, so take that punishment as you will.
Martinez has never been one to fondly reflect on the ugly afternoon at Fenway Park. In his 2015 book Pedro, the Red Sox legend addressed the incident and called it the "only regret" he had from playing baseball.
"Some days I feel more people remember me as the angry young man who pushed down a defenseless old man than as the pitcher who won three Cy Young Awards and a world title and wound up in the Hall of Fame," Martinez wrote.
At the time, Martinez wrote that Zimmer, who died in 2014, lost his balance while approaching the 32-year-old pitcher.
The Martinez-Zimmer incident is only one of many ugly fights between the Yankees and Red Sox
Martinez and Zimmer's showdown on the Fenway Park grass is only one of many intense fights the Yankees and Red Sox have dealt with over the years.
A year after the pitcher and coach went at it, Yankees third baseman Alex Rodriguez fought Red Sox catcher Jason Varitek at Fenway in 2004. Varitek famously slammed his catcher's mitt in Rodriguez's face when the latter cursed at Red Sox pitcher Bronson Arroyo.
The sight was a familiar one for older Yankees fans. Legendary Red Sox catcher Carlton Fisk punched Yankees outfielder Lou Piniella after a collision at Yankee Stadium in 1976. Things got so heated that Yankees third baseman Graig Nettles slammed Red Sox pitcher Bill "Spaceman" Lee to the ground and separated the All-Star's shoulder in the process. Yankees outfielder Mickey Rivers even punched Lee while the pitcher was down.
The teams harkened back to the mid-2000s at Fenway Park in April 2018. Yankees first baseman Tyler Austin rushed the mound and swung at Red Sox pitcher Joe Kelly after a hit-by-pitch in the Yankees' 10-7 win.
Like Sportscasting on Facebook. Follow us on Twitter @sportscasting19.