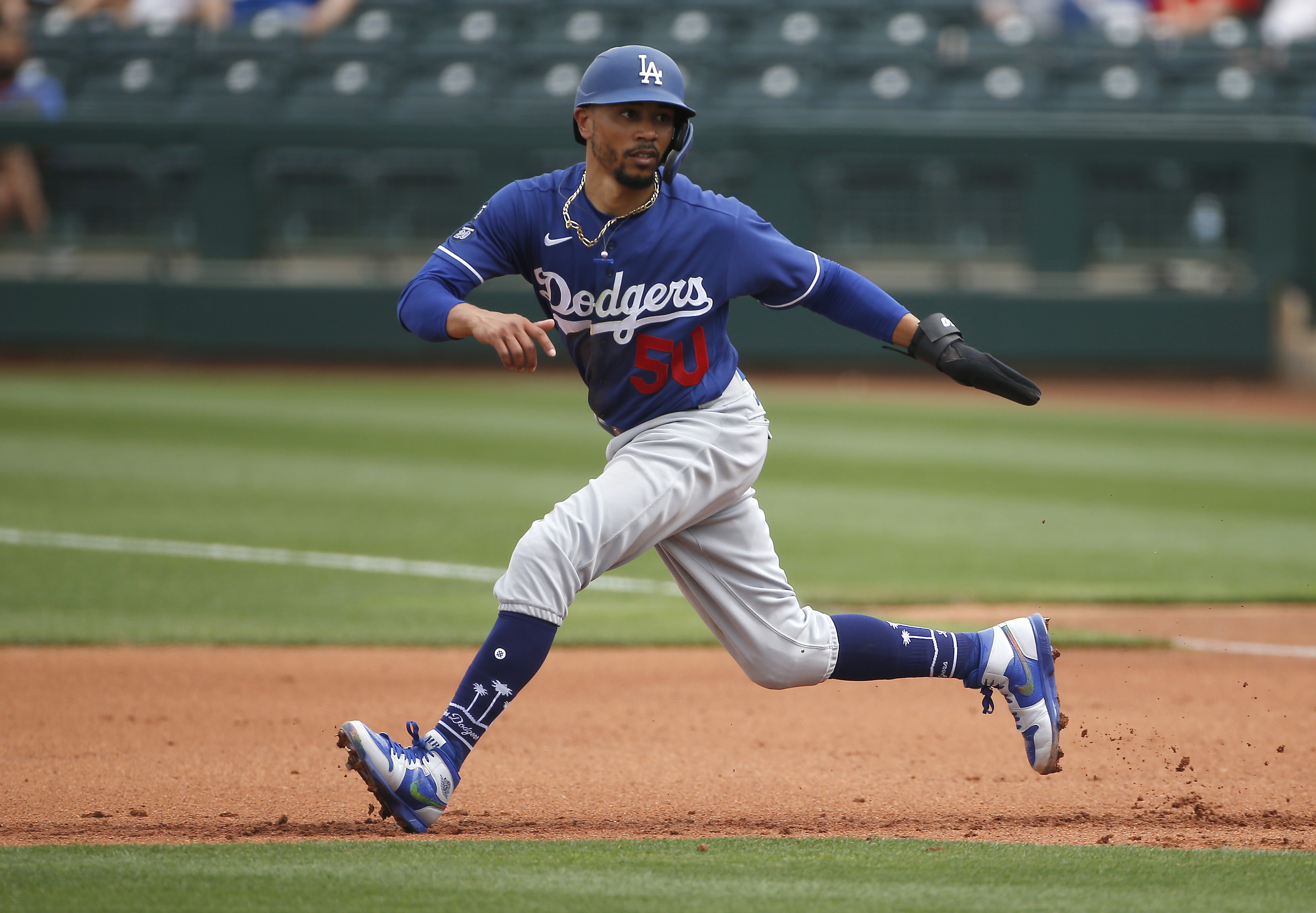 Mookie Betts Billboard Staring at Fenway Park as Dodgers Fan Trolls Red Sox
Thanks to a Los Angeles Dodgers fan, there is a billboard of former Red Sox star Mookie Betts overlooking Fenway Park.
One of the most popular sites overlooking Fenway Park is that Citgo sign that overlooks the Green Monster. Any home run that goes over the left-field wall is sure to bring in that Citgo sign as Boston Red Sox fans (see it go) for a home run. Well, now there's a new sign outside Fenway featuring Los Angeles Dodgers star Mookie Betts that won't make Sox fans too happy.
Mookie Betts helped guide the Dodgers to a World Series
The Boston Red Sox had a decision to make. Should they keep Mookie Betts, their star outfielder, and pay him the huge salary he would command as a free agent or trade him and get something of value? Instead of letting Betts walk away for nothing, the Red Sox traded Betts to the LA Dodgers in February of 2020.
In return, the Sox received two of the top three Dodgers prospects in outfielder Alex Verdugo and shortstop Jeter Downs. They also received catcher Connor Wong. Boston also was able to rid itself of pitcher David Price's monster contract by adding him to the deal.
In his first year with the Dodgers, Betts had a very solid season. The season was cut short because of the COVID-19 pandemic, but in 55 games, Betts smacked 16 home runs, drove in 39 runs, stole 10 bases, and hit .296. His home run in Game 6 of the World Series pretty much sealed the Dodgers' championship when they defeated the Tampa Bay Rays in six games.
Dodgers fan puts up Mookie Betts billboard at Fenway Park
Alex Soto, an LA Dodgers fan and the CEO of Pantone 294 in LA, has a little too much time on his hands and probably a few extra bucks in his wallet. Soto found a way to troll the Boston Red Sox for trading their star to his favorite team. He found a vacant billboard and went to town.
The billboard sits right across from Fenway Park. According to Boston.com, it took a few months for the art design and to get approval, but Soto flew to Boston to unveil the billboard Monday. The billboard, which is located on top of Sal's Pizza on Brookline Avenue, reads, "Dear Boston, Thank you for Mookie Betts. Sincerely, Dodger Fans & @pantone294."
For Soto, it's a good way to troll the Sox and honor Mookie Betts. It's also a good advertising piece to help promote his company. Pantone 294 is a company that organizes road trip across the country to allow fans to watch Dodgers games.
Soto said the billboard is all fun and games
It's hard to say Alex Soto wasn't trolling Boston Red Sox fans with his Mookie Betts billboard that thanks Boston for trading Mookie Betts. Soto said he was just having a good time and it's all in fun. "It's all fun and games," said Soto, according to Boston.com. "We just wanted to say thank you. We know everyone here in Boston loves Mookie as well. So we just wanted to make sure that we have something in common. We all appreciate Mookie Betts."
The billboard will stay up for the next 30 days and will be staring Sox fans in the face. Boston opens at home on April 1. "The billboard looks good seeing it in person," said Soto. "There's a lot of blue and there are brick buildings around it so the blue really sticks out. We just want to say thank you for Mookie."
It's likely Boston fans will have something to say to Soto on April 1.