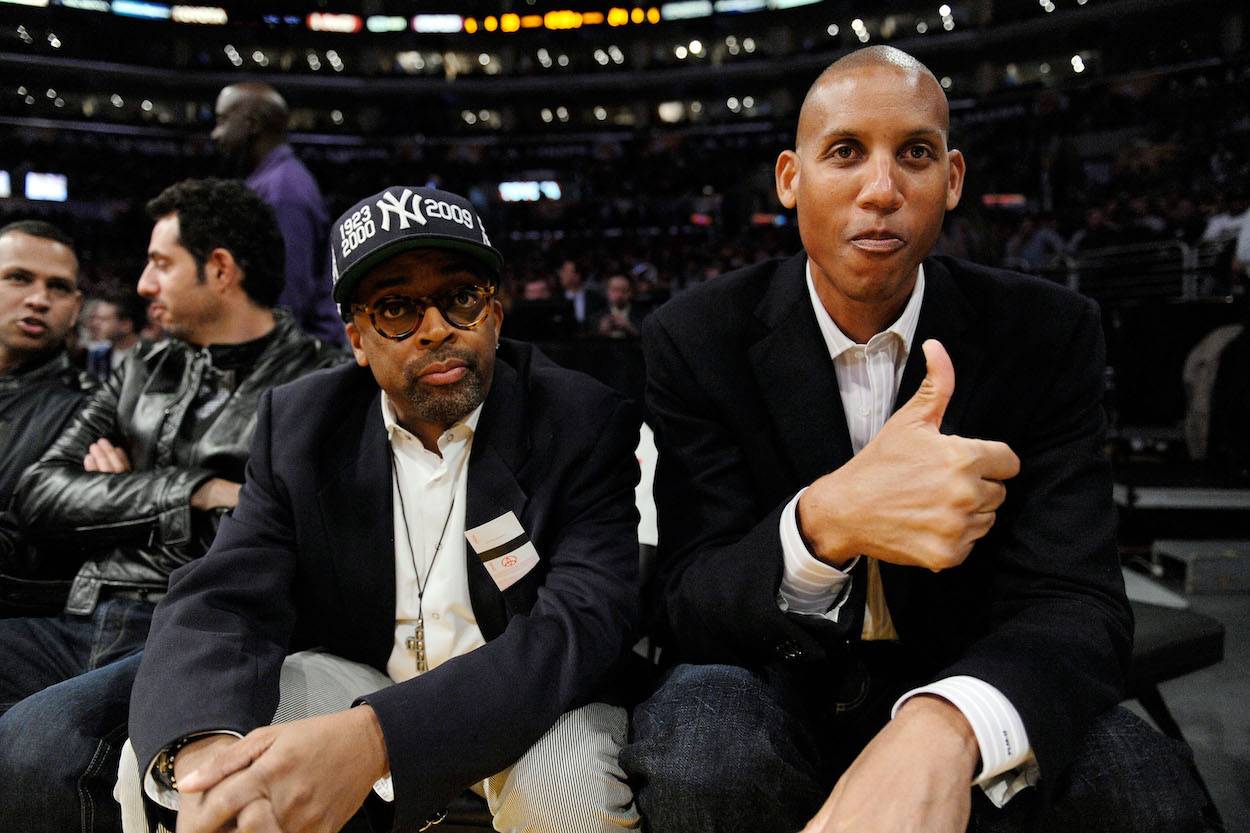 Reggie Miller Takes Shot at Spike Lee for Leaving MSG Early, Calling Him a 'Fair-weather Fan'
Reggie Miller rekindled his old feud with Spike Lee on Wednesday night by taking a shot at the filmmaker when he left his MSG court-side seat before the game had ended.
Reggie Miller and Spike Lee have a history together dating back to the 1990s. The NBA Hall of Famer and former Indiana Pacers star wrote another chapter on Wednesday night when the Atlanta Hawks knocked the New York Knicks out of the playoffs at Madison Square Garden. With the game all but decided, cameras caught Lee leaving his court-side seat and heading for the exits with more than three minutes remaining. Miller, who called the game alongside Marv Albert for TNT, pounced and took several shots at the filmmaker, calling him a "fair-weather fan" and reminding him of the origins of their rivalry almost 30 years earlier. 
Reggie Miller and Spike Lee have a history together
During the 1990s, NBA fans could typically count on the Indiana Pacers and New York Knicks facing off in the playoffs. The two teams battled for playoff supremacy six times during the decade. That's when the feud between Reggie Miller and Spike Lee was born. 
During contests played in Madison Square Garden, it was guaranteed excitement and a show within the show as Lee and Miller regularly jawed at each other throughout the game. While some of those incidents appeared to get heated on more than a few occasions, the two were cordial and eventually developed a friendship off the court.
Interestingly, Miller's penchant for ripping out the hearts of Knicks fans was so notable it became an ESPN 30 for 30 documentary in 2010 called Winning Time: Reggie Miller vs. The New York Knicks, and featured Lee's thoughts on the rivalry and Miller's clutch performances.
Revisiting the past history between the two
On Wednesday night, with just over three minutes remaining in the fourth quarter and the Hawks up 16, TNT returned from a commercial break and showed highlights from the career of a soon-to-be-retiring Marv Albert. With Albert and Miller working the broadcast, the network rummaged through the archives and found Miller doing his thing against the Knicks back in the 1990s and Albert describing the action.
"And Reggie Miller having an animated discussion with Spike Lee," Albert said, right after Miller drained one of his many threes in MSG and cruised within feet of Lee and his court-side seat.  
Moments later, after another Miller dagger, footage showed the player and director jawing at one another. "I don't think that Spike realizes he's not in the game," Albert joked.
"There will not be a future acting role in Reggie's movie career with Spike," Albert said after Miller directed a two-handed choke sign at Lee. 
Reggie Miller calls out Spike Lee late in contest
Immediately after the flashback in time, cameras returned to live action and showed Lee walking out of the Garden.
"Oh, Spike's leaving early. Wait a second," Albert noted.
"Come on," Miller jumped in. "That's a fair-weather fan right there. If you're going to be the No. 1 supporter of the Knicks, you've got to stay here and take it like the guys on the floor. Come on, man."
A few minutes later, Miller continued. 
"See, Spike, of all people should know, you should never leave this building early because special things have happened here," the Hall of Famer said, referencing his performance in Game 1 of the 1995 Eastern Conference Semifinals when he scored eight points in the final 18 seconds, to pull off an improbable victory and shock the Knicks and Lee.
Several minutes later, Lee returned to his seat and Miller took credit.
"Spike Lee must have heard me and ran back to his seat, thinking the Knicks were making a run," Miller joked.
Reggie Miller retired from the NBA in 2005 but proved on Wednesday night his trash-talking game is still strong. At least when it involves the Garden and Spike Lee.
Like Sportscasting on Facebook. Follow us on Twitter @sportscasting19.