Reggie Miller Tried and Failed to Gain a Competetive Edge Over Michael Jordan on the Set of 'Space Jam'
These days, the stories of Michael Jordan and his compulsive desire to win stand tall in sporting lore. His need to be the top dog wasn't limited to NBA competition, though. Even pick-up games on the set of Space Jam turned into intense basketball battles.
Those games weren't just important for His Airness, though. Reggie Miller also tried — and failed — to use that time on the court to gain an edge over his famous rival.
Michael Jordan played some legendary basketball on the 'Space Jam' set
For most athletes, filming a movie would be a chance to take a breather; while working in Hollywood isn't easy, spending time on the backlot is still an excuse to avoid sports for a little while. Jordan, however, doesn't take days off, even while filming Space Jam.
Since MJ wasn't the only NBA star involved in the movie — the likes of Patrick Ewing, Charles Barkley, and Alonzo Mourning also took part — testosterone and talent were both in high supply on the set. Jordan would hit the court with those guys, trying to work his way back to a championship. He'd also invite other players to come by the "Jordan Dome" for a game.
Those games, however, weren't simple scrimmages. As recorded in J.A. Adande's ESPN story, the matchups feature regular-season levels of intensity and so much competition that losers would have to wait two or three games before turning to the court.
"It's the summertime, they're going to be bullsh*ting," Olden Polynice recalled thinking. "Come to find out, they weren't bullsh*ting."
Reggie Miller tried to find His Airness' weakness and failed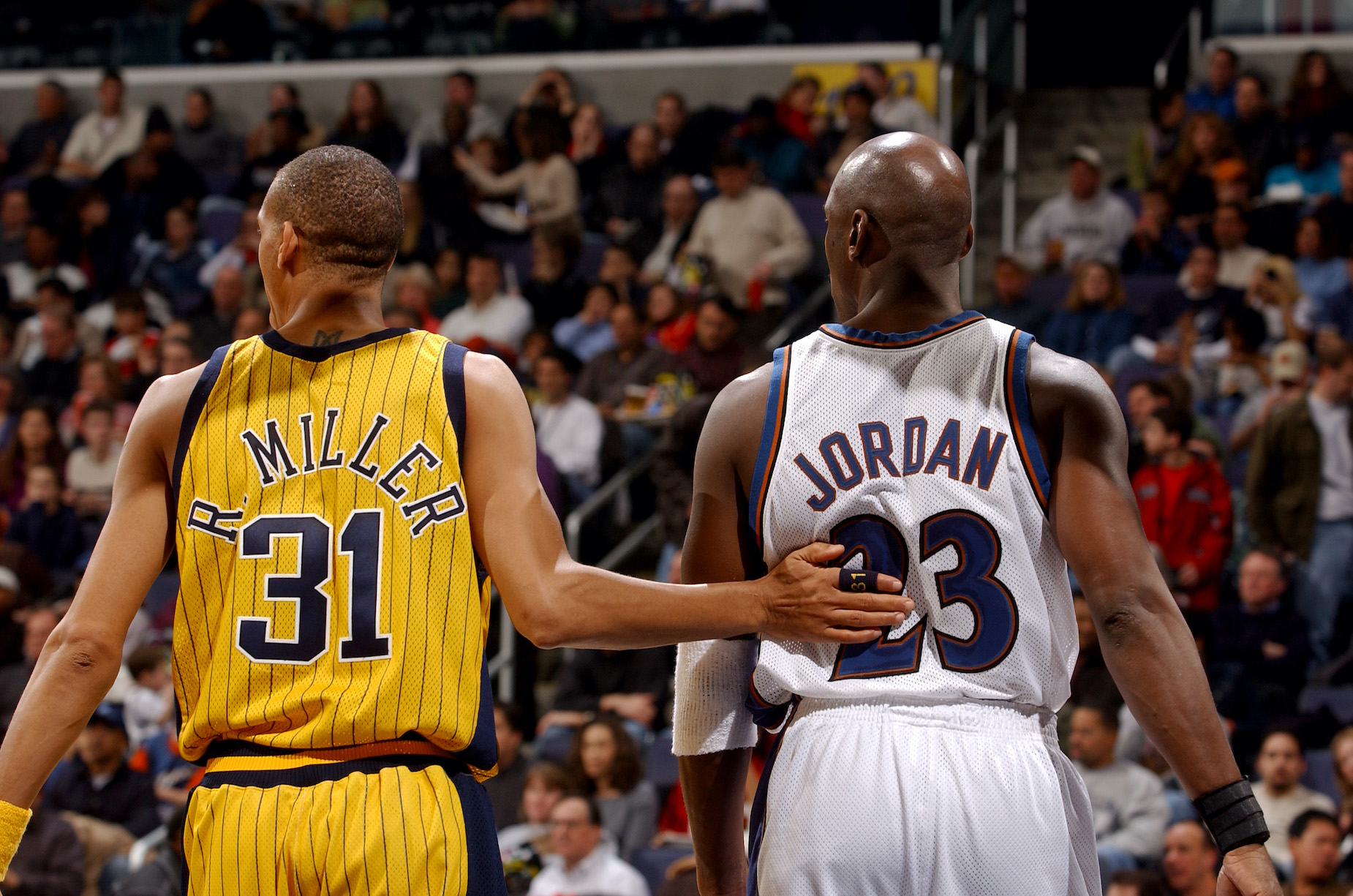 While those pick-up games served a valuable purpose for Jordan, he wasn't the only one to take the court with an eye on the NBA season. Reggie Miller also arrived at the studio with a plan.
Miller, during his time with the Indiana Pacers, had plenty of showdowns with Jordan and the Bulls. In his mind, these summer scrimmages were a chance to do a bit of extra scouting.
"Mike and I used to do battle and get after one another," Miller told SLAM's Alex Squadron. "I always wanted to be on the opposite team as MJ. My whole purpose of going to these games was to try and find a vice I could use if and when we faced each other during the regular season and/or playoffs."
The Pacers guard, however, failed in those efforts. He left the studio feeling just as stumped as ever before.
"Safe to say I never found one because he didn't have any deficiencies," Miller concluded.
Reggie Miller still managed to leave quite the impression on Michael Jordan
Try as he might, Miller couldn't find a hole in Jordan's game during those Space Jam scrimmages. The Pacers defender, however, still managed to make an impact on MJ.
During the 1998 NBA season, Jordan teamed up with ESPN's Rick Telander for an as-told-to style piece. In that write-up, he specifically highlighted Miller and his defense.
"I don't really dislike anybody in the league, but playing Reggie Miller drives me nuts," Jordan explained. "It's like chicken-fighting with a woman. His game is all this flopping-type thing. He weighs only 185 pounds, so you have to be careful, don't touch him, or it's a foul. On offense, I use all my 215 pounds and just move him out. But he has his hands on you all the time, like a woman holding your waist. I just want to beat his hands off because it's illegal. It irritates me."
While that's not the highest compliment anyone has ever received, it still shows just how much Miller's defense bothered His Airness. Maybe the Pacers guard had found his weakness, even if he didn't realize it.