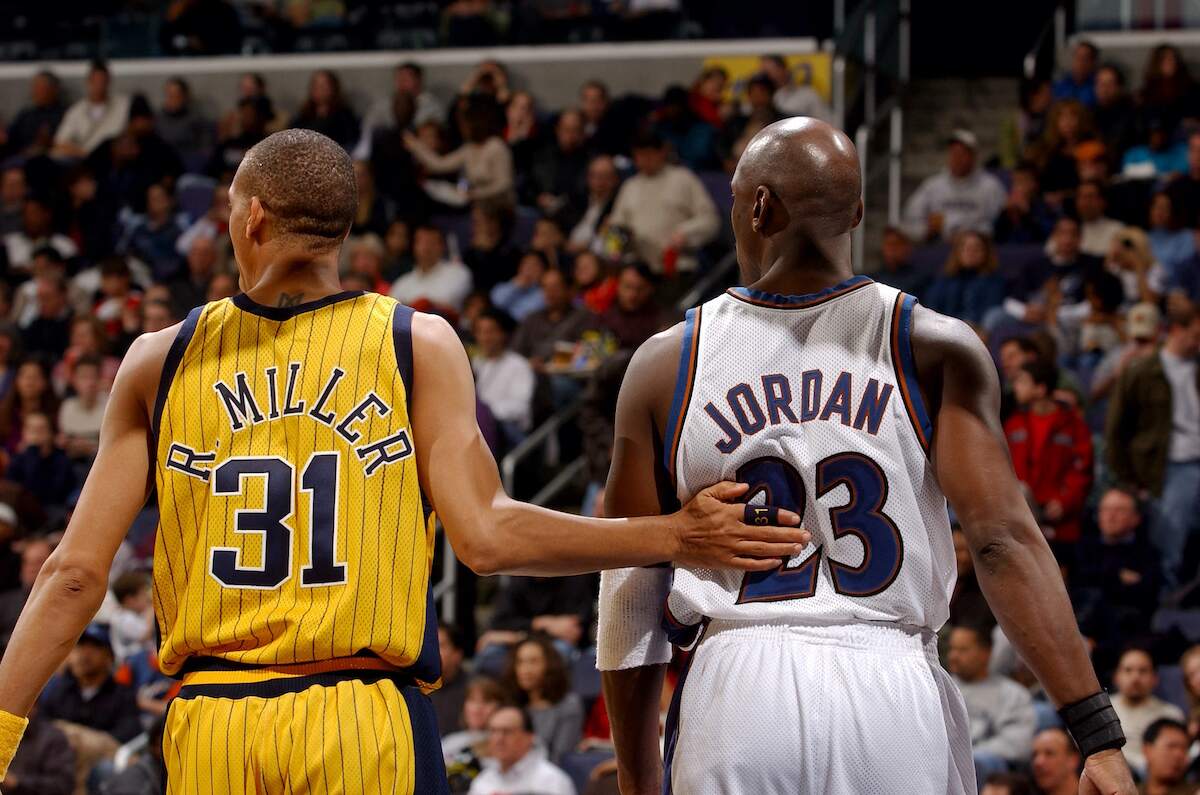 Michael Jordan Couldn't Stand Playing Against Reggie Miller: 'It's Like Chicken-Fighting with a Woman'
While Michael Jordan was capable of outscoring any given opponent, he couldn't stand the way that Reggie Miller played defense.
In the history of sports, few tasks have been more daunting than trying to defend Michael Jordan. Not only was His Airness an incredible talent, capable of doing anything on the basketball court, but he also had an unquenchable competitive fire. He wanted to crush anyone who stood in his way. During MJ's time with the Chicago Bulls, Reggie Miller stood in his way on more than one occasion.
While Jordan usually got the better of Miller, the Pacer's defense seems to have quite an impact on the living legend. During his playing career, the Chicago Bulls star even admitted that he couldn't stand going against the guard.
Michael Jordan was a dominant scorer and a fierce competitor
While it's been almost 20 years since he last hit the hardwood, Michael Jordan still needs no introduction. His overall dominance and desire to crush anyone who stood in his way still stand tall in basketball lore.
It is worth revisiting, however, just how incredible Jordan's stats were. During his time with the Chicago Bulls, he did just about everything possible. His Airness averaged 31.5 points, 6.3 rebounds, 5.4 assists, and 2.5 steals per outing. In addition to six NBA championships and five MVP awards, he was a 10-time scoring champion, a three-time steals leader, and the 1987-88 Defensive Player of the Year.
MJ's raw talent was only enhanced by his competitive fire, though. As we famously saw in The Last Dance, he was able to take almost anything personally and turn it into motivation. Whether you were a fan, a teammate, or an opponent, Jordan had no problem talking trash and backing it up on the court.
Simply put, Michael Jordan wasn't someone you wanted to mess with.
Reggie Miller had his fair share of duels with the legend
During his time in the NBA, Michael Jordan faced plenty of tough defenders. He crossed paths with Reggie Miller, however, more often than most.
When the pair first met on the court, Miller made the mistake of talking trash to MJ. He promptly paid the price. From there, though, the rivalry only grew.
While there were plenty of famous moments along the way, like a fight in 1993 and a showdown in the 1998 Eastern Conference Finals, Jordan always seemed to come out on top. The Bulls were the top dog of the era, and he was their star player. Try as Reggie Miller might, he couldn't change that.
Michael Jordan couldn't stand Reggie Miller's defense, though
While Michael Jordan usually came out on top in their head-to-head matchups, it seems like Reggie Miller still made quite the impact on him. During a 1998 interview, His Airness specifically highlighted the Pacers' guard as someone he couldn't stand playing against.
"I don't really dislike anybody in the league, but playing Reggie Miller drives me nuts," Jordan told ESPN's Rick Telander at the time. "It's like chicken-fighting with a woman. His game is all this flopping-type thing. He weighs only 185 pounds, so you have to be careful, don't touch him, or it's a foul. On offense, I use all my 215 pounds and just move him out. But he has his hands on you all the time, like a woman holding your waist. I just want to beat his hands off because it's illegal. It irritates me."
While the gendered insults aren't the best look, one thing is clear: Michael Jordan really couldn't stand Reggie Miller's defense. And, while the Pacers' guard would have surely preferred to beat MJ on the court, knowing that you frustrated the greatest basketball player of all time is still a pretty cool consolation prize.
Stats courtesy of Basketball-Reference