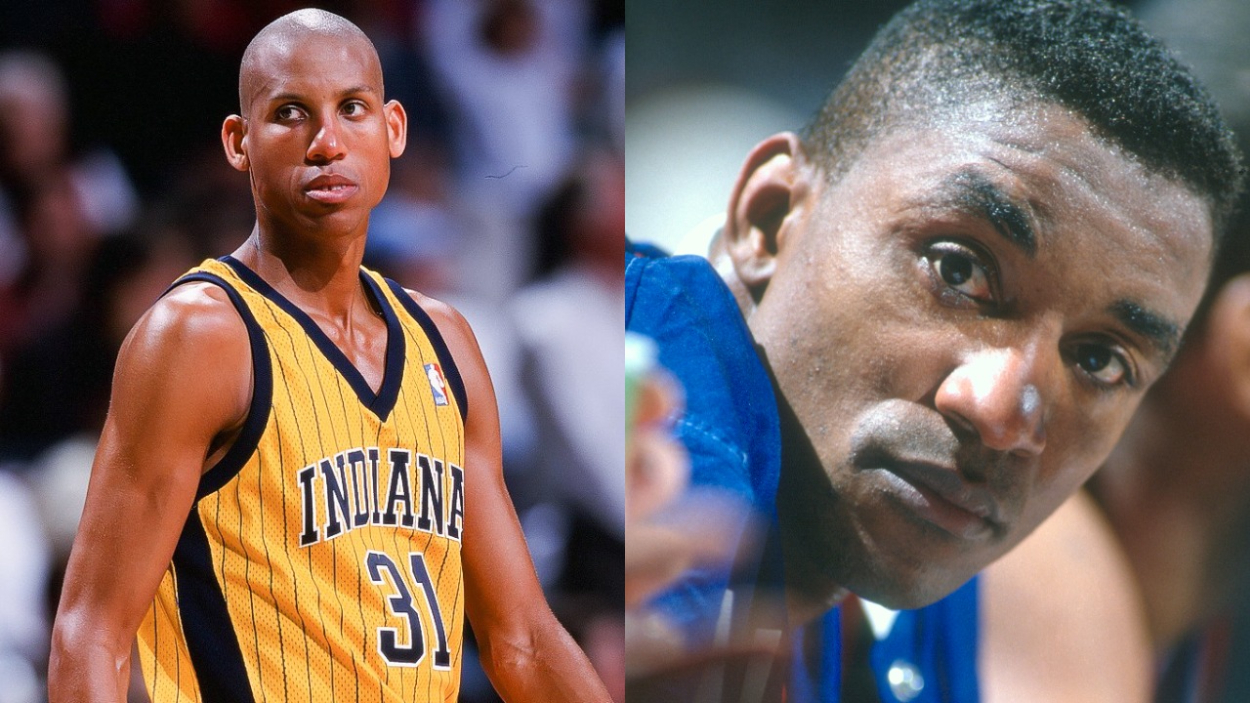 Reggie Miller Says He 'Couldn't Stand' Isiah Thomas: 'He Would Be Smiling All in Your Face'
Reggie Miller and Isiah Thomas played in the same era of the NBA. Miller is an Indiana Pacers legend while Thomas won two championships with the Detroit Pistons. However, Miller recently said he couldn't stand Thomas whenever they played each other during their careers, and he ultimately revealed why that was the case.
During the 80s and 90s, competition in the NBA was fierce; players hated each other and wanted to win at all costs. You could see this clear as day between the likes of Michael Jordan and Isiah Thomas during The Last Dance. However, Jordan wasn't the only person who "couldn't stand" Thomas. Another player who wasn't his biggest fan when battling him on the court was Indiana Pacers legend Reggie Miller.
Reggie Miller and Isiah Thomas played in the same NBA division
Thomas entered the league several years before Miller did, as he went to the Detroit Pistons with the No. 2 overall pick in the 1981 NBA draft. Miller, on the other hand, entered the league in 1987 as the No. 11 overall pick with the Pacers.
Thomas became a 12-time All-Star in Detroit and won two NBA championships, which later led to him entering the Naismith Memorial Basketball Hall of Fame. He averaged 19.2 points and 9.3 assists for his career, and is ninth in NBA history in total career assists with 9,061.
Like Thomas with the Pistons, Miller also played on the Pacers throughout his entire career, earning five All-Star selections, and ultimately entering the Hall of Fame. Miller averaged 18.2 points per game for his career and is third in NBA history in 3-point field goals made with 2,560.
Thomas and Miller only went against each other from 1987-88 through 1993-94, as that latter campaign was Thomas' last. But given that the Pacers and Pistons are both in the Eastern Conference Central Division, the two Hall of Famers had plenty of battles against each other during those years.
Miller "couldn't stand" Thomas when playing him, either.
Reggie said he 'couldn't stand' Isiah
Miller recently appeared on the Dan Patrick Show, and he admitted that he "couldn't stand" Thomas during his career.
"It's that central division, couldn't stand him just like MJ," Miller said on the June 15 episode. "He would be smiling all in your face, acting like he's your friend and stuff, taking the biggest cheap shots ever."
Thomas' agent did not respond to a request for comment prior to publishing about the guard potentially taking cheap shots during his career.
Miller, though, also essentially admitted that he loved Thomas' game. When asked which point guard, past or present and other than Magic Johnson, he would want to play with, Miller said, for his skill set, he'd pick either Thomas or Jason Kidd.
"[Thomas was] one of the toughest point guards. I loved me some Zeke," he said. "…Sneaky nasty; sneaky."
However, when asked to choose between playing with Thomas or Michael Jordan, another central division foe, Miller wouldn't pick either.
"I'm not rollin' with either one of them," Miller said. "I've got built-up issues with both. I can't roll with either."
Isiah Thomas became Reggie Miller's coach on the Pacers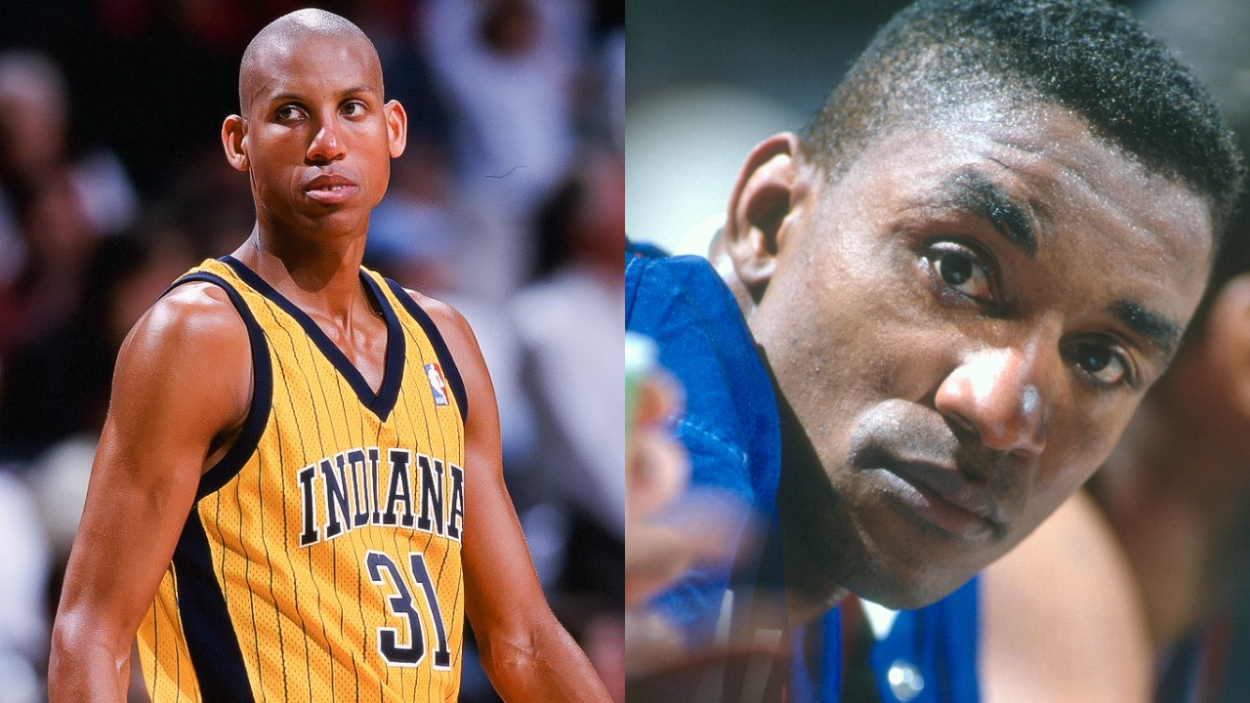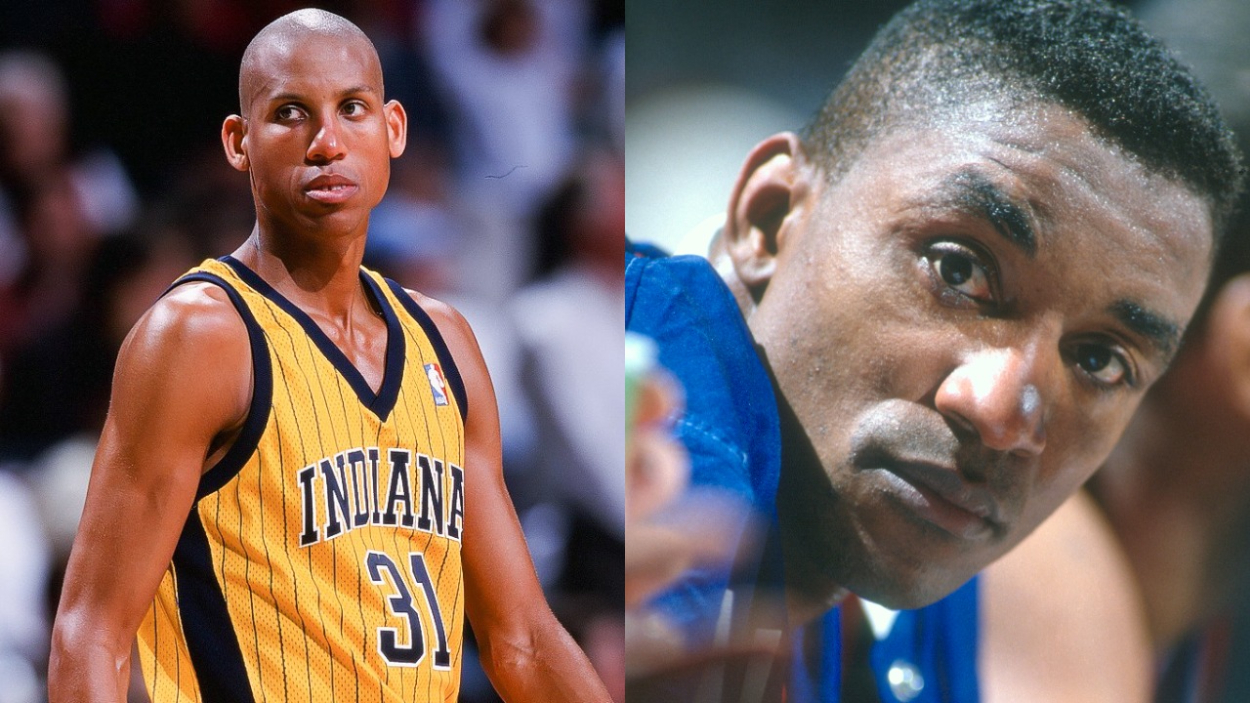 Despite not being able to stand him, Miller later played under Thomas.
Thomas, who played college ball at Indiana, coached Miller on the Pacers from 2000-01 through 2002-03. Miller's career, though, was near its end at that time, so he went from averaging 18.9 points in that first year with Thomas to 16.5 in 2001-02 and 12.6 in 2002-03.
The Pacers made it to the playoffs in every season that Thomas was head coach but lost in the first round each time. Indiana then went 61-21 and reached the Eastern Conference finals in their first year without Thomas in 2003-04. 
Maybe the collaboration between Thomas and Miller just couldn't work out?
Thomas wasn't a great coach, by any means, but he was one of the greatest point guards in NBA history. His and the Pistons' style of play throughout those years, though, probably led to many more former players disliking Thomas throughout his career. But who can fault him? He knew what it took to win, and it resulted in championships, which, Miller, unfortunately, never won.
Stats courtesy of Basketball Reference