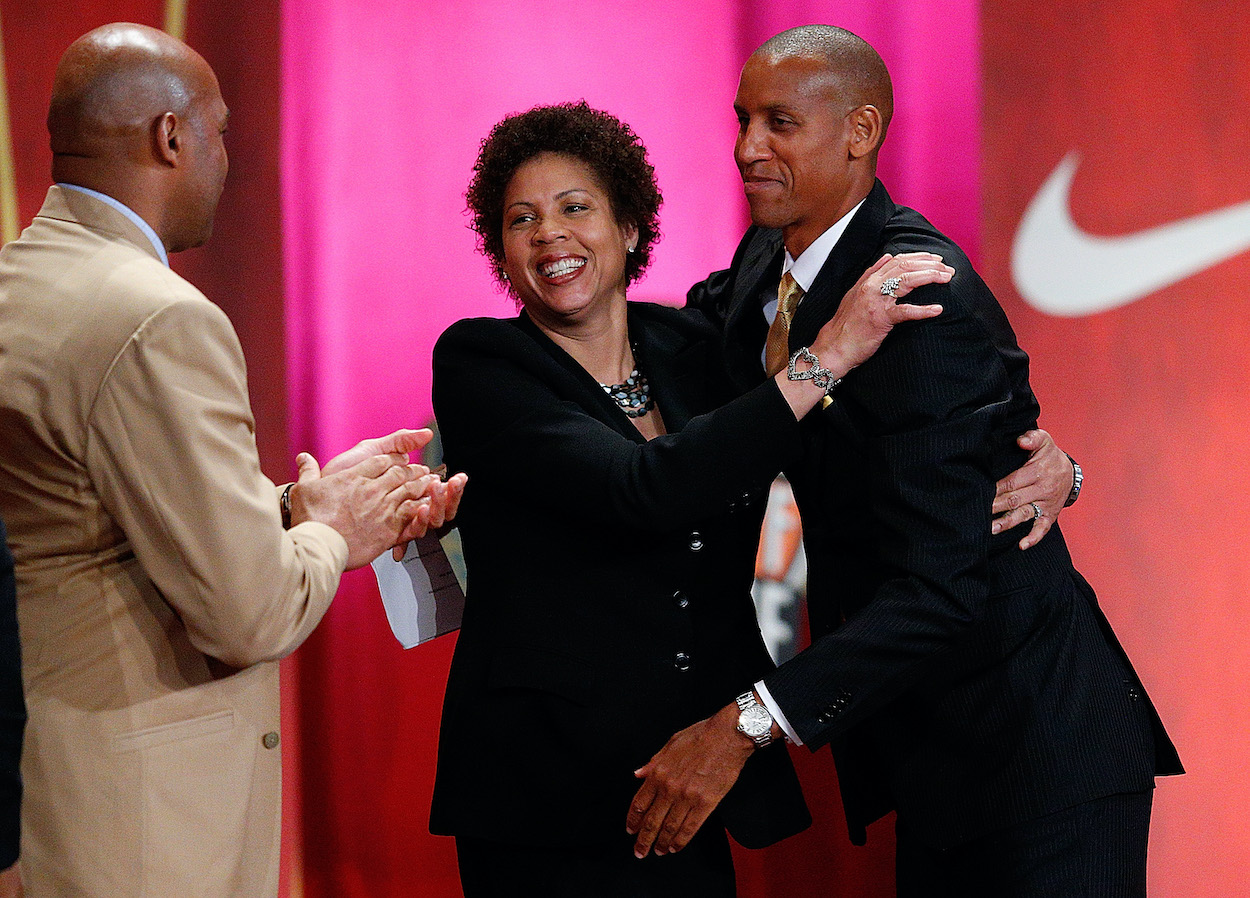 Reggie Miller Learned How to Trash Talk After Getting 'Beat Down' by His Sister
Reggie Miller is a legendary NBA trash-talker and he owes it all to the tough lessons his sister Cheryl taught him playing ball as kids. Even though Reggie in an NBA Hall of Famer, his sister may have been even better. Cheryl Miller is considered one of the greatest women's basketball players in history.
We are all shaped by childhood experiences, and many of us can attribute our personalities directly to our siblings. For Indiana Pacers legend and current NBA analyst Reggie Miller, his reputation as one of the great NBA trash-talkers directly results from his interaction with his sister.
Miller got "beat down" on the basketball court by his older sis as a kid, which is how he learned to use his mouth to his advantage. This may sound surprising unless you know exactly who she is.
Cheryl Miller is one of the best women's basketball players of all time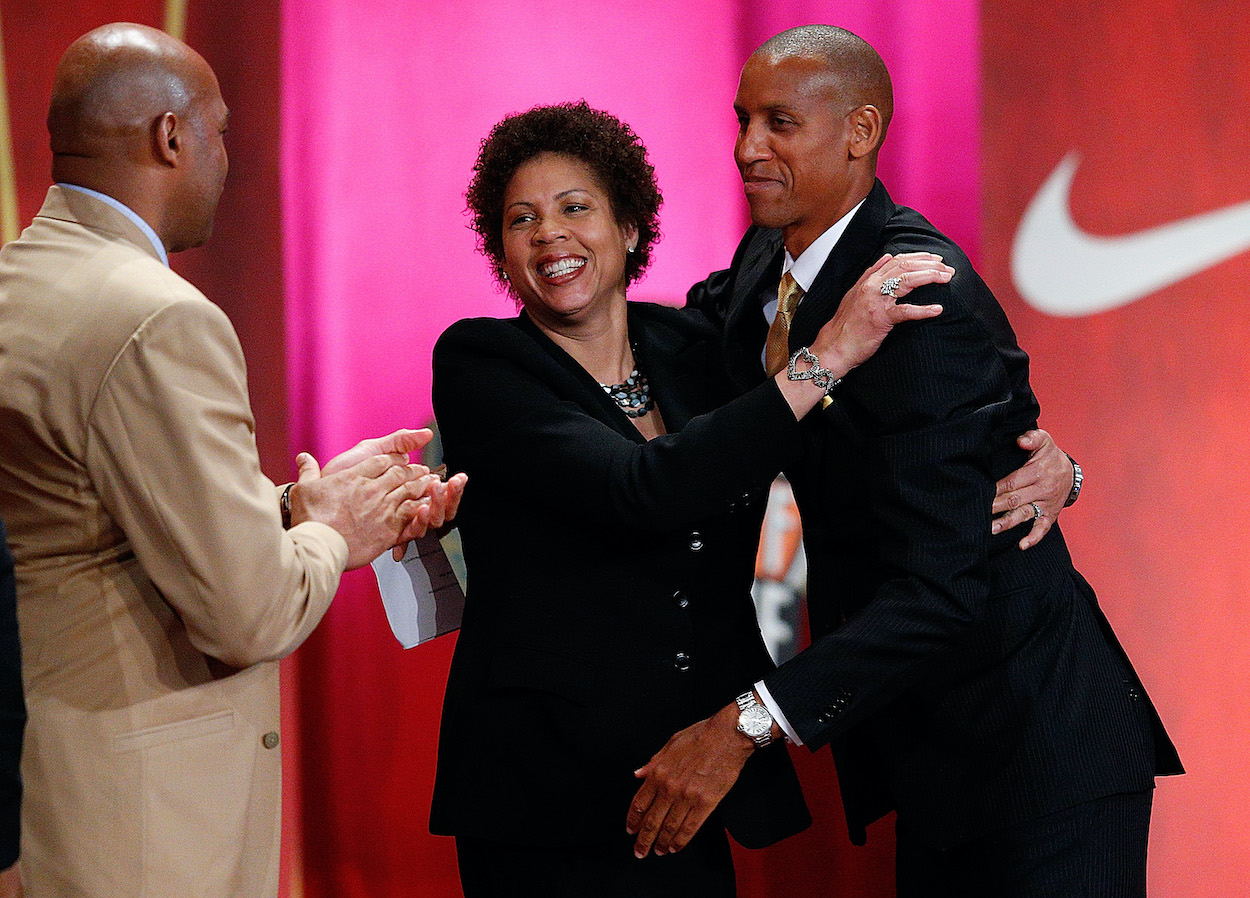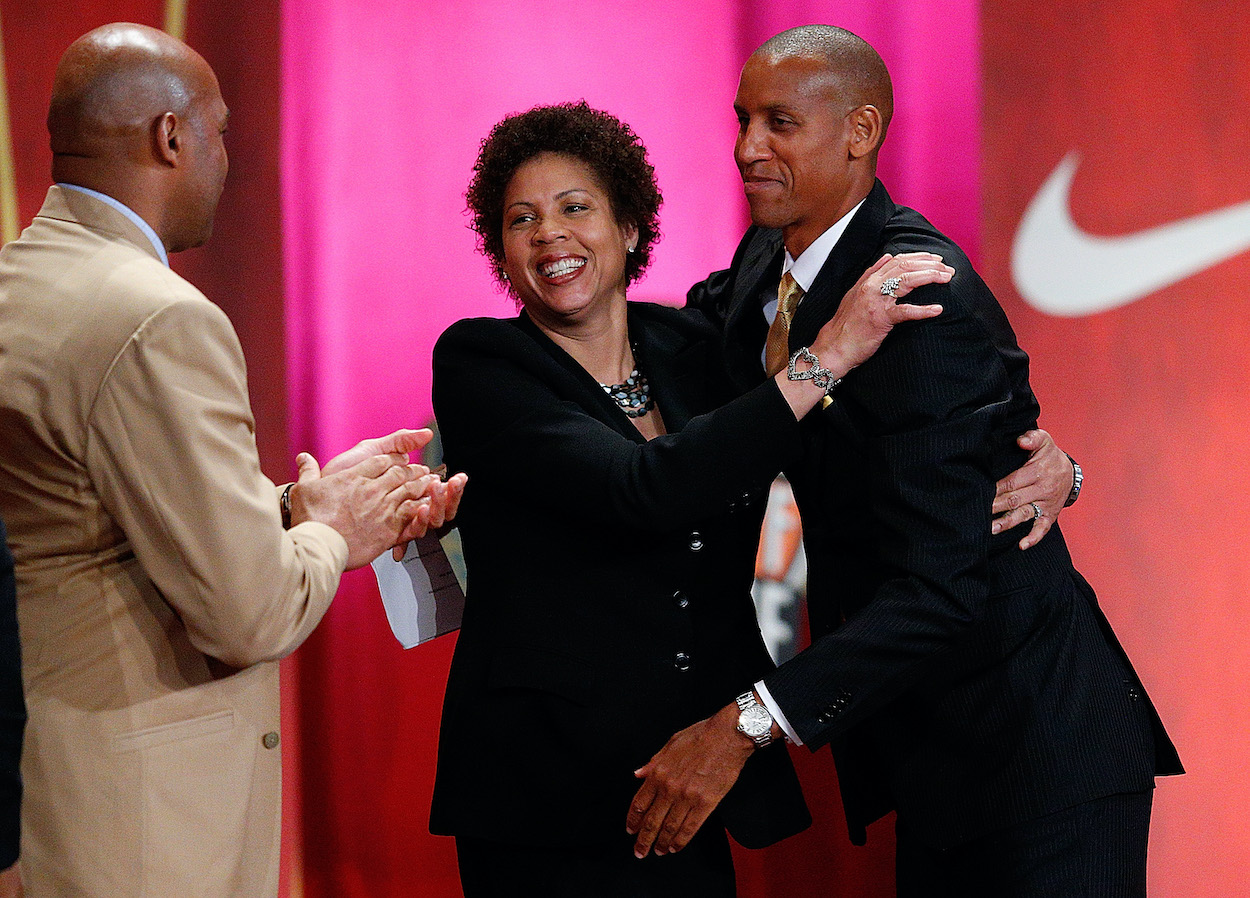 Jazz musician Saul Miller and his wife Carrie, a nurse, had five children. They raised the family in Riverside, California and each child became a great athlete. Their oldest son, Saul Jr., followed his dad into music, but Darrell played major league baseball for five seasons and their second-youngest, Reggie, became an NBA Hall of Famer. Their youngest daughter Tammy played volleyball at Cal State Fullerton, per the Los Angeles Times.  
Cheryl, born after Darrell and before Reggie, may have been the best athlete of the bunch, though. She became one of the most talented women's basketball players of all time. In high school at Riverside Polytechnic, she once scored 105 of her team's 115 points in a single game, according to The Undefeated.
At USC, she led the Women of Troy to two-straight National Championships and set NCAA records for points, assists, free throws, and steals. She eclipsed the former USC career points leader by over 600 points.
While in college, she also led the 1984 U.S. Olympic women's basketball team to a gold medal in her home city. In 1985, Sports Illustrated named her National Player of the Year for all of college basketball, men's or women's. '
After college, Cheryl tore her ACL and, the lack of successful medical procedures in those days, as well as the fact that the WNBA didn't exist yet, effectively ended her basketball career at 22.
She stayed involved with the game ever since, though. She's worked as an NBA reporter and analyst for Turner, ABC, ESPN, and NBA TV. She's also been a coach and a general manager in the WNBA.
Reggie Miller learned to talk trash playing basketball against his sister
Cheryl started playing with her older brothers at the age of 5, according to her parents. Saul Jr. and Darrell didn't take any mercy on their younger sis and no problem knocking her down and blocking her shots until she cried.
She took that same tact with her little brother, Reggie. The former UCLA star told the story on Jimmy Kimmel Live of how his sister's tough loved turned him into the trash-talker he is today:
When you're getting beat down by your sister, who's the greatest women's basketball player of all time, you learn to talk because I was getting beat down by her, and all my boys were laughing because I was getting beat down by her, but she was beating down them! So I learned to talk there, and it kinda went to UCLA, and then it happened – I started talking as soon as I got into the League.
Luckily for Reggie Miller, he could back up that trash talk in the NBA, thanks to Cheryl's tutelage. He went on to become one of the best shooters in league history in his 18-year career. This led to the Naismith Basketball Hall of Fame enshrining him in 2012.
Reggie Miller had legendary trash-talk battles with Michael Jordan
Reggie Miller had famous trash-talk battles with many players and even iconic New York Knicks fan Spike Lee. Some of his most legendary encounters came against Michael Jordan.
The on-court rivalry between Reggie and Jordan wasn't much of team rivalry. Jordan dominated their encounters, winning 32 of their 49 career matchups, according to statmuse.
The mental battle was intense, though. The stories of their smack talk are plentiful. These anecdotes include the time Jordan told Reggie, "You never talk to Black Jesus like that," after he first tried to get in Jordan's head.
While the Pacer never got the better of Jordan, he was an all-time great. His career highlights include five NBA All-Star appearances, 25,279 points, 2,560 made three-pointers, and a gold medal with the 1996 U.S. Olympic team.
All stats courtesy of Basketball Reference