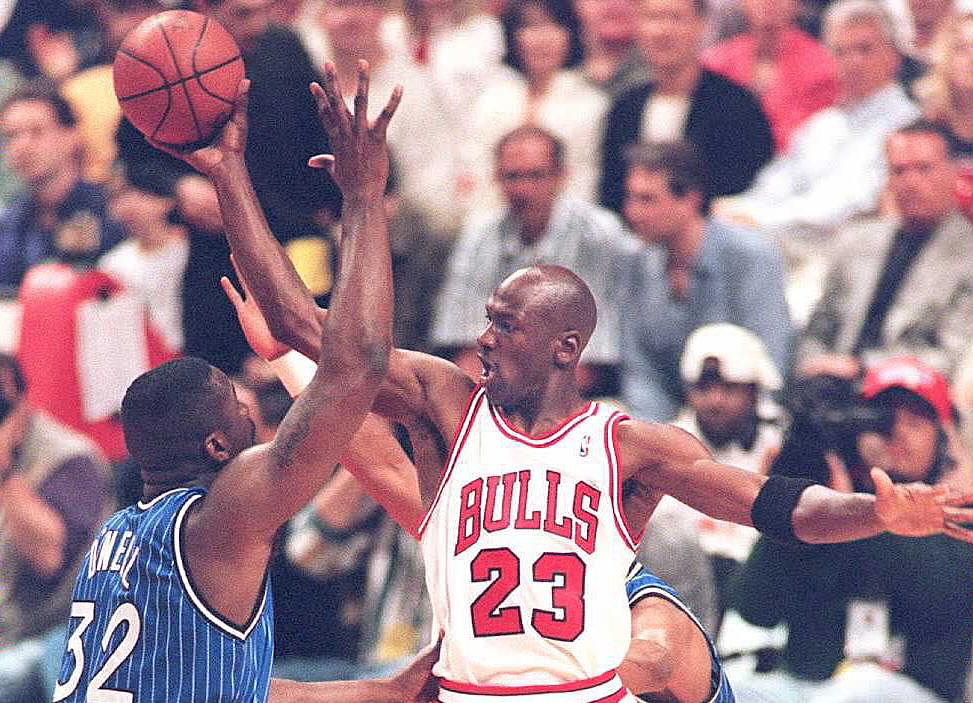 Nothing Makes Michael Jordan Try Harder Than Saying He Can't Do Something
Michael Jordan was the greatest of all time for a reason. He accepted every challenge he faced and excelled just like his parents taught him.
With the "The Last Dance" docuseries on the Chicago Bulls 1997-98 season debuting this weekend on ESPN, fans will get a behind-the-scenes glimpse at what that final season was like for Michael Jordan and his teammates in Chicago. One recently aired clip showed Jordan's ultra-competitive nature, where he learned it from, and how that drive allowed him to achieve so much success in his Hall of Fame career.
Michael Jordan's parents instilled hard-working values
Michael Jordan's parents, James and Deloris, led their son and his brothers and sisters by example. James worked for years at General Electric as a plant supervisor, and Deloris worked at a bank. 
Both parents always encouraged their five children to work hard, and no matter what kind of challenges life presented, to always push forward and persevere. In a Good Morning America interview with Robin Roberts promoting the upcoming docuseries, Jordan said his parents deserve all the credit for his never-quit attitude and burning desire to excel.
"They were hard-working people. They instilled that in my brothers and sisters. I just lived and learned it from them. It just became a part of my nature. I always looked at a negative and would try and turn it into a positive."
Jordan reveals his competitive nature early on with the Bulls
Also featured in the GMA interview was a clip from the docuseries that included Michael Jordan and Chicago Bulls Owner Jerry Reinsdorf detailing an incident that happened in the 1985-86 season, Jordan's second year with the Bulls.
After suffering a broken foot early in the season, Jordan sat out most of the year missing 64 games. As the end of the season approached, the Bulls still had a chance at the playoffs and Jordan wanted to return and help the team in that final push. Doctors told him he couldn't play because there was a 10 percent chance of re-injury. Jordan wasn't happy.
"I just lost it," Jordan said. "I said it's a 10 percent chance, but it's a 90 percent chance that I won't."
Bulls owner Jerry Reinsdorf, having consulted with team doctors, explained to his young star that re-injury could potentially end his career.
"You're not understanding the risk-reward ratio. If you had a terrible headache, and I gave you a bottle of pills. And nine of the pills will cure you, and one of the pills will kill you, would you take the pill?"
Jordan's response showed his passion for competing.
"I looked at him and said, 'It depends on how bad the f–king headache is.'"
Jordan returns and proves a point
Against the advice of doctors and the Bulls organization, Michael Jordan returned that season and helped the Bulls make the playoffs. He then went on and proved he was completely healed in the second game of the first-round series against the Celtics by scoring a playoff-record 63 points.
Those against-the-odds scenarios played out throughout Jordan's career, including the first time he retired and took up baseball. Upon his return to basketball, many detractors said he wouldn't be able to help the Bulls reach the playoffs. Jordan not only returned to action, he dropped 55 points against the New York Knicks his fifth game back and the Bulls made it to the playoffs, defeated the Charlotte Hornets in the first round, before losing to the Orlando Magic.
That following season, there were numerous reports that Jordan had lost a step with his inability to take the Bulls any further in the previous season's playoffs. That was all the motivation he needed. Jordan went on to lead the NBA in scoring that season and the next two seasons as the Bulls completed their second three-peat in eight seasons.