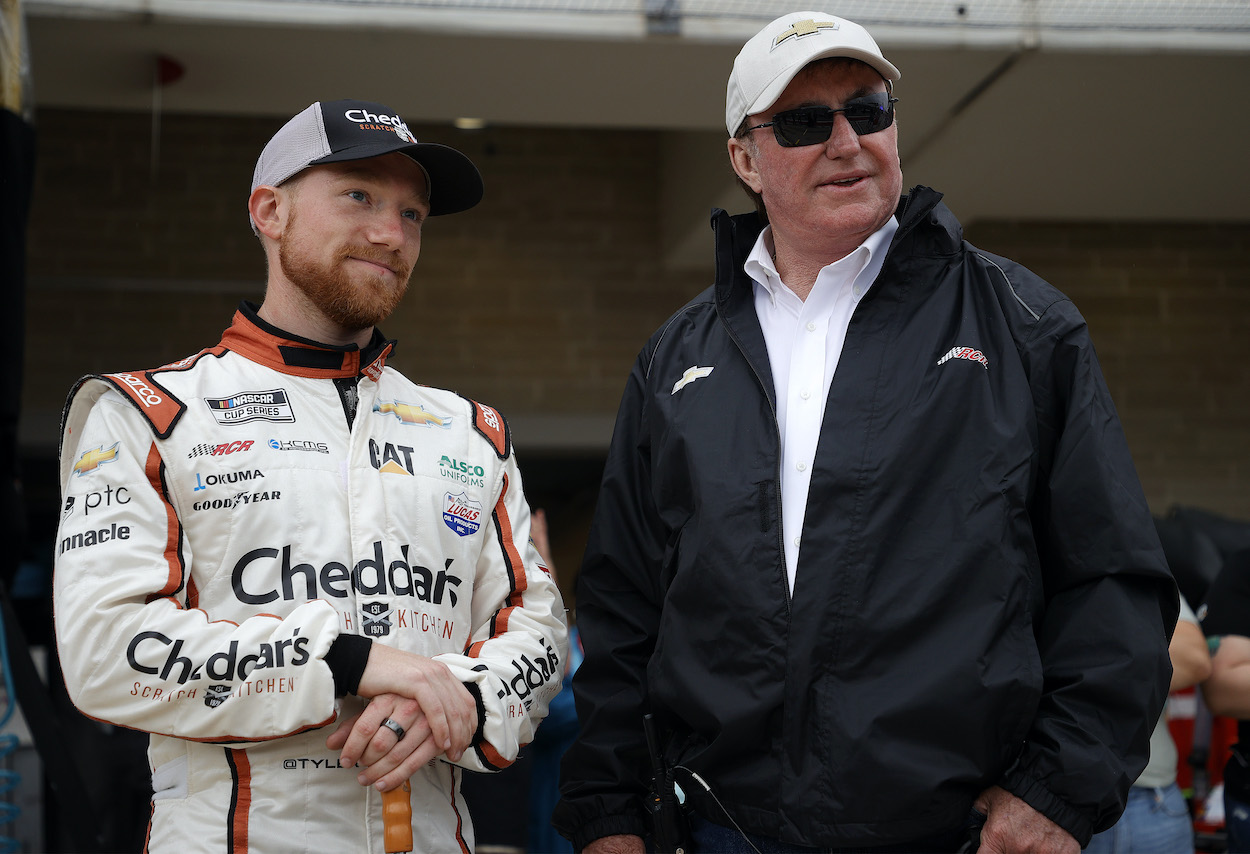 Richard Childress Addresses Why NASCAR Allowed Questionable Sponsor on Car in 2022; Fans Can Expect to See More Like It in Future
Richard Childress got NASCAR to sign off on a sponsor in a very different market and it should open the floodgates for similar companies to sponsor teams in the future.
Richard Childress is one of the most respected names in NASCAR. Like the old E.F. Hutton commercial, when he talks, people listen. This week the words and actions from the 76-year-old team owner caught some by surprise when he signed on a new and very different sponsor than what has previously been seen in the sport. 
Some applauded him for his ingenuity and for expanding into a new market. Others wondered why NASCAR would allow this type of sponsor. Here's a look at how it went down and why fans should expect to see more of it in the future. 
Richard Childress Racing announces sponsorship in new and unique market
This week when Richard Childress Racing announced 3CHI as a primary partner for Tyler Reddick and the No. 8 car in 2022, many fans turned to Google to find out about the business. Some were surprised when they learned it's a hemp-based product for consumption and therapeutic purposes.
"This is a first-of-its kind partnership, both within motorsports and within the sports industry as a whole," said Torrey Galida, president of Richard Childress Racing. "We're proud of our role as industry leaders in this category and look forward to introducing a pioneer in hemp-based consumer products to NASCAR, as well as educating fans about 3CHI's innovative, science-based products."
3CHI's line of products is designed by scientists using organic hemp and follows all federal requirements for full legal compliance.
Richard Childress responds to questions about 3CHI
Richard Childress has been a part of NASCAR since the 1960s as a driver but became a household name as a team owner in the 1980s when Dale Earnhardt Sr. won his six championships with the team. However, even with the team owner's iconic status, the latest move by RCR to sign on 3CHI required a rigorous review process by NASCAR before it was ever approved.
"We had to do a lot of testing and a lot of different stuff for the product," Childress said at Daytona this week during Next Gen testing. "I've just got to thank everybody at NASCAR for opening the category. I'm just really thrilled to be part of the first time out. For us to have it on the car means a whole lot."
Childress said the process for approval took approximately three months because he wanted to "make sure everybody was good with it." 
Not first CBD product in NASCAR
During his comments on the sponsorship, Childress also mentioned how, despite being the first CBD sponsor on a car, 3CHI isn't the first CBD company in NASCAR. That occurred last year during the Saturday Cup Series race at Pocono called the Pocono Organics CBD 325. 
Interestingly, the NBC broadcast only referred to it as the Pocono Organics 325, leaving out CBD. Despite a Gallup Poll in 2020 indicating that 68% of Americans favor legalizing marijuana, it's clear that some businesses just aren't there yet. 
While some fans might not approve of the product, it's safe to assume, with NASCAR officially approving a CBD company as a car sponsor, they should expect to see a lot more of them in the future. 
Like Sportscasting on Facebook. Follow us on Twitter @sportscasting19.