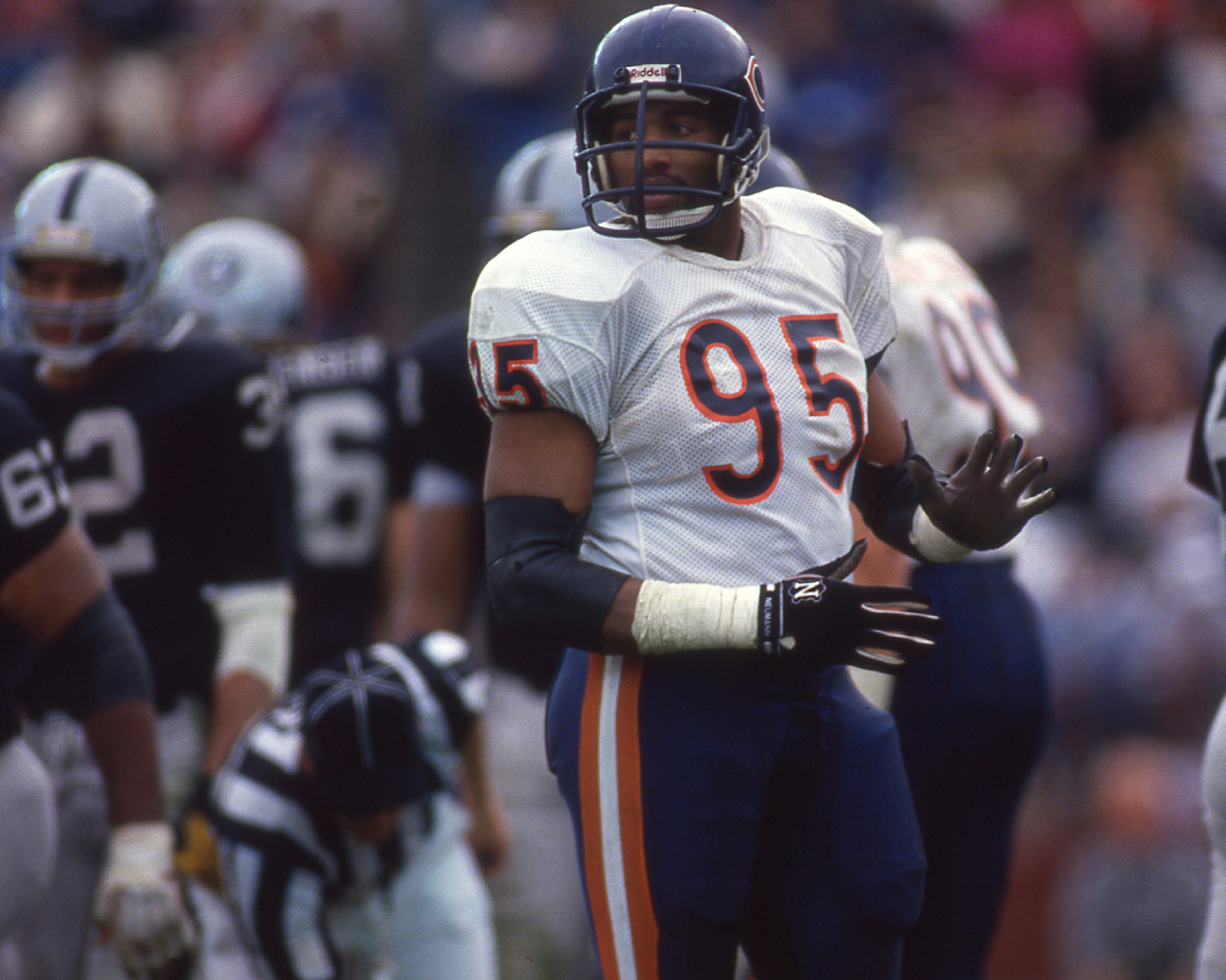 Richard Dent's Teeth Helped Make Him an NFL Star With the Chicago Bears
Chicago Bears Hall-of-Fame defensive end Richard Dent's teeth helped turn him into a big-time NFL superstar.
Richard Dent wasn't one of the most highly recruited football guys. With lots of hard work and determination, Dent worked his way up the NFL ladder with the Chicago Bears to become an NFL Hall of Famer. The 6-foot-5, 256-pound defensive end wasn't always considered one of the biggest and strongest guys on the field. Dent can thank his teeth for helping him make his mark in the NFL.
Richard Dent's football career
Richard Dent played four years of college football as a walk-on at Tennessee State. NFL scouts weren't sold on the fact Dent, a very lean 215 pounds, could play with the big boys in the NFL. He began his college career as an offensive lineman, but was considered too small and switched over to defense.
The Chicago Bears snagged Dent in the eighth round of the 1983 NFL draft. He was selected with the No. 203 pick. Dent went on to prove he was, by far, the draft's biggest steal by playing 15 years in the NFL, the first 12 with the Bears. It didn't take Dent long to make an impact with the Bears. He played in all 16 games his rookie year, but then made the Pro Bowl the next two seasons when he led the league in forced fumbles both seasons. In 1984, he also had 17.5 sacks and then in 1985, he led the league with 17.
Dent was named the MVP of Super Bowl XX when the Bears trounced the New England Patriots. In eight of his seasons with the Bears, Dent collected double-digit sacks. He finished with 137.5 in his career. After the 1993 season, Dent played one year for the San Francisco 49ers before returning to the Bears for one more season in 1995. He then played a year each for the Indianapolis Colts and Philadelphia Eagles. Dent was inducted into the Pro Football Hall of Fame in 2011.
Dent didn't get a whole lot of respect
It wasn't just the fact that Richard Dent slipped to the eighth round of the 1983 NFL draft that showed he wasn't given a whole lot of respect. According to ESPN, that continued while he was in the NFL. It even happened from his own coach, the legendary Mike Ditka, after Dent was named Super Bowl XX MVP.
"Richard," said former Bears teammate and fellow Hall of Famer Dan Hampton, "is one of those guys with a chip on his shoulder. Even though he was an eighth-round pick, he always had an image of himself as a big-time player and he felt he had to prove it. Even when he was the MVP of the Super Bowl, Ditka was calling him 'Robert' and all that. It was like nobody gave him his due, and I hate to say it, but now he gets the last laugh."
He did get the last laugh when he was inducted into the Hall in 2011. For Dent, it was well worth the wait and the lack of respect. "As a kid, thinking back to the time being a Pro Bowler, winning the Super Bowl, always wanting to be defensive player of the year or rookie of the year or MVP, this is my first award for my career. And baby, it just doesn't get any better than this," he told ESPN.
How Dent's teeth paved the way for a successful NFL career
According to The Chicago Tribune, Richard Dent didn't play any organized sports until his junior year at Atlanta's Murphy High School. He was a wiry kid with very little experience. His high school coach eventually arranged for Dent to play as a walk-on at Tennessee State. He was extremely quick, but not very big (215 pounds) to play at that next level. He also had bad teeth.
Chicago Bears scout Bill Tobin saw Dent's potential and lobbied for the Bears to take him in the third round of the 1983 NFL draft. GM Jim Finks wasn't as high on him but scooped him up when he was there in the eighth round.
The Bears noticed Dent's teeth and paid to have them straightened. They made the connection to his lack of weight with his dental issues. Once his teeth were fixed, Dent put on a quick 30 pounds and became a much stronger player. Dent said his teeth always hurt him when he ate and when they were fixed, he was on his way to his Hall-of-Fame career.