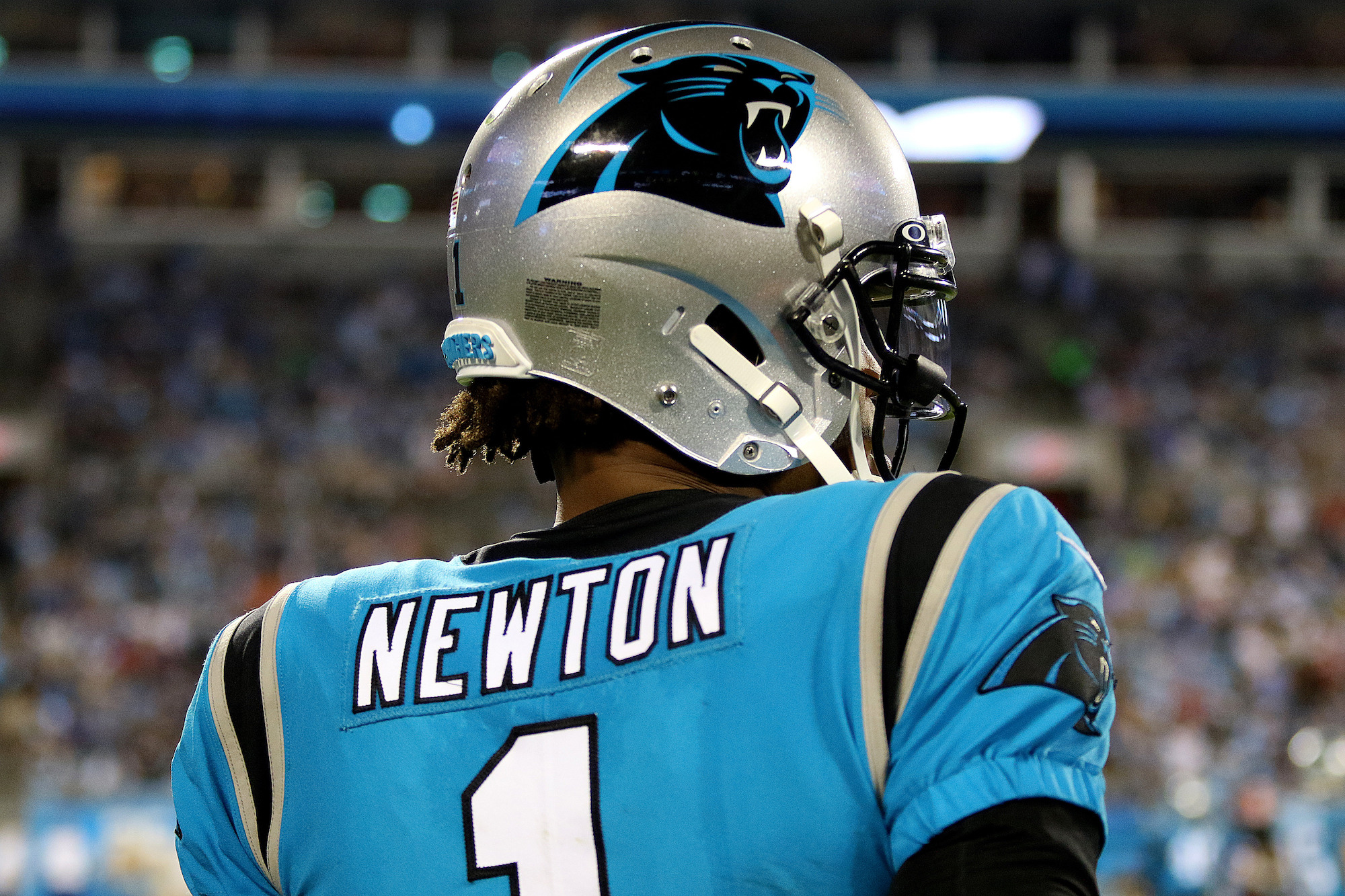 The New England Patriots Have an Extra Insurance Policy Baked Into Cam Newton's Contract
Even if Cam Newton leaves New England after this season, the Patriots could score a nice additional bonus from their new quarterback's contract.
On Sunday night, the New England Patriots shook up the football world by reportedly agreeing to a one-year deal with former Carolina Panthers quarterback Cam Newton. On paper, it's a low-risk signing; even if Cam falls flat, he'll be off the books by 2021, and the Patriots won't be much worse for wear. Bill Belichick, however, is always thinking one step ahead.
Since Newton will be a free agent again next spring, there's always a chance that New England will want to keep the quarterback, but lose him for nothing. If that does happen, though, the Patriots have an insurance policy baked into Cam's contract.
Cam Newton is set to become the newest New England Patriot
Over the past 20 years, Tom Brady and Bill Belichick have come to embody the New England Patriots. Everything changed this offseason, though.
After an entire season of speculation, Tom Brady officially hit free agency this spring. The veteran quarterback promptly traded Foxborough's snow for the sunny climate of Tampa Bay and joined the Buccaneers; although the season is still a few months away, he's already succeeded in changing the narrative around the franchise.
While that move was a coup for the Buccaneers, it left the Patriots in a lurch. After failing to select a quarterback in the 2020 NFL draft, Bill Belichick seemed prepared to start the season with either Jarrett Stidham or Brian Hoyer under center; that all changed, however, on Sunday night.
As first reported by ESPN's Adam Schefter on Twitter, the Patriots came to terms with former Carolina Panthers' quarterback Cam Newton. While he'll still have to win the starting job, you'd have to assume he has the inside track; not only is he simply more talented than anyone else on the roster, but Bill Belichick wouldn't sign a quarterback who he didn't think could make a difference on Sundays.
Cam Newton is a low-risk, high-reward signing
Upon first glance, Cam Newton might not seem like Bill Belichick's ideal quarterback. Based on what we know of the Patriots coach, though, he probably couldn't resist signing a talented player to a low-risk, high-reward deal.
While the exact details of the deal are still unknown, Adam Schefter reported that the Patriots gave Newton a one-year, incentive-laden contract. That's obviously a win from the franchise's perspective; if Cam flops in Foxborough, he won't cost very much and will be off the books by 2021.
Signing Newton, however, also has plenty of upside. As any NFL fan can tell you, the former Carolina Panthers quarterback has plenty of talent; his biggest issue has simply been staying healthy. If he can play 16 games in New England and take advantage of the Patriots' organizational stability, Cam has every chance of posting solid numbers in 2020.
The Patriots have an extra insurance policy baked into the deal
While giving Cam Newton a one-year deal may seem like a low-risk strategy for the New England Patriots, there's still one potential issue. Unsurprisingly, the club has a contingency plan for that possibility.
Since Newton will be a free agent in 2021, the Patriots could be in a tough spot next summer. If the quarterback recovers his MVP-quality form, he'll want a sizable raise; that could tempt him back into free agency, leaving the Patriots without a starting quarterback all over again.
If that does happen, though, the Patriots will reap a small reward. In a later tweet, Adam Schefter noted that, if Newton leaves in free agency, the Patriots could be in line to receive third-round compensatory pick for the 2022 draft; that would, in effect, replace the 2021 third-round pick they lost for filming the Cincinnati Bengals sideline.
While signing Cam Newton to a cheap deal, in order to lose him in free agency and secure a third-round pick isn't some elaborate 4-D chess move from Bill Belichick, that reality does reveal an important detail about the New England Patriots. In Foxborough, everything is planned out; even if a deal falls through, there's always a contingency plan in place.