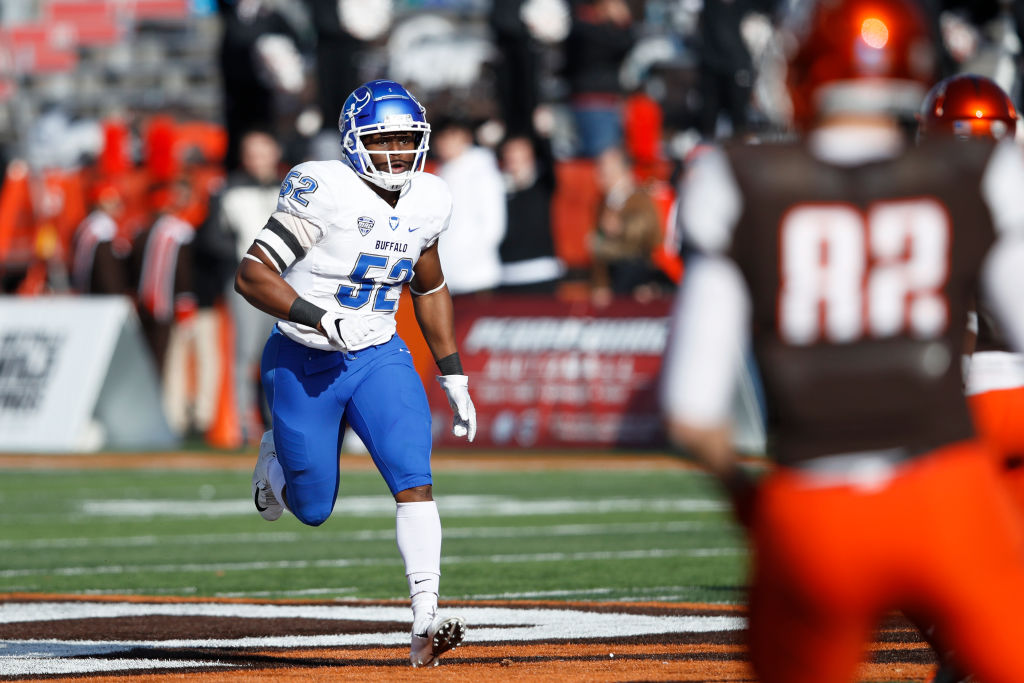 Chicago Bears Sign Khalil Mack's Brother, LeDarius
Khalil Mack will be teaming up with his brother in the NFL, as the Bears just signed LeDarius Mack as an undrafted free agent.
One Mack in the backfield is a scary enough sight for an opposing quarterback, but what about two? The Chicago Bears are bringing in LeDarius Mack, Khalil Mack's younger brother, as an undrafted free agent out of Buffalo. Same school, same position, and now the same NFL team. That faint sound you're hearing is every NFC North QB groaning at once, "Oh, brother."
LeDarius Mack joins his brother Khalil on the Bears
Two years after Khalil Mack was traded to the Bears, Chicago added another Mack to the team. LeDarius Mack, who spent his last two years of college with Buffalo, will be joining his brother on the Bears as a UDFA.
Mack started his college career at ASA College, but he transferred to Buffalo to follow in his older brother's footsteps. Not such a bad idea considering Khalil was drafted fifth overall by the Raiders in 2014. Khalil played four seasons in Oakland before he was traded to Chicago in 2018.
LeDarius wasn't as productive in college as his brother, so he wasn't lucky enough to be drafted in 2020. However, all you need is one chance to make it in the NFL. LeDarius landed in the perfect situation to do just that.
"With Khalil's brother, that's definitely something that we're looking forward to," Bears GM Ryan Pace said. "It's something that worked out for us. It will be unique having two brothers on the same team."
What can LeDarius Mack bring to the Bears?
LeDarius Mack is much smaller than Khalil. He stands 6-foot-1 and weighs 240 pounds. Compared to Khalil's 6-foot-3, 269-pound frame, LeDarius is just an average-sized pass rusher, but Khalil makes almost every NFL player look undersized.
Mack was impressive last year for Buffalo, recording seven sacks and three forced fumbles in 11 games. He also had 11 tackles for loss and 15 solo tackles. LeDarius even scored a defensive touchdown for the Bulls in 2019.
LeDarius wasn't drafted because of his size and limited playing time at a Division I school, but he has a real chance to make the Bears' final roster as a rookie.
Obviously, Khalil will be pushing for LeDarius to stick around. It wouldn't be very smart to anger your best defensive player by cutting his younger brother.
How likely is it that LeDarius Mack makes the Bears' final roster?
UDFAs have a tough road to making an NFL roster no matter who they are. Not even every draft pick makes the final roster for a team, so undrafted players face an even tougher uphill battle.
However, UDFAs actually have great success as a group in the NFL. According to Kyle Bonagura of ESPN, 10 percent of the 2018 Pro Bowl roster was made up of UDFAs. Undrafted players made up more Pro Bowl spots than fourth, fifth, sixth, and seventh-round picks combined.
For the Bears, LeDarius will have to compete to win one of five or six outside linebacker spots on the roster. Khalil Mack, Robert Quinn, Barkevious Mingo, and Trevis Gipson are almost guaranteed to make the team, so LeDarius must prove in the preseason that he's worth the final spot.
It's not impossible, and LeDarius' family ties to the team give him a clear advantage. It wouldn't be the least bit surprising to see both Mack's rushing the passer together next year.