Rickie Fowler Compared Skipping Arnold Palmer's Tournament to Breaking Up With a Long-Time Girlfriend
The Arnold Palmer Invitational is one of the more popular non-major stops on the PGA Tour schedule every year — not just because of the formidable challenge Bay Hill Club and Lodge presents, but also because of the event's connection to a golf legend. It was an honor for Tour pros to receive the API trophy from Arnold Palmer before his death in 2016.
Rickie Fowler always relished the opportunity to compete in Arnie's tournament. The five-time PGA Tour winner has played the API 11 times in his career, but when he wasn't able to make it in 2016, he felt it was necessary to drive down to Orlando, Fla. and break the news to "The King" himself. That, Fowler says, is one of the hardest conversations he's ever had in his life.
Rickie Fowler called missing Arnold Palmer's tournament "one of the hardest things" he's ever done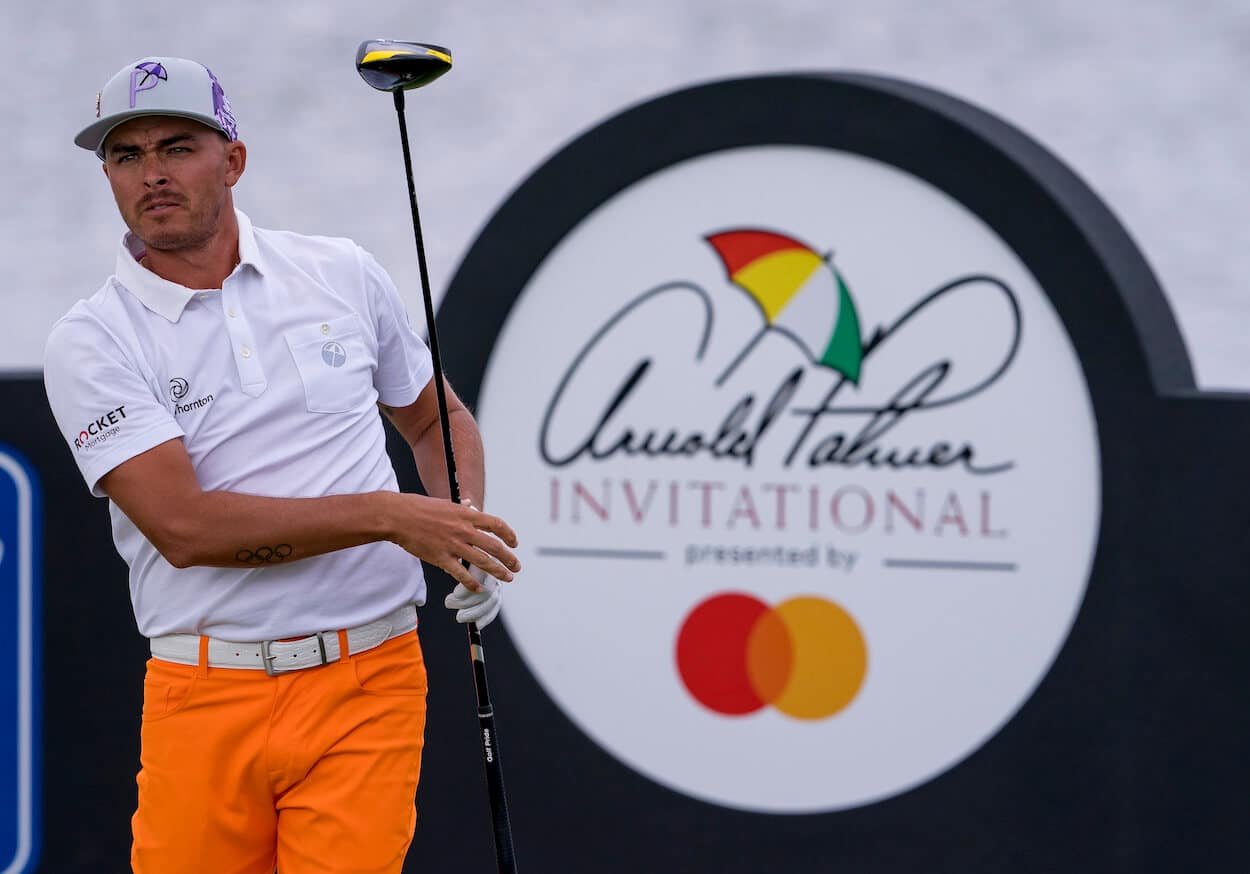 Rickie Fowler, being the golf historian he is, always looked up to Arnold Palmer and used his legacy to inspire his own journey to the PGA Tour. As a junior golfer, Fowler was lucky enough to play with Palmer's grandson, Sam Saunders, which opened the door for him to form a relationship with the golf legend from an early age.
Fowler still remembers the first time he was able to meet Palmer, and he was as starstruck as he's ever been.
"I remember playing an AJGA event at Bay Hill and that was a big deal to meet him," Fowler told Adam Schupak of Golfweek. "I thought he was the personification of cool and one of the greats of the game. He took me in from the get-go because I played a lot with Sam (Saunders)."
Ever since Fowler turned pro in 2009, one of his main goals has been to win the Arnold Palmer Invitational at Bay Hill. The 34-year-old has played the tournament nearly every year since 2010, but he was forced to skip the event in 2016 due to a conflict in his schedule.
Fowler was dejected, and he felt he owed it to Palmer to apologize in person. So, he drove down to Orlando before the tournament and broke the news to Palmer himself.
"I mean, one of the hardest things I've ever had to do," Fowler told Golfweek. "It was like I was breaking up with a long-time girlfriend or something."
Palmer still means so much to many players on the PGA Tour today, and his legacy still lives on with the Arnold Palmer Invitational every year.
"He was a legend," Fowler said. "I loved the way he played but also the way he was with people."