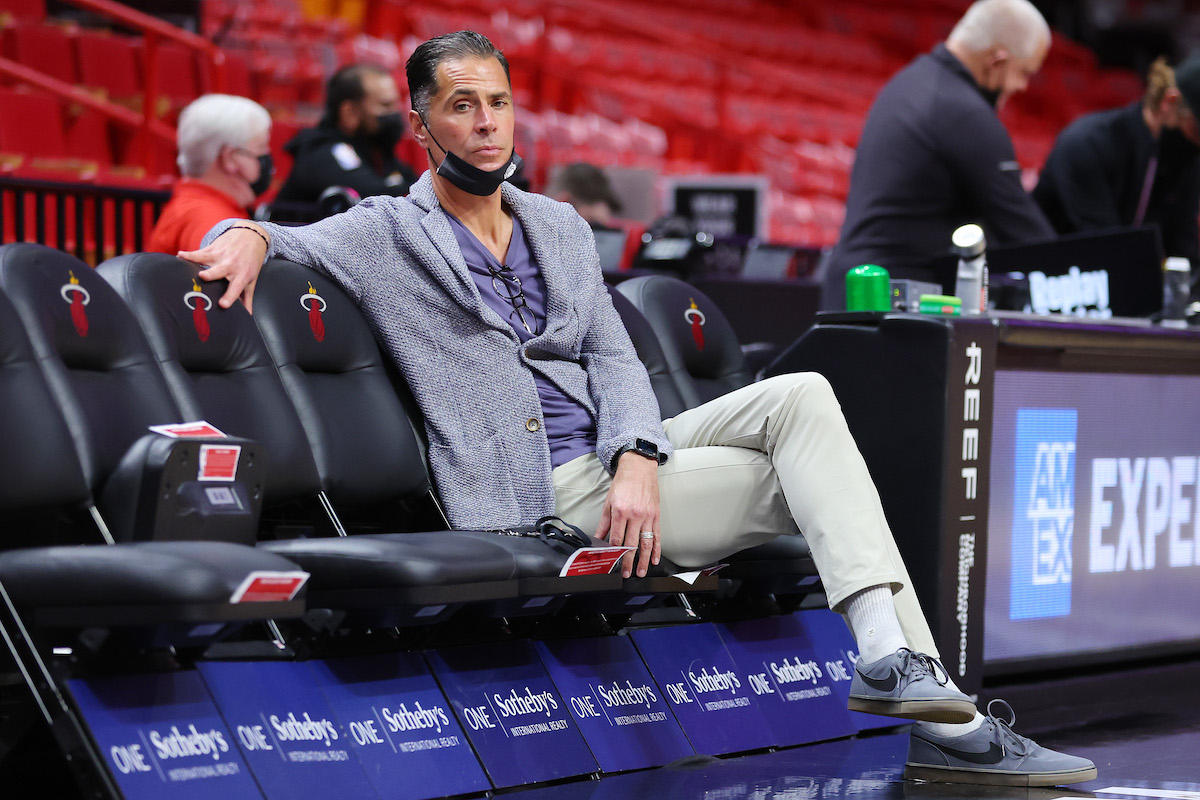 Rob Pelinka Deserves to Be Fired for Wasting a Year of LeBron James' Career
Frank Vogel isn't the one who derailed the Lakers; that individual would be President Rob Pelinka. Change is needed in the front office.
It appears Los Angeles Lakers head coach Frank Vogel is getting the axe if the team doesn't right the ship on what has been a nightmare 2021-22 NBA season. What does that solve? Close to nothing. President Rob Pelinka, not Vogel, is the one who got the Lakers into this mess.
LeBron James, Anthony Davis, and Russell Westbrook on the floor together was always going to be fun because, well, there was no way of knowing how it would play out. All three players command a great deal of defensive attention. In James and Westbrook's cases, they're ball-dominant players. 
The three stars account for roughly $121 million in payroll this season, which limited the Lakers' ability to add depth around the Big Three. Where was the depth? It was with the Washington Wizards. The Lakers sent Kyle Kuzma, Kentavious Caldwell-Pope, Montrezl Harrell, and their 2022 first-round draft pick to Washington for Westbrook and three future second-rounders.
Rob Pelinka removed depth from the Los Angeles Lakers' rotation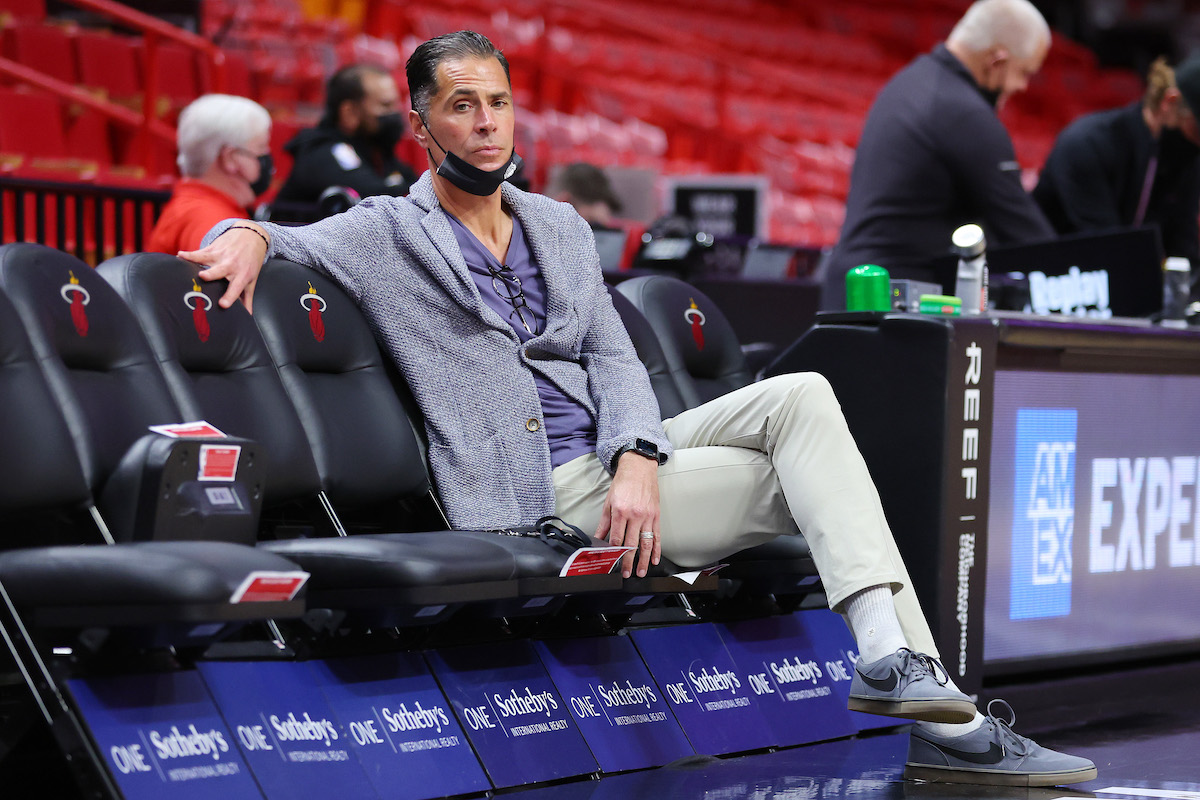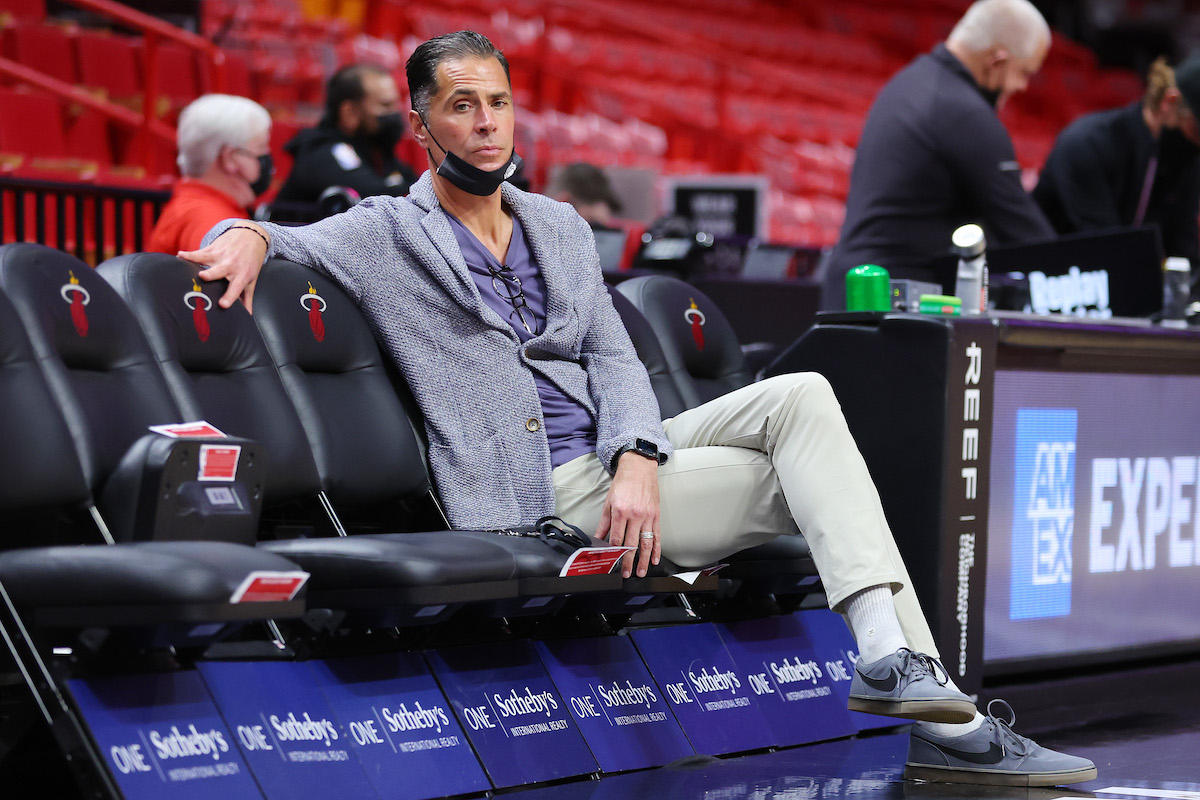 As a result of this trade, the Lakers were forced to convince players on the back nine of their NBA careers like Carmelo Anthony, Trevor Ariza, and Wayne Ellington to sign for the league minimum. Many of these players have limited offensive arsenals, whether it involves serving as mere outside shooting threats or providing a respectable interior presence. They also had to let guard Alex Caruso walk in free agency to the Chicago Bulls.
Kuzma, Caldwell-Pope, and Harrell had some negatives attached to their games or ended their time with the Lakers on a sour note. Once the best thing the franchise had going for itself pre-James, Kuzma became an inefficient scorer. Caldwell-Pope may have been overpaid after the Lakers won the 2020 NBA Finals (he inked a three-year, $39 million deal with the Lakers in the 2020 NBA offseason). Harrell has now been on four teams in three seasons. 
On the other hand, all three players bring valuable skill sets to the table that the Lakers would benefit from. Kuzma can score inside and outside. Caldwell-Pope is a plausible shooter and defender. Harrell emphatically finishes in the paint. Caruso was a spark plug two-way guard. Imagine if the Lakers had these four in the fold with James being the clear-cut point guard: They'd be a legitimate player in the Western Conference this season. 
Rob Pelinka can't justify the Russell Westbrook trade
Pelinka made a desperate trade for Westbrook. A season removed from winning a championship, LA had a deep roster and was a prime bounce-back candidate after a first-round playoff exit. Had the Lakers not won it all in 2020, there would've been some merit behind making a bold move for Westbrook. 
It was difficult to imagine Westbrook, James, and Davis gelling, as well as a roster with nine players older than 30 staying healthy. This predicament allows the Lakers to paint Vogel as the scapegoat. They can say a team with three stars and a plethora of veteran players should at least be a shoo-in playoff team.
Even if James and Davis wanted to play with Westbrook, the trade created no margin for error or injury. It also eliminated appealing trade pieces and overall roster upside. Pelinka closed any realistic window the Lakers had to win another championship with James. 
If the Lakers never won the 2020 NBA Finals or Pelinka ran any other NBA team, he would absolutely be fired after this season. His imprudent move for Westbrook has no justification. 
Is Vogel vindicated from the Lakers being 31-42 or their shortcomings of last season? Of course not. This team is a defensive mess, stagnant in the halfcourt, and inordinately reliant on James and Westbrook. At the same time, Vogel isn't the one who assembled a team with no future to boast about. History also tells us it's always the head coach's fault with the Lakers.
Frank Vogel isn't to blame for the Lakers' struggles 
The Lakers have been a revolving door at head coach since Phil Jackson's retirement in 2011. The franchise fired Mike Brown five games into the 2012-13 season that featured the arrivals of Dwight Howard and Steve Nash. Later down the road, Byron Scott was fired after two seasons of coaching one of the worst rosters in the NBA. 
The Lakers flashed some potential under Luke Walton. Then James and LaVar Ball decided it was best for Walton to exit after a disappointing 2018-19 season. This time around, Vogel will reportedly be fired unless the Lakers go on a deep playoff run. 
Again: No one is vindicated when a team with championship aspirations has a losing record and potentially misses the playoffs. With that said, Vogel isn't the one who derailed the Lakers; that individual would be Pelinka. Change is needed in the front office.
Contract figures courtesy of Spotrac.