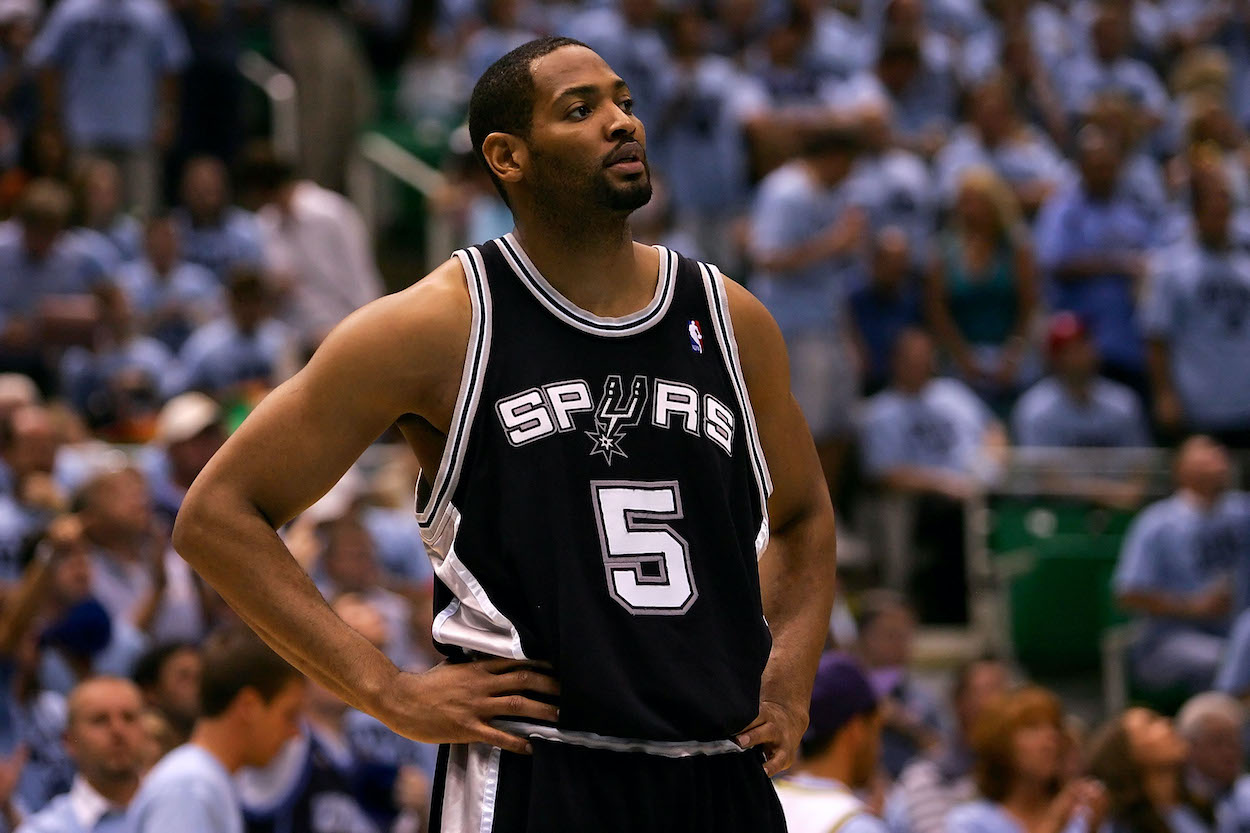 Robert Horry Suffered an Unspeakable Tragedy in Retirement With the Death of His 17-Year-Old Daughter
Seven-time NBA champion Robert Horry tragically lost his 17-year-old daughter to a rare genetic condition three years after he retired.
Robert Horry isn't normally mentioned alongside the NBA legends of yesteryear, but his resume is one of the more impressive in league history. Horry won seven NBA titles during his 17-year career, which is something not even Michael Jordan can say. "Big Shot Bob" finished his career as one of the winningest players in NBA history, but his life took a tragic turn shortly after retirement due to the death of his 17-year-old daughter, Ashlyn.
Robert Horry's NBA career
Robert Horry never filled up the stat sheet during his NBA career. He averaged a pedestrian 7.0 points, 4.8 rebounds, and 2.1 assists per game in 17 seasons in the league. But Horry isn't remembered for his stats on the court. He's remembered for the championship rings on his fingers. Seven, to be exact.
That's more titles than Michael Jordan, Kareem Abdul-Jabbar, Magic Johnson, Kobe Bryant, Tim Duncan, and LeBron James.
Horry won his first two championships with the Houston Rockets in 1994 and 1995. Then, he was apart of the LA Lakers' three-peat from 2000-02, but he wasn't quite done. Horry moved to the San Antonio Spurs in 2003 and won two more titles there.
Horry was never the star on any of his championship teams, but he was always the go-to guy in crunch time. After all, you don't get the nickname "Big Shot Bob" for nothing. Horry is widely considered one of the most clutch playoff performers in NBA history, and being one of the winningest players of all time doesn't hurt his legacy one bit.
Robert Horry suffered a tragic loss in retirement with the death of his daughter
After Horry retired from the NBA in 2008, he devoted his life to his family. But a few years into his retirement, his world changed forever.
Horry's daughter, Ashlyn, who was diagnosed with a rare genetic condition as a child, died in 2011 at the age of 17. She suffered from 1p36 deletion syndrome her entire life, which is a rare genetic condition caused by a missing part of chromosome 1. The disease closely resembles cerebral palsy.
Ashlyn was Horry's first child, so his life was completely rocked by the tragic loss.
"My little girl was the light of my life and my family's," Horry said after Ashlyn's death. "It's been tough, but we were blessed to have her for the time we did… I want to thank all the fans and my friends for their prayers and thoughts. I can't tell you how much we appreciate all the outpouring of support."
Horry is honoring his daughter the best way he knows how
In honor of his daughter, Robert Horry started The Ashlyn Horry Foundation to raise awareness about 1p36 deletion syndrome and raise money for research on the genetic condition. He's still heavily involved in the foundation today.
"My daughter Ashlyn Horry was an inspiration to everyone who had the privilege of knowing her, including myself," Horry writes on the foundation's website. "Her strength, courage and loving spirit live on through her foundation, her family and the entire special-needs youth community. 
"The Ashlyn Horry Foundation is my way of honoring Ashlyn's seventeen years on earth, and the precious legacy she left permanently embedded in the hearts and minds of many.  Thank you for spending time learning and sharing about 1p36 Deletion Syndrome and other conditions affecting special-needs children.  It is my sincere hope (and a longtime dream) that our foundation will continue to grow and positively impact people on both a national and global scale."