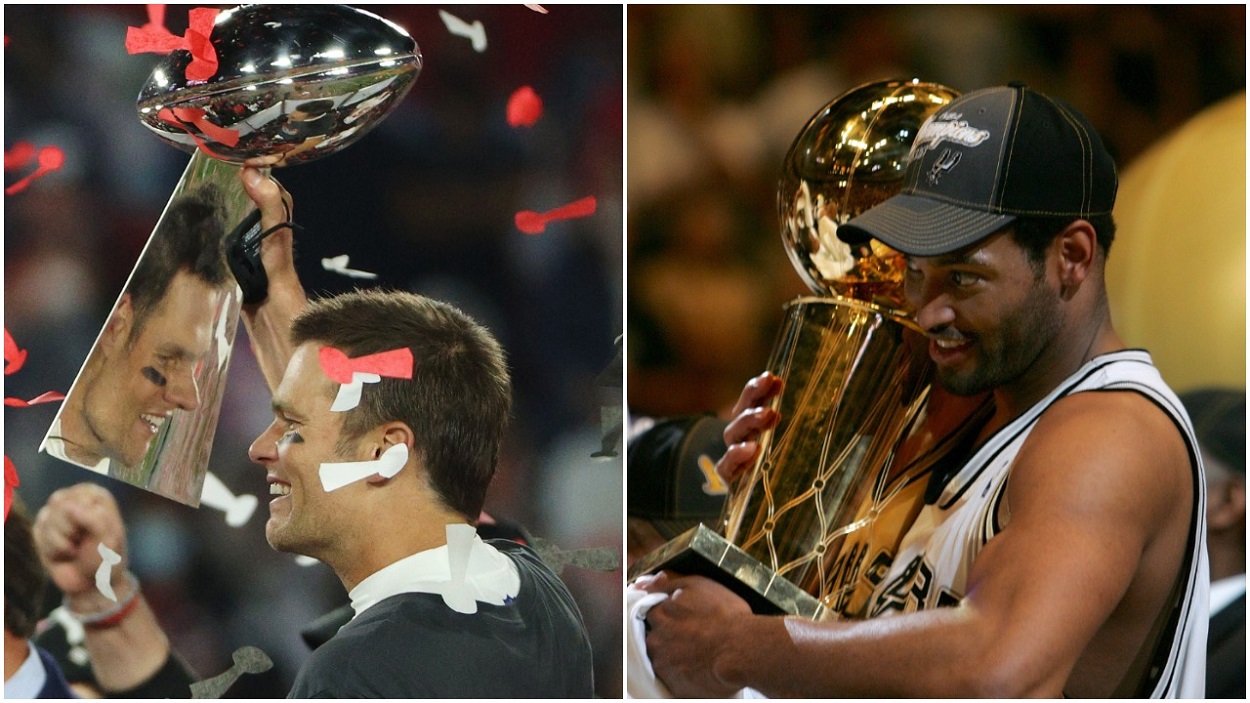 Robert Horry Hilariously Welcomes Tom Brady to the '7-Chip Club'
Seven-time NBA champion Robert Horry welcomed now-seven-time Super Bowl winner Tom Brady to the '7-Chip Club' with a hilarious image.
Tom Brady added to his already-impressive NFL record on Sunday night by winning his seventh Super Bowl title as his Tampa Bay Buccaneers handily defeated Patrick Mahomes and the Kansas City Chiefs, 31-9. Brady earned his fifth Super Bowl MVP trophy in the win, although he really should give that thing away, and joined a list of rare athletes to have won seven titles in the four major American sports. One of those athletes is Robert Horry, who won seven NBA championships with three teams over the course of his 16-year career.
And "Big Shot Bob" had a hilarious way of welcoming TB12 to what he called the "7-Chip Club."
Tom Brady won Super Bowl title number seven with a near-perfect performance against the Chiefs
After winning six Super Bowl titles with the New England Patriots over the course of 20 years with the franchise, Tom Brady signed with the Tampa Bay Buccaneers last March and promptly led the team to their best record in 15 years, their first postseason berth in 13 years, and their first playoff wins since the Bucs won Super Bowl 37 following the 2002 season.
TB12 capped off the Cinderella season with a near-perfect performance on Sunday night against the Chiefs, completing 21 of 29 passes for 201 yards and three touchdowns with zero interceptions, earning him a 125.8 quarterback rating, his third-highest mark of the season, and that aforementioned fifth Super Bowl MVP trophy that should look nice next to his seven Super Bowl rings.
Robert Horry won seven NBA titles during his career
Now, for those who may be a bit unfamiliar with Robert Horry, here's a quick recap.
A first-round pick in the 1992 NBA draft out of Alabama, where he played alongside Latrell Sprewell, Horry began his career with the Houston Rockets and became one of the team's key role players behind Hakeem Olajuwon. Horry helped the Rockets to back-to-back NBA titles in 1994 and 1995, hitting numerous clutch shots during those championship runs, which earned him the "Big Shot Bob" moniker that stuck with him throughout his career.
Horry was traded to Phoenix in August 1996 but an altercation with head coach Danny Ainge quickly led to him getting traded to the LA Lakers in January 1997. He spent six and a half seasons in Hollywood and played a key role in Shaq and Kobe winning three titles in a row, again hitting clutch shot after clutch shot in big moments.
Robert Horry played the final five seasons of his career with the San Antonio Spurs and won two titles alongside Tim Duncan before calling it a career following the 2007-2008 season.
Robert Horry hilariously welcomed Tom Brady to the '7-Chip Club' on Twitter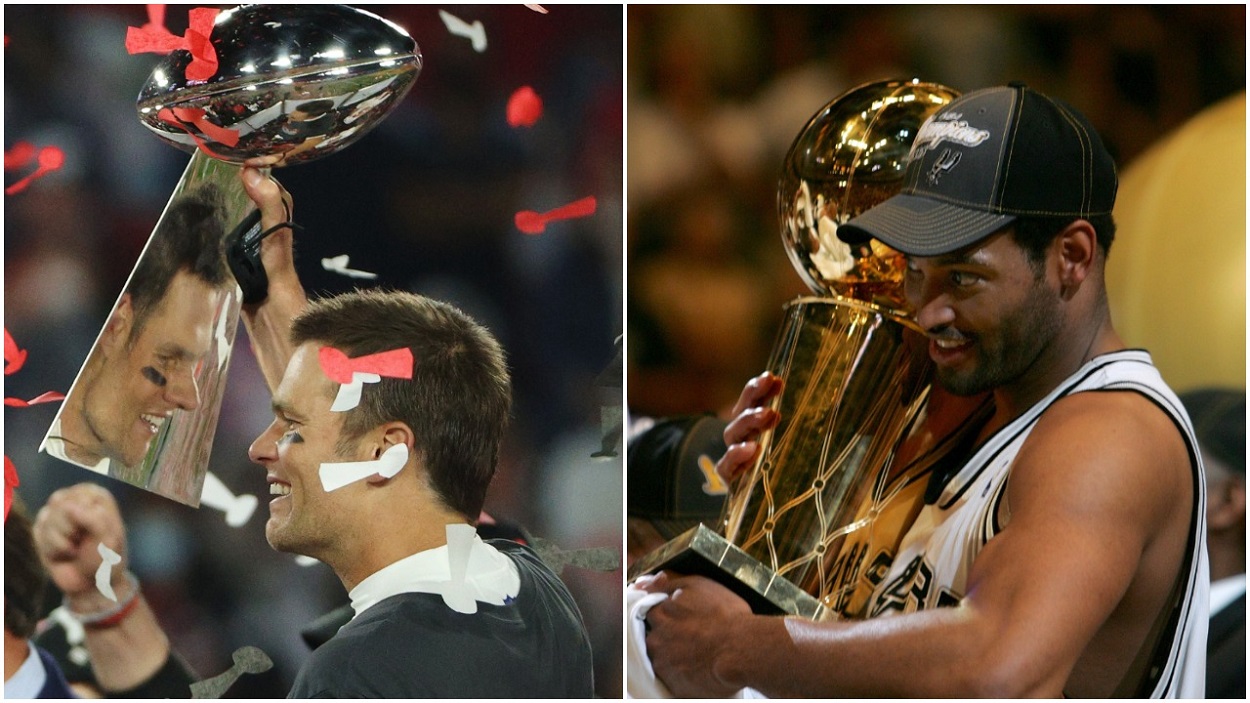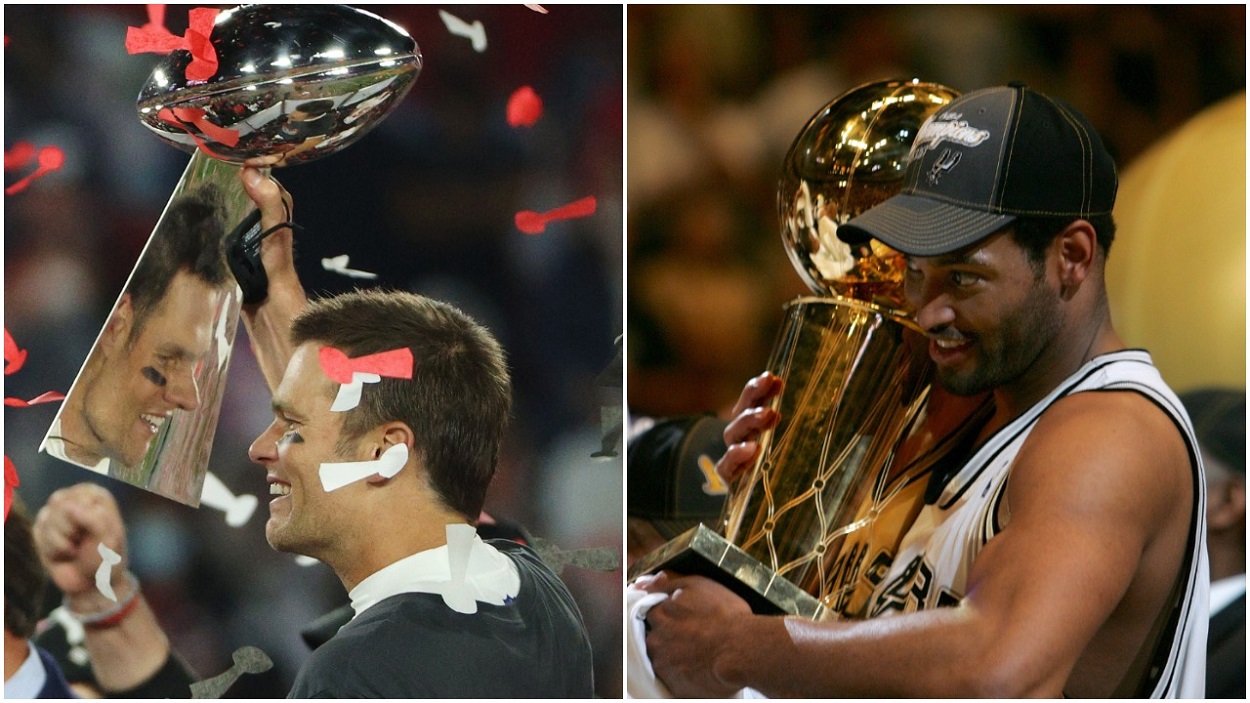 On Monday morning, Robert Horry hopped on Twitter to send congratulations to Tom Brady on winning Super Bowl number seven and the image he used is absolute gold. Take a look.
So now the question becomes whether or not Brady can pass Horry next year with title number eight.
Stats courtesy of Sports Reference