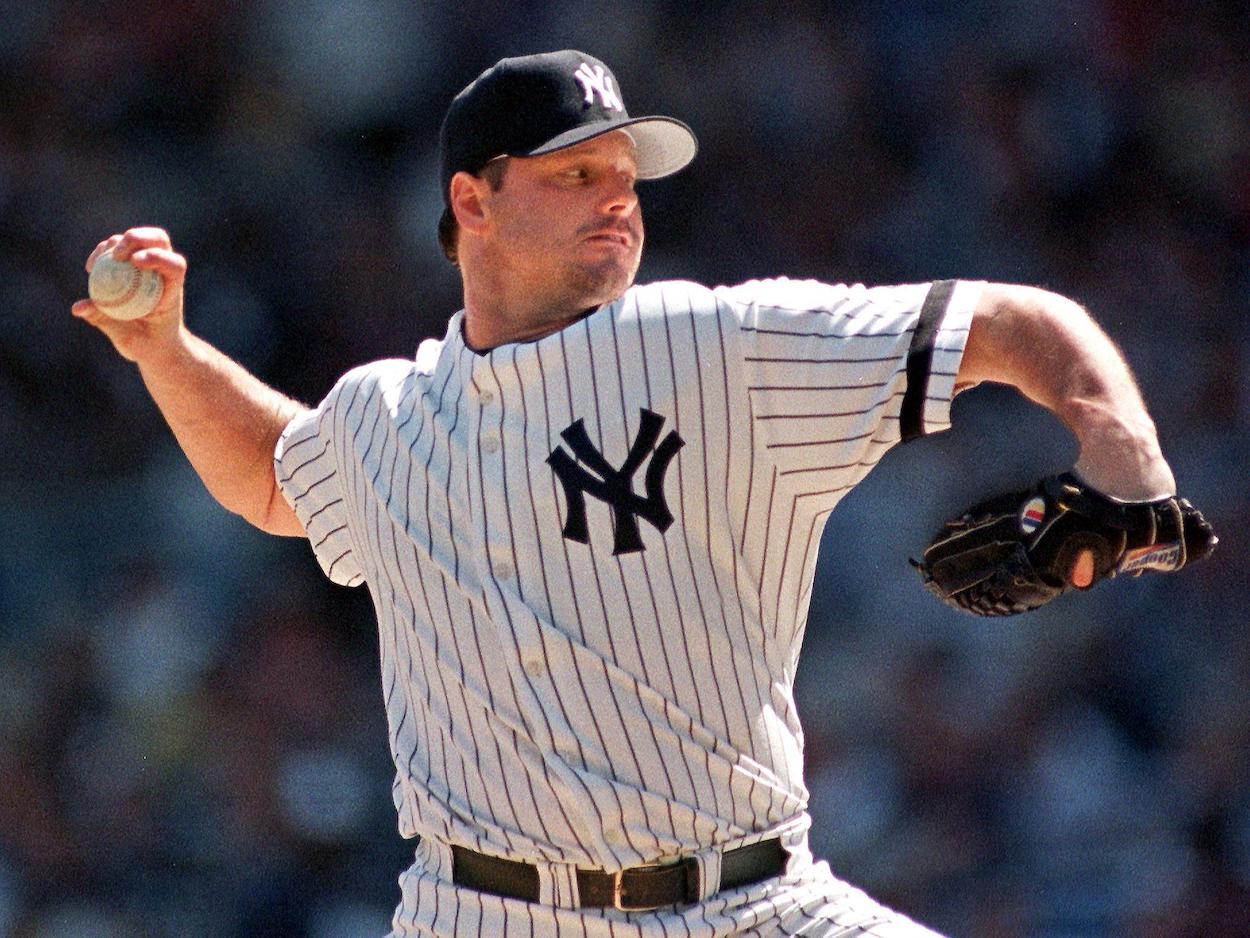 Roger Clemens Questioned About Alleged Steroid Use During Intriguing Courtroom Exchange at His Son's Alleged Assault Trial
Roger Clemens is one of the greatest MLB pitchers of all time. Allegations of steroid use that have dogged him for years reappeared in court this week when he testified at his son's alleged assault trial.
Roger Clemens is considered by many to be one of the greatest MLB pitchers of all time. His statistics and seven Cy Youngs back it up. Despite all of his success, Clemens was again denied an invitation into the Baseball Hall of Fame just last week for his alleged ties to using performance-enhancing drugs during his career. 
The accusations have dogged Clemens since he left the game in 2007, even after being acquitted in 2012 of lying to Congress about never using performance-enhancing drugs. This week, Clemens and steroid use came up again. This time it was in a Houston courtroom where one of his sons is part of an alleged assault lawsuit.   
Roger Clemens had a Hall of Fame-worthy career
Roger Clemens made his MLB debut with the Boston Red Sox in 1984. After a couple of seasons of spot starts, the Red Sox inserted Clemens into the starting rotation in the 1986 season and he delivered in a big way. He finished that season with an MLB-best 24 wins against four losses and led all of baseball with a 2.48 ERA. He won the AL Cy Young and MVP. 
The next season Clemens captured his second Cy Young as he once again led the Majors with 20 wins, which also included a league-best 18 complete games. Clemens remained with the Red Sox through the 1996 season, winning another Cy Young while also making four AL All-Star rosters.   
After the 1997 and 1998 seasons with the Toronto Blue Jays, in which Clemens led MLB with the most wins and best ERA and won the Cy Young, he joined the New York Yankees. In 1999 and 2000, he won a pair of World Series titles in pinstripes. 
Roger Clemens won his sixth Cy Young in 2001 with the Yankees and his seventh and final one in 2004 with his hometown Houston Astros. He played his final season with the Yankees in 2007 before retiring with a career record of 354-184, including 4,672 strikeouts and a 3.12 ERA.  
Roger Clemens accused of using steroids and goes to trial 
In 2005, a couple of years before Roger Clemens retired, he was embroiled in the center of a steroids controversy after Jose Canseco's book, Juiced, alleged the pitcher had used them in his career. Clemens denied the allegations.
A couple of years later, Clemens was named 82 times in the Mitchell Report on steroid use in baseball. In February 2008, Clemens appeared before a Congressional committee. He swore under oath that he did not take steroids, and denied allegations that he ever told former Yankees teammate and fellow pitcher Andy Pettite that he had taken human growth hormone.
In 2010, a federal grand jury indicted Roger Clemens on charges of making false statements to Congress about his use of performance-enhancing drugs. After an initial mistrial in 2011, Clemens was found not guilty on all six counts of lying to Congress in 2012. 
Questioned about steroid use during son's court case
Roger Clemens and his wife Debra have four sons. Two of the boys followed in their father's footsteps and played baseball at the University of Texas. Kacy played for the Longhorns and was drafted by the Toronto Blue Jays in the seventh round of the 2017 MLB draft.
In January 2019, Kacy was involved in an incident at a Houston bar where he claimed that he and Conner Capel, Roger's godson, were thrown out of the bar without reason and roughed up by bar employees. Capel injured his skull and had cuts and bruises while Clemens suffered an injured elbow. The pair are suing the bar's parent company for $5 million in damages. 
This week, Roger Clemens testified at the trial, suggesting that he had raised his sons to represent themselves well on and off the diamond, according to a report in the Houston Chronicle. 
Kent Adams, the bar's attorney, countered Clemens' assertions of good parenting by bringing up the allegations of steroid use during his career. The defense lawyer asked if steroids were the reason why Clemens hadn't been inducted into the Hall of Fame.
"We proved all that," Clemens countered, referring to the 2012 acquittals. 
It was an interesting exchange and a reminder to Roger Clemens that no matter where he goes — even in a courtroom more than a dozen years after he played — he's always going to be remembered as one of the greatest pitchers ever, but with an asterisk attached.