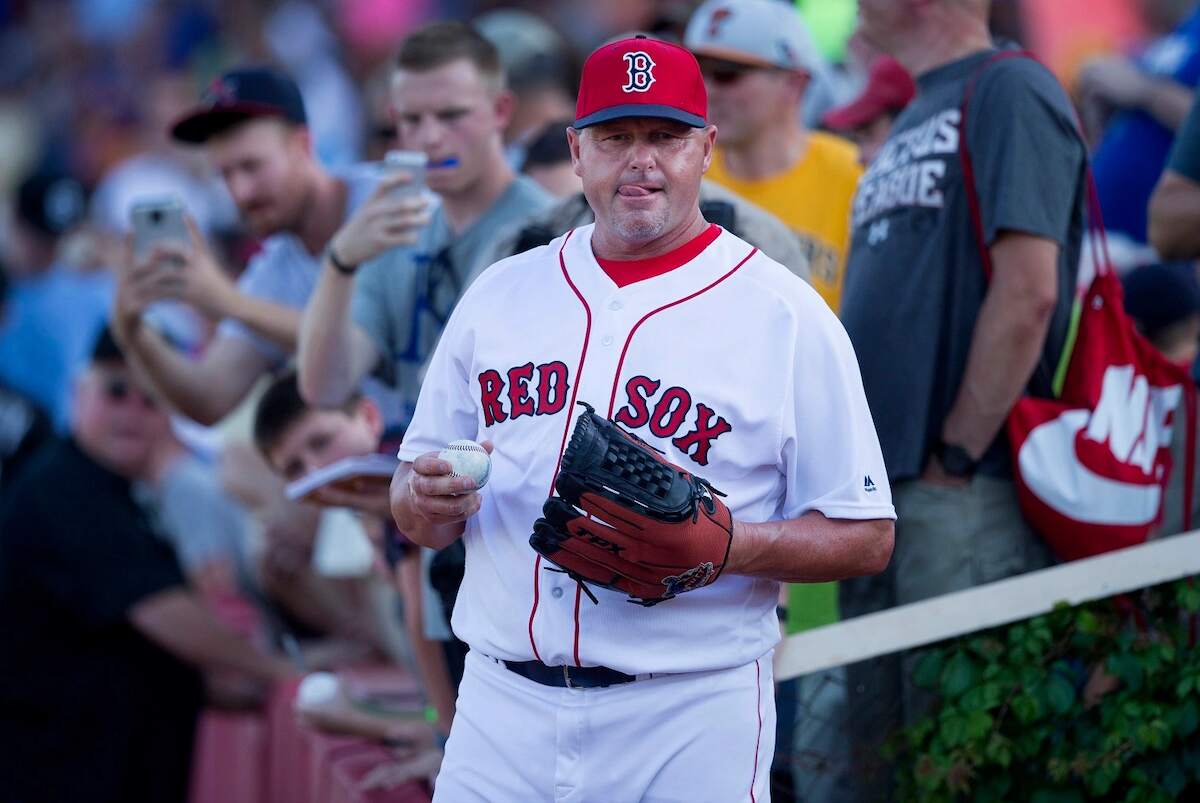 Roger Clemens Won 162 More Games After the Red Sox Declared He Was Washed Up
Roger Clemens recorded 162 more MLB victories after Boston Red Sox GM Dan Duquette said the pitcher was in the twilight of his career.
Upon further review, the Boston Red Sox would have looked better had they been honest about Roger Clemens after the 1996 season.
The dominating right-hander may have been struggling, but their concern was that he wanted more money than a team coming off a third-place finish was willing to pay. Instead, general manager Dan Duquette made a projection that ranked right up there with "Dewey beats Truman."
Roger Clemens was a Boston Red Sox workhorse
Roger Clemens was a superb college baseball pitcher, first at San Jacinto College North and then with the Texas Longhorns, where he compiled a 25-7 record in two seasons. The Boston Red Sox made him the 19th overall pick in the 1983 MLB Draft, knowing Clemens was already capable of taking on big-league hitters. He arrived in the majors the following year and struck out 126 batters in 133 innings.
Clemens began hitting his stride in 1986 and '87 with his first two 20-win seasons and a pair of Cy Young Awards. The Baseball Writers' Association of America selected him as the AL MVP in 1986. He earned the third of his seven Cy Youngs in 1991.
Clemens' numbers from 1986-92 were impeccable: a 136-63 record, 2.66 ERA, and 32 shutouts. He averaged 257 innings and 239 strikeouts a season despite the Red Sox finishing only a combined 23 games over .500.
Roger Clemens and the Boston Red Sox part ways
As solid as Roger Clemens' work had been in his first nine MLB seasons, his numbers fell off over the next four years. He averaged only 28 starts from 1993-96, compiling a 40-39 record and 3.77 ERA despite still averaging close to a strikeout per inning. The Red Sox only posted two winning seasons in that stretch, so it wasn't entirely a Clemens problem as he contemplated his future.
After the 1996 season, the Red Sox offered Clemens what they said was the most lucrative contract in team history. Famously, then-general manager Dan Duquette said he "hoped to keep him in Boston during the twilight of his career," as Mass Live reports.
The remark extinguished whatever remaining fondness Clemens had for the franchise. He signed with the Toronto Blue Jay for $8.4 million for the upcoming season, a sharp bump from the $5.5 million in his final year with the Red Sox.
Clemens immediately put the "twilight of his career" remark to rest with two straight 20-win seasons and two more Cy Youngs before Toronto traded him to the New York Yankees ahead of the 1999 season. Clemens went 77-36 in New York, then 38-18 in three seasons with the Houston Astros.
By concluding with a 6-6 mark with the 2007 Yankees, he finished with a 354-184 record, 3.12 ERA, and 4,672 strikeouts. Clemens was also 12-8 in the postseason to earn a pair of World Series rings with the Yankees.
His numbers after leaving the Red Sox were: 162-73, with a 3.21 ERA and 2,082 strikeouts in 2,140 innings.
Roger Clemens dropped off the Hall of Fame ballot in 2022
The full Roger Clemens story requires acknowledging the elephant in the room. Former pitcher Jason Grimsley indirectly connected Clemens to using performance-enhancing drugs through a personal trainer. Clemens' name subsequently turned up repeatedly in the Mitchell Report in 2007, with the trainer alleging he injected Clemens with steroids from 1998-2001.
Clemens denied the allegations in a 60 Minutes interview in 2008 and filed a defamation suit against the trainer, Brian McNamee. He further refuted the allegations during testimony in front of a Congressional panel. The committee cited inconsistencies in Clemens' answers in asking the Department of Justice to begin a formal inquiry, and a federal grand jury handed up an indictment on charges of making false statements to Congress. On June 18, 2012, a jury acquitted Clemens on all six counts.
The PEDs issue indisputably affected Clemens' candidacy for the Baseball Hall of Fame in Cooperstown. He appeared on only 37.6% of ballots in 2013, his first year of eligibility — far short of the required 75%. Clemens reached 54.1% in 2017 and then 59.5% in 2019.
Support for the retired athlete climbed to 61.0% in 2020 and 61.6% in 2021. Clemens received 65.2% of votes in 2022, his final year of eligibility.
Stats courtesy of Baseball Reference.