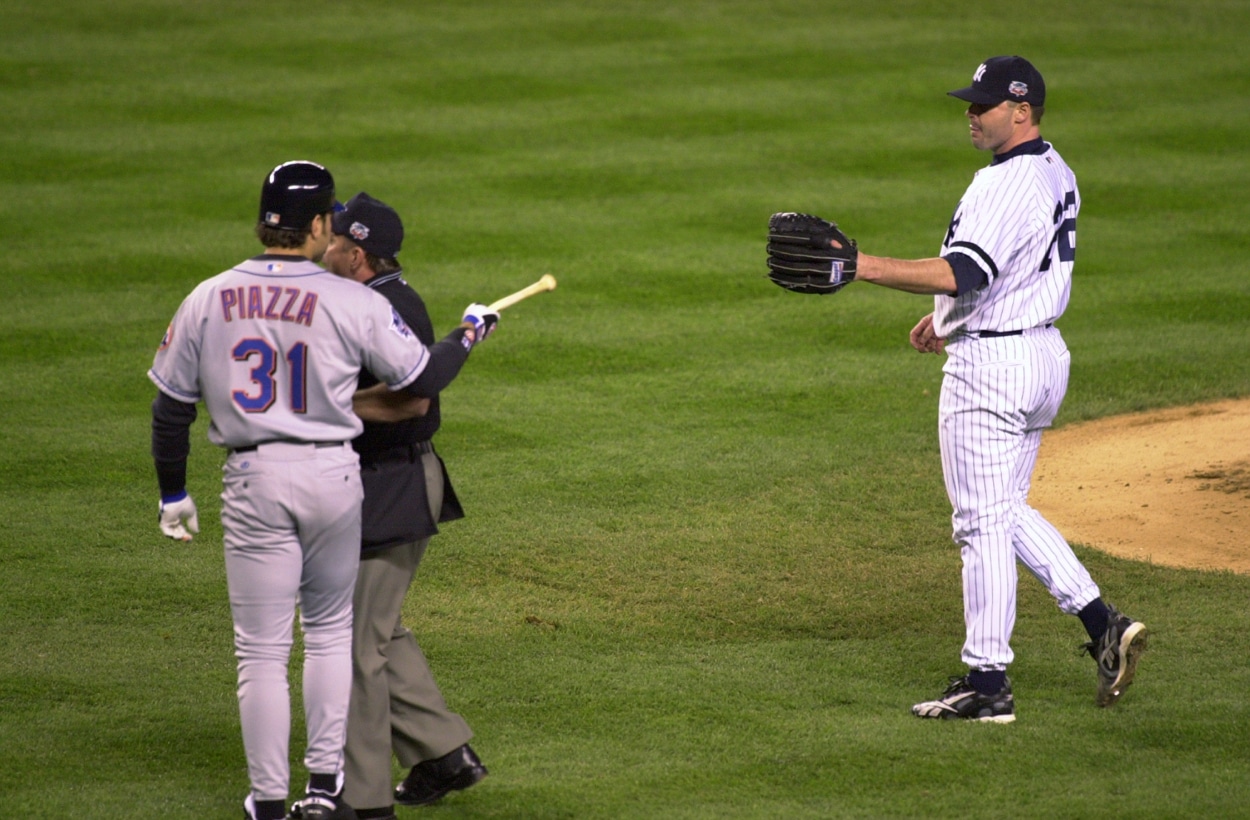 Roger Clemens Cried After Infamously Throwing Broken Bat at Mike Piazza, Says Former Yankees Manager Joe Torre
Roger Clemens went to the clubhouse and cried after throwing part of a bat at Mike Piazza, according to Joe Torre.
The Roger Clemens vs. Mike Piazza saga during the 2000 World Series was bizarre. Piazza, the New York Mets power-hitting catcher, fouled off a pitch against Clemens, the New York Yankees hard-throwing right-hander. The bat split in half, with the barrel winding up in Clemens' hand.
Clemens fired that part of the bat in the direction of Piazza who had started running toward first base. Both benches cleared. It became a classic moment in World Series history.
What wasn't known was Clemens' reaction after the incident took place. Former Yankees manager Joe Torre recently revealed Clemens was quite emotional when he returned to the clubhouse after that half inning.
Roger Clemens and Mike Piazza had a history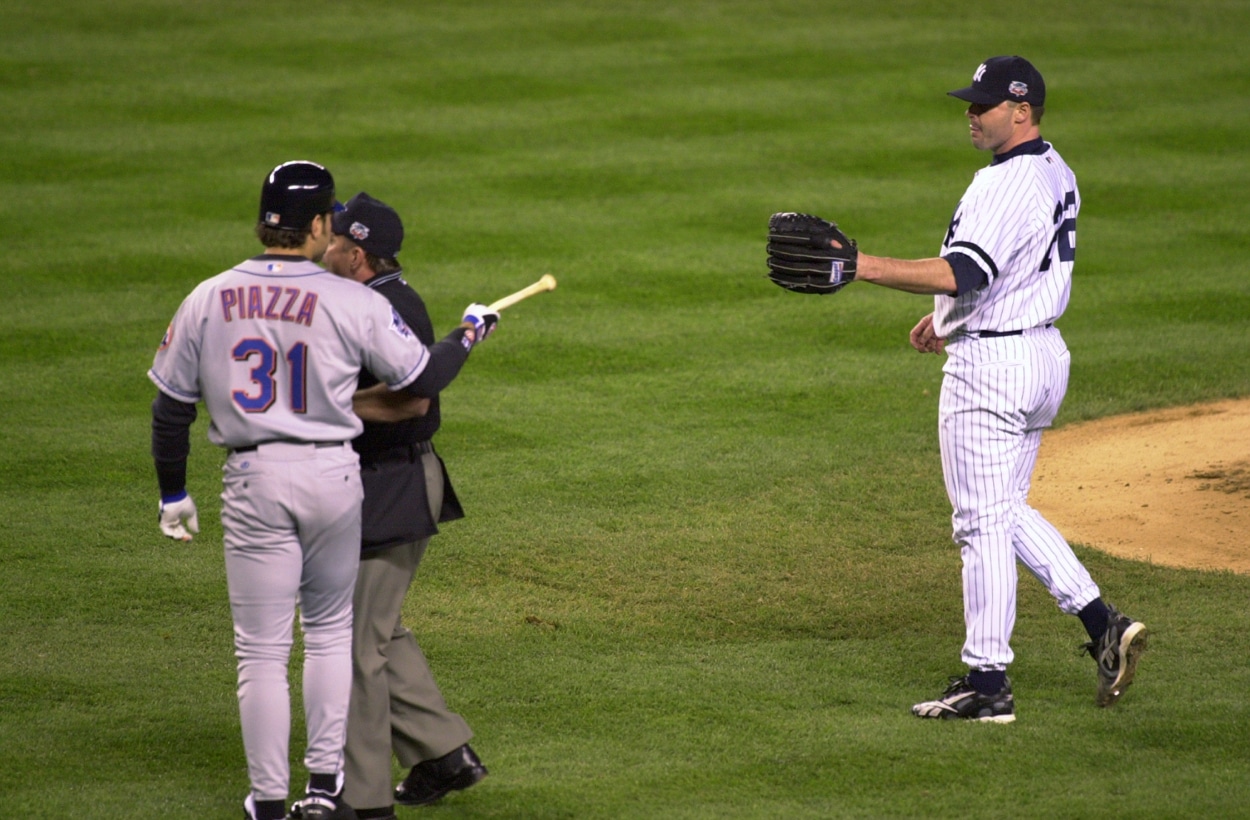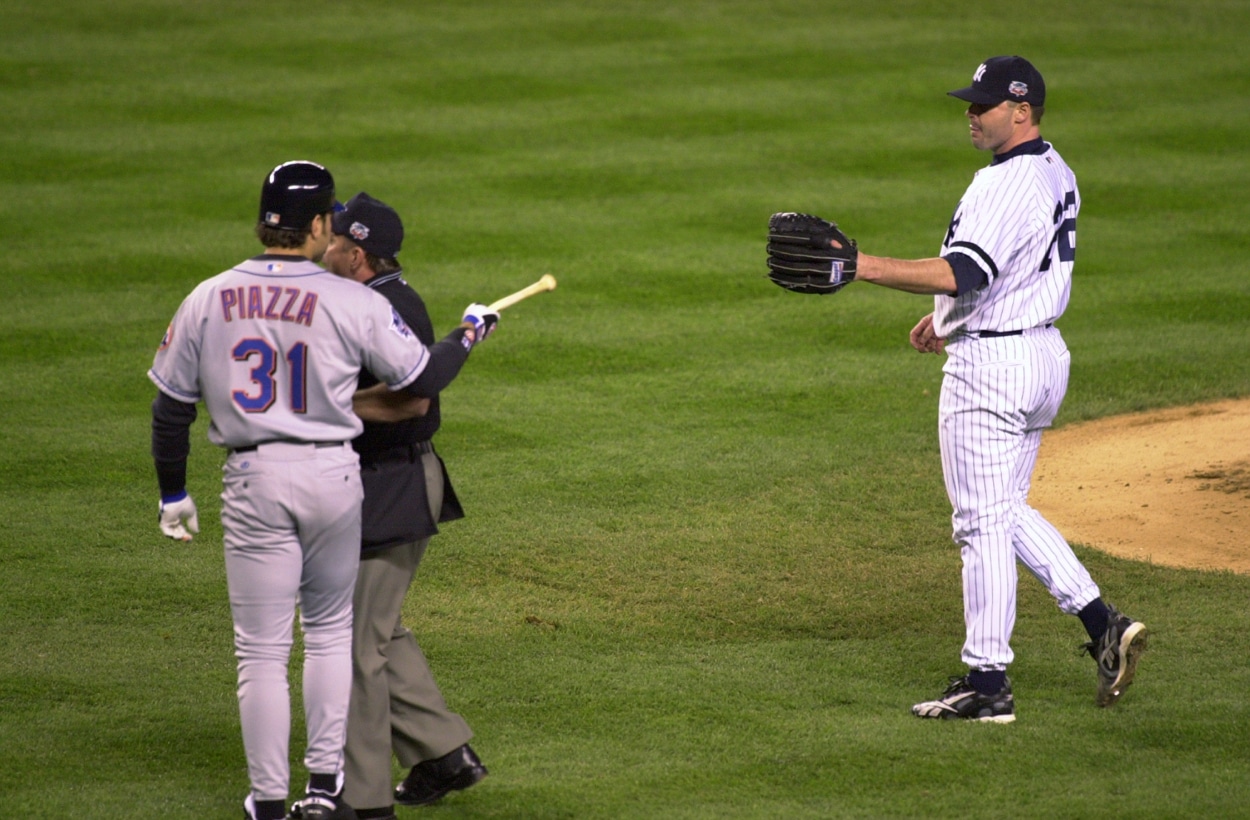 The bat-throwing incident didn't happen because it was a "Subway Series" — a matchup between two New York teams. Sure, the rivalry was heated, but Piazza and Clemens had an issue during the regular season.
Piazza missed the 2000 MLB All-Star Game because of Clemens. Clemens beaned the Mets catcher, knocking him to the ground and keeping him there for several minutes. The hit to the head resulted in a concussion that prevented Piazza from playing in the All-Star Game.
Clemens said the pitch got away from him. Piazza didn't buy it.
"Roger Clemens is a great pitcher, but I don't have respect for him now at all," Piazza said after the beaning incident, per CBS News. "I could respect the fact of his throwing inside. Getting hit in the ribs and body are part of the game. If he knew he had to come up and hit the next inning, I think he would have been more careful. I think it was very much an intentional pitch.
"But I'm flattered in a way because he feels the only way to get me out is to hurt me. I didn't accept a call last night, and I wouldn't if he called me now."
Torre said Clemens was crying after the incident
Piazza claimed Clemens showed no remorse after hitting him in the head. He seemed to be the same way when he threw the bat at Piazza during the World Series. According to Torre, that wasn't the case. The former manager revealed Clemens was emotional when he went back to the clubhouse after the bat incident.
"(Pitching coach) Mel Stottlemyre, who was not coaching with us because he was in the hospital with multiple myeloma, was able to come out of the hospital and watch from my office," Torre said recently on SNY's Like We Never Left.
"George Steinbrenner was in there with him. After that half-inning, Roger went into the office to see Mel, and Mel told me that he was crying on what had just transpired. Pitchers who have all that passion, it leaks out all over the place.
"That's what Mel told me, that (Clemens) was devastated with the result of what had happened and that he was crying."
Like Sportscasting on Facebook. Follow us on Twitter @sportscasting19 and subscribe to our YouTube channel.