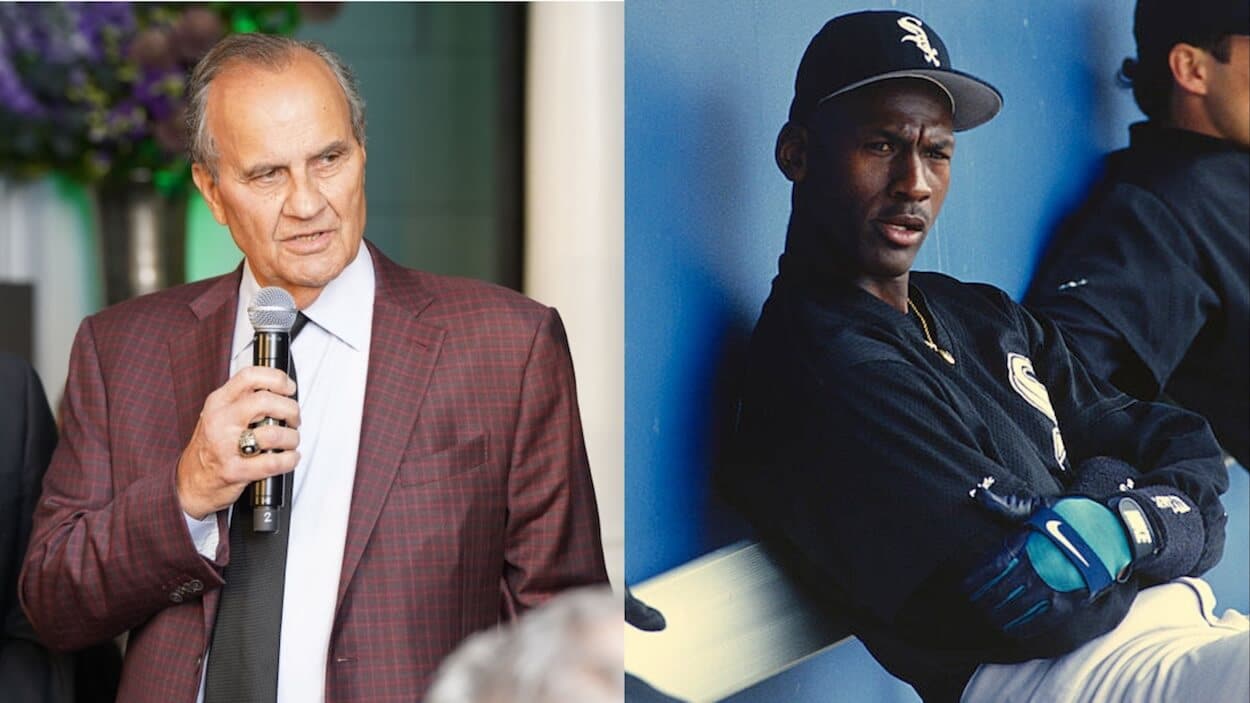 Hall of Famer Joe Torre Once Had Harsh Words for Michael Jordan Trying to Master Baseball
Remember when Michael Jordan hung up his sneakers and tried to play baseball? Joe Torre wasn't too optimistic about MJ's chances.
When it came to 1990s sports, there was no bigger name than Michael Jordan. He dominated the NBA and became a global celebrity off the court; whether you watched basketball or not, you knew His Airness. And while no figure in baseball had as high of a profile as MJ, Joe Torre certainly found plenty of fame in the New York Yankees dugout. 
And while he obviously never coached Jordan, did you know that Torre once gave the living legend a few words of harsh advice?
Yes, you read that correctly. During Mike's infamous attempt to play professional baseball, the New York Yankees bench boss didn't seem too optimistic about his efforts.
Joe Torre knows a thing or two about baseball
When you consider a baseball manager, it's easy to think that they largely sit around doing little more than chewing gum, eating sunflower seeds, and making the occasional pitching change. Joe Torre, however, had a wealth of baseball knowledge and a decorated sporting career to back it up.
While Torre wasn't initially considered a legitimate MLB prospect, he found a home behind the plate and carved out a niche for himself as a catcher. The native New Yorker developed into an all-star with the Braves organization but was eventually traded to the Cardinals. There, he shifted to third base and, without the physical demands of his previous position, took an offensive step forward. Torre would later join the New York Mets and even spent a brief time as player-manager before calling it a career.
In total, Torre spent 18 years as a major league ballplayer, piling up 2,342 hits, 252 home runs, 1,185 runs batted in, and a .297 batting average. He won a National League batting title, a National League MVP crown, and a golden glove, proving his capabilities in all aspects of the game.
The Brooklynite didn't call it a career when he stopped playing, though. He stayed on as the manager of the Mets before taking charge of the Atlanta Braves. After a foray into the broadcast booth, the veteran led the Cardinals for five full seasons. Then, in 1996, everything changed.
Torre, of course, took over as the manager of the New York Yankees. While his previous record didn't inspire much confidence, he proved to be an incredible success. Across 12 seasons, the Bronx Bombers reached the playoffs 12 times; the club reached six World Series and won four championships.
After taking off his pinstripes, the bench boss spent a brief spell with the LA Dodgers. Torre then left the playing field in 2010, taking a job with Major League Baseball.
Torre didn't have high hopes for Michael Jordan's baseball career
During his time on the diamond, Joe Torre probably saw just about everything imaginable. An NBA star retiring from basketball to try his hand at baseball, however, probably pushed the limits of what he thought was possible.
That, of course, is what Michael Jordan did in 1993. Many people around the sports world were skeptical of that decision — Why would MJ do such a thing? Was he getting special treatment as a pro athlete? Would this just serve to boost his ego even further? Could he actually cut it at a high level? — and it seems like Joe Torre was one of them.
As Ryan Fagan of The Sporting News shared on Twitter, the then-Cardinals manager had a succinct explanation for why baseball would be tougher than basketball.
"The basket is in the same place all the time," he quipped.
It's unclear if Jordan ever learned of that response; if he did, it's safe to assume the NBA legend would have taken it personally.
Jordan never became a baseball star, but he was more than respectable on the diamond
It goes without saying that Joe Torre knows a thing or two about baseball, and his perception of the sport's difficulty is correct; you can, after all, fail seven out of 10 times at the plate and be considered a star.
And while Michael Jordan never reached that level, he didn't exactly fail, either.
During MJ's time on the baseball diamond, he actually held his own. Despite the fact that he was thrown into the deep end at the AA level, he started out with a 13-game hitting streak. Eventually, though, a diet of offspeed pitches balls thrown outside of the strike zone brought that to an end. Slowly but surely, Jordan's batting average came back to earth.
During his one season of AA ball, Jordan took the field in 127 games. He recorded 88 hits in 436 at-bats, posting a .202 batting average. Beyond that, the NBA legend belted three home runs and stole 30 bases. The outfielder also struck out 114 times.
Are those world-beating numbers? Of course not, but they're not bad for someone who hadn't played serious baseball since he was a child. Terry Francona, who managed MJ in Birmingham, has since gone on the record as saying that Jordan had some serious potential. It was more about devoting time to America's Pastime than anything else.
"If he'd been willing to commit three years, I think he'd have found his way to the Major Leagues," the manager told ESPN's Scott Van Pelt. "I really believe that. One, because of some of the tools he had. But the other one, and maybe more important, and I found out first-hand, when you tell Michael 'no,' he finds a way to make the answer be 'yes.' And it doesn't matter what you're doing, he is really good at that."
And there you have it. While Joe Torre might insist he was right — Jordan did find baseball harder than basketball — you can doubt His Airness at your own risk.