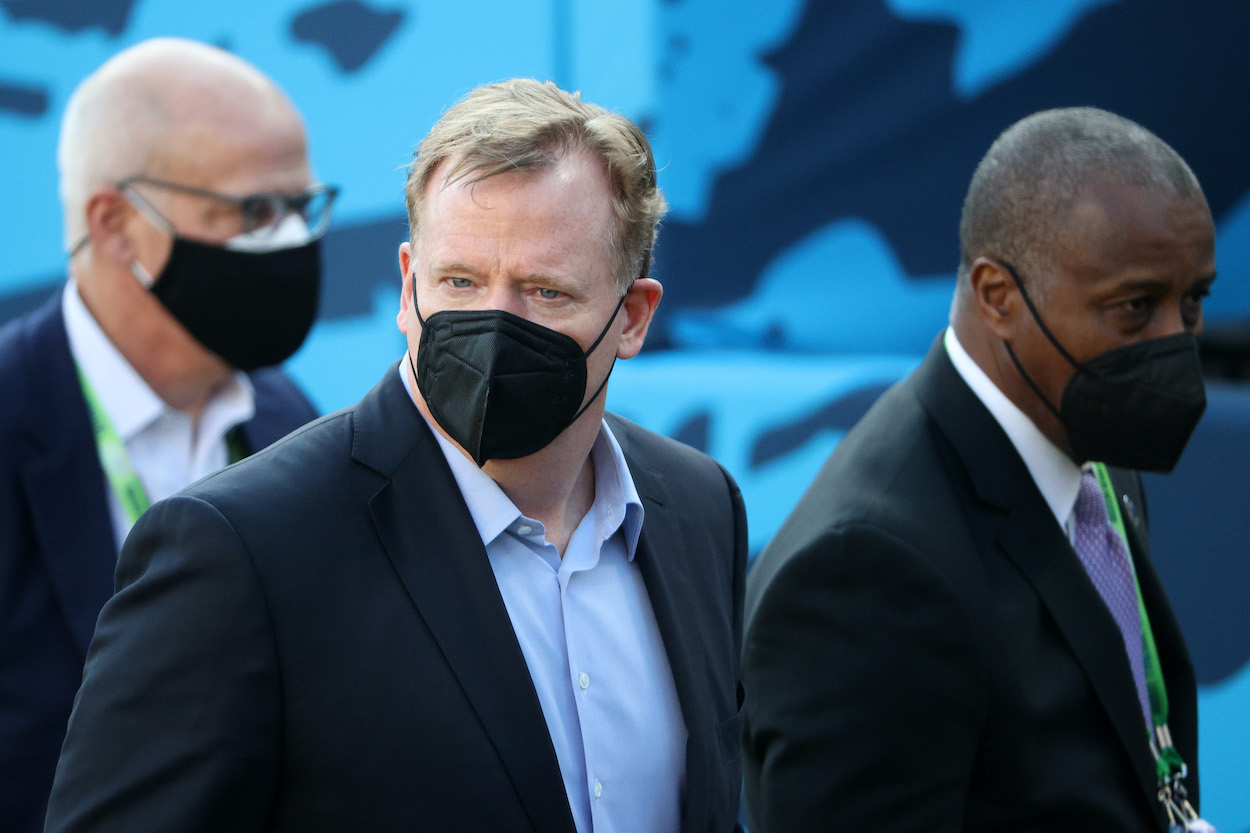 Roger Goodell Has a $1.1 Billion Problem on His Hands Involving Mickey Mouse and Monday Night Football
Roger Goodell and the NFL are negotiating with Disney for the TV rights to Monday Night Football, but the two sides are $1.1 billion apart.
The NFL is gearing up to renew all of its TV deals for the next decade, but Mickey Mouse is giving NFL Commissioner Roger Goodell a hard time about Monday Night Football.
Goodell and the NFL are asking for a 100% increase in payments from the last deals made back in 2011, but Disney is calling their bluff. As the NFL and Disney work toward a TV deal before the league year starts on March 17, the two sides are reportedly $1.1 billion apart in negotiations.
Disney is paying the NFL $1.9 billion per year for Monday Night Football
Disney, which is the parent company of ESPN and ABC, has owned the television rights to Monday Night Football for the last 50 years. MNF first aired on ABC in 1970, and it moved to ESPN in 2006.
When the NFL and Disney negotiated their last TV deal in 2011, Disney agreed to pay $1.9 billion annually for the rights to Monday Night Football. It was by far the largest TV deal the NFL agreed to that year. Fox, CBS, and NBC all agreed to pay less than $1.2 billion per year for their deals, proving MNF is the most sought-after timeslot for television networks.
The NFL's TV deals all run out after the 2021 season, and the league is working toward completing new deals by March 17.
Roger Goodell, NFL seeking 100% increase in payments for TV rights
As Roger Goodell pushes to finalize new TV deals before the 2021 league year begins, the NFL is seeking a 100% increase in payments from the networks, according to Alex Sherman of CNBC.
Here's what Sherman had to say about the current negotiations:
The NFL is in active discussions on renewal rates with all four of its existing network partners — NBC, CBS, Fox, and Disney-owned ESPN, according to people familiar with the matter. The NFL is hoping to get its primary package renewals completed by March 17, before the start of the new NFL league year, CNBC reported earlier this month.

NBC, CBS and Fox are likely to accept increases closer to 100% than Disney, which is currently paying much more than the three broadcast networks for its Monday Night Football package, said the people, who asked not to be named because the negotiations are private.

Alex Sherman, CNBC
The offers from both the NFL and Disney have been disclosed recently, and the two sides don't seem to be very close in their negotiations.
Roger Goodell has a $1.1 billion problem on his hands
According to John Ourand of the Sports Business Journal, the NFL first asked Disney for $3.5 billion annually for Monday Night Football. Ourand said Disney countered with a $2.4 billion offer, which would be just a 20% increase from the previous deal.
Roger Goodell now finds himself with a $1.1 billion gap he must whittle down before March 17. The two sides both want to strike a deal by next month, and Disney is confident they can find a middle ground.
"We're looking at the long-term trends of sports viewership," Disney CEO Bob Chapek said earlier this month during the company's earnings conference call. "We've had a long relationship with the NFL. If there's a deal that will be accretive to shareholder value, we will certainly entertain that and look at that. But our first filter will be to say whether it makes sense for shareholder value going forward."
Now, the only question is who will triumph in the current TV rights negotiations — Roger Goodell or Mickey Mouse?