NBA: Rudy Gobert and the 9 Other Players With the Most Dunks in the 2018-19 Season
Although the NBA has turned into a bunch of pace and space teams who shoot 3-pointers, fans still love seeing athleticism on the hardwood. A long-range basket has its appeal, but watching someone throw down a ferocious dunk is sees seeing more dunks than ever before. Rudy Gobert set the record for most dunks in a season this year, and he could also be a repeat NBA Defensive Player of the Year winner.
As the season comes to a close, let's look at the 10 players with the most dunks during the 2018-19 season.

10. John Collins, Atlanta Hawks: 152
Collins was the No. 19 overall pick in the 2017 NBA Draft, and he has improved his game considerably since entering the league. He is averaging 19 points and nine rebounds per game this season and could be a sneaky All-NBA selection. Collins competed in this year's dunk contest but came up short. Still, Collins gets it done during the game with nearly two dunks per contest.

9. Andre Drummond, Detroit Pistons: 157
The Pistons big man is a double-double waiting to happen. Drummond's game is excellent on the inside, as he is shooting over 53% from the field, scoring more than 17 points per game, and dunking like there's no tomorrow. He competed in the 2016 slam dunk contest, but he couldn't come away with the victory.

8. Jarrett Allen, Brooklyn Nets: 164
The second-year man out of Texas continues to be a building block for the Nets. He is putting up 11 points to go along with eight rebounds per game this season. Befitting a 6-foot-11 center, he averages more than two dunks a game. He hasn't competed in the dunk contest yet, but that could change next season.

7. DeAndre Jordan, New York Knicks: 167
Jordan doesn't hesitate to throw down ferocious dunks on his defenders. He never really developed much of an offensive game outside of that, but he was part of the Lob City movement with the Clippers. Jordan participated in the 2017 slam dunk contest and threw down a fierce 360 slam.

6. Willie Cauley-Stein, Sacramento Kings: 175
As the Sacramento Kings have become the fastest paced team in the NBA, Cauley-Stein has seen his numbers improve across the board. Although he has never participated in a dunk contest, you can still see him flying down the court ready to throw down a vicious slam on anyone impeding his path to the rim.

5. JaVale McGee, Los Angeles Lakers: 185
Once a walking punchline for Shaquille O'Neal, McGee has quietly developed into a dependable big man for a team looking to win a championship. He participated in the 2011 dunk contest and even dunked three basketballs at once! The dunk contest could use more of McGee's creativity for the next couple of seasons.

4. Montrezl Harrell, Los Angeles Clippers: 196
After being drafted out Louisville, Montrezl Harrell was viewed as a glue guy for a team in win-now mode. He can hustle for rebounds, play tough defense in the post, and make highlight reel dunks. He hasn't participated in a dunk contest but has helped the Clippers return to the playoffs with 16 points, six rebounds, and nearly three dunks per game.

3. Clint Capela, Houston Rockets: 230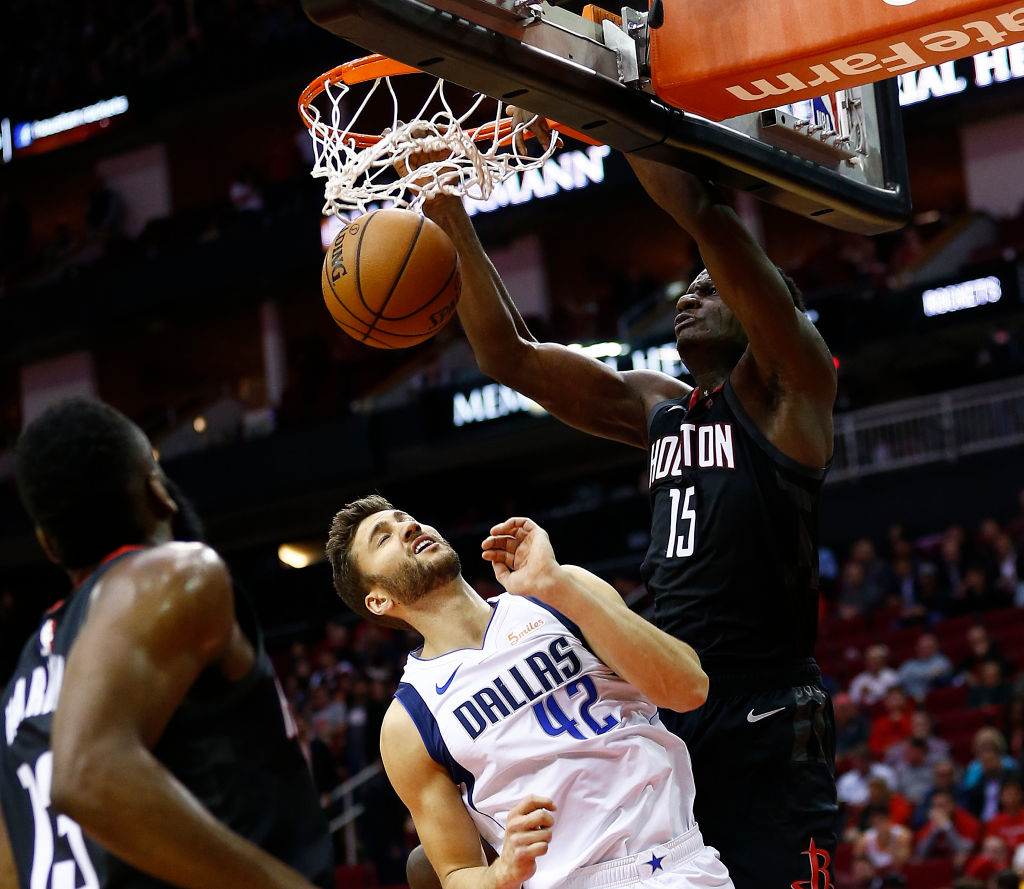 How good would the Rockets be without Capela in the middle of the paint? He is a defensive presence, and he makes defenders guarding the alley-oop look silly. Capela is putting up 16 points and nearly 13 rebounds per game as the Rockets look to dethrone the Warriors in the Western Conference.

2. Giannis Antetokounmpo, Milwaukee Bucks: 273
The Greek Freak is one of the scariest players to defend when he has a full head of steam on a fast break. Putting up potential MVP caliber numbers, Giannis is averaging 27-12-6 for the Bucks. He can seemingly do it all, including throwing down multiple dunks per game.

1. Rudy Gobert, Utah Jazz: 292

Gobert has the chance to be the first two-time defensive player of the year not to make the All-Star team in either season, but we are proud to say he has accomplished a record many didn't think had a chance at being broken. With 292 dunks, Gobert broke Dwight Howard's old record for slams in a season, and he should expand on it before the season ends.