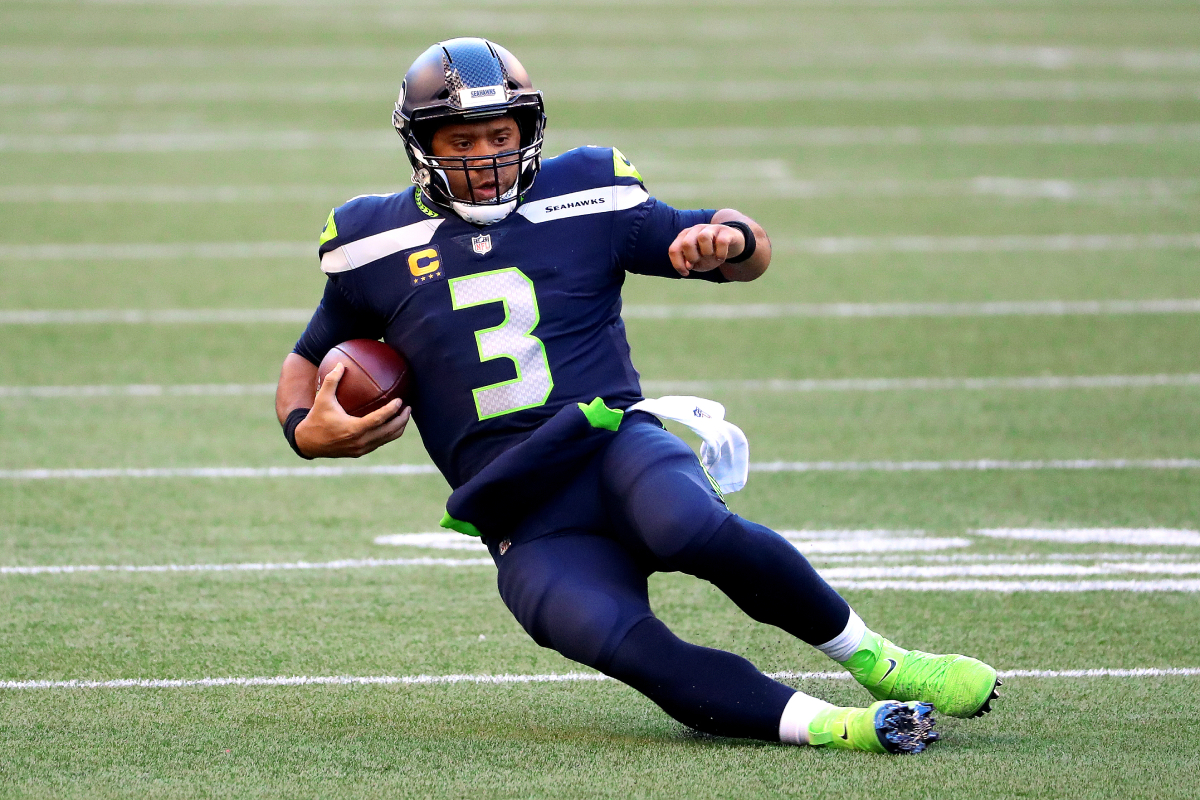 Russell Wilson Is About to Do Something He's Never Done in the NFL
Seattle Seahawks quarterback Russell Wilson, an MVP candidate, is embarking on a career-first Sunday when he faces the Buffalo Bills.
Since 2012, Russell Wilson has been the starting quarterback for the Seattle Seahawks. He's having an MVP-type season in his ninth season in the NFL. When the Seahawks take on the Buffalo Bills on Sunday, Wilson will be doing something he's never done as a professional football player.
Russell Wilson is having a monster year
The Seattle Seahawks have shown they want to win and want to win now. The team surrendered two first-round draft picks (and more) to land All-Pro safety Jamal Adams in a trade with the New York Jets. Although he's returning this week, Adams, like many on the Seahawks defense, has been out with an injury.
While the Seahawks were allowing an alarming number of points, quarterback Russell Wilson was putting up numbers at a record pace. Wilson leads the league in touchdown passes with 26 through seven games. To put that number in perspective, Wilson made the Pro Bowl in his rookie season when he threw 26 touchdown passes. He's hit that mark with nine games to go.
Wilson and the Seahawks have put up 31 or more points in six of their seven games. Not only is Wilson lighting it up, but the Seahawks are also winning. They enter Sunday's game with the AFC East-leading Buffalo Bills with a 6-1 record.
Wilson has never missed an NFL game
Russell Wilson played his college football at North Carolina State before transferring to Wisconsin for his final year. He was drafted in the third round of the 2012 NFL draft by the Seattle Seahawks. Wilson was named the starter during his rookie year.
In nine seasons, Wilson has never missed an NFL start. He's also never had a losing season with the Seahawks. In 2017, the Seahawks had their worst season under Wilson at 9-7. In that year, he led the league in touchdown passes with 34 and made the Pro Bowl.
Wilson has made the Pro Bowl six times in his career and has made the Super Bowl twice, winning it once. His career record as a starter is 101-48-1, including the postseason. Wilson has 276 touchdown passes in his career, playoffs included.
Wilson has never played in Buffalo
Russell Wilson has been around the NFL for nine years. He's never played an NFL game in Buffalo. He's played on the road against the Buffalo Bills, but that game was played in Toronto during his rookie season in 2012. Once he plays Sunday's game in Buffalo, Las Vegas, the city where the Raiders just moved this year, will be the lone NFL city Wilson has never played.
"I think to go to every stadium, to be in every stadium, that's a blessing in itself,'' Wilson said, according to The Seattle Times. "I remember when I was a young kid, I wanted to go to different stadiums and experience them all, to be able to play in them all and hopefully someday win in them all … it's definitely pretty cool.''
Wilson has been to Buffalo before, but that was for his pre-draft workout for the Bills. Former Buffalo Bills general manager recently told The Athletic that he wanted to grab Wilson in the draft. "We wanted him from the very start,'' Nix said in July, " and we felt he would be there with our first pick in the fourth round, but he wasn't there. We waited a half-round too long."