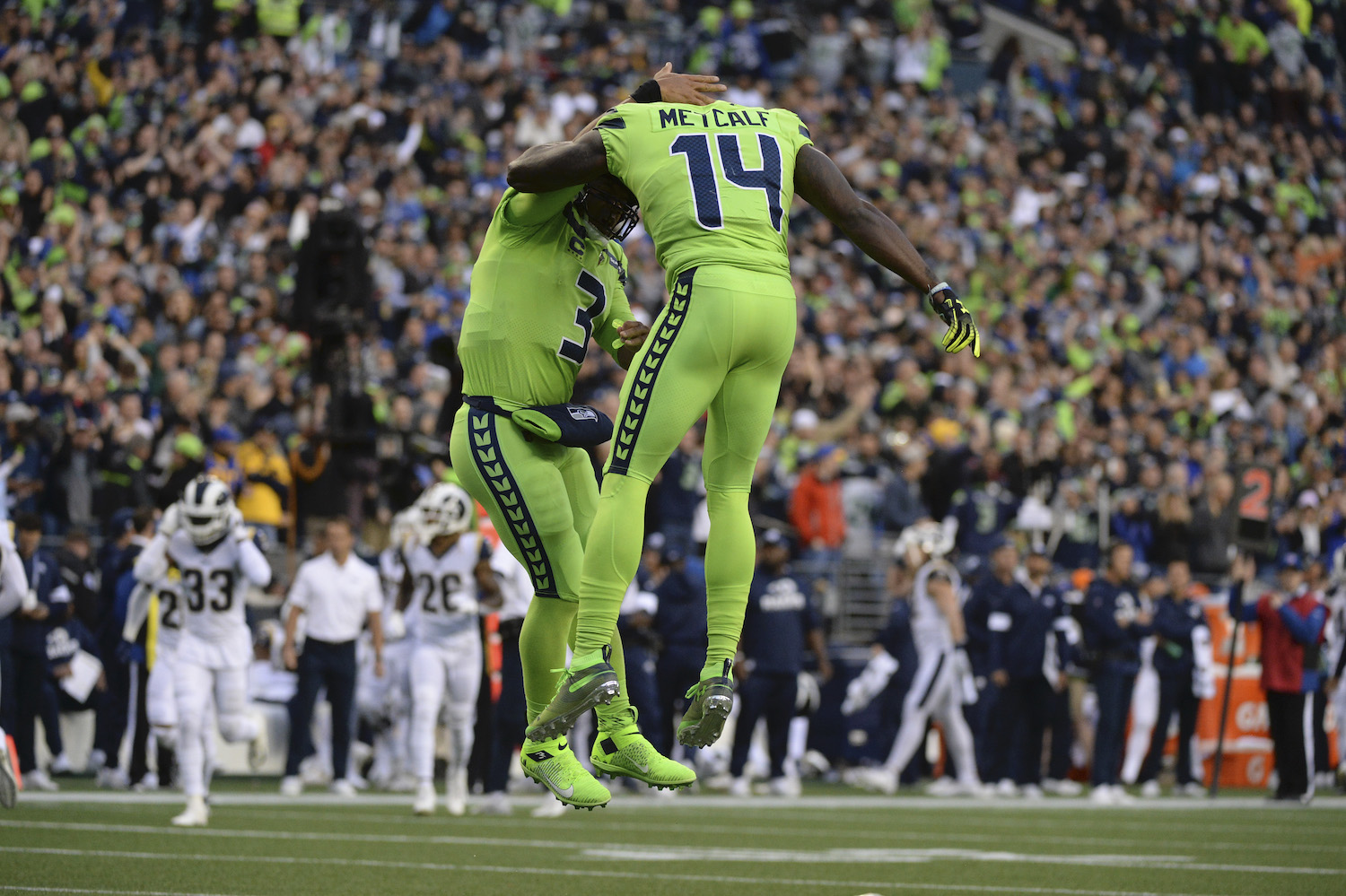 Russell Wilson Teaching DK Metcalf How to Swim Elevated Their Game to the Next Level
Seattle Seahawks quarterback Russell Wilson and receiver DK Metcalf have developed a special bond. It grew even stronger this offseason when Wilson taught Metcalf how to swim.
Russell Wilson has had some talented receivers to work with since he arrived in Seattle back in 2012. In recent years he's had one of the top 10 receivers in Seattle Seahawks history with Tyler Lockett. Last year, Wilson's arsenal of receiving weapons improved considerably with the signing of rookie DK Metcalf. Now, in their second year together, the pair's bond has grown inextricably closer. Interestingly, it all started this past offseason when Wilson taught Metcalf how to swim. 
Russell Wilson develops connection with DK Metcalf in 2019
Russell Wilson isn't the all-time passing leader for the Seattle Seahawks by accident. The six-time Pro Bowler and Super Bowl champion quarterback has had a wide array of weapons available to him throughout his nine seasons in Seattle.
Last season, Wilson and the Seahawks offense upgraded their receiving corps with the addition of rookie DK Metcalf from the University of Mississippi. During their first season together, it was apparent early on that the pair had chemistry together. 
When the season ended, DK Metcalf had started 15 of the 16 games and hauled in 58 receptions for 900 yards, which was third-best among rookies. He scored seven times. Metcalf finished second on the team in all three categories behind veteran receiver and one-time Pro Bowler/All-Pro Tyler Lockett. 
Russell Wilson teaches DK Metcalf how to swim
When DK Metcalf's mom signed him up for swim lessons at age four, it almost ended in disaster when he followed a group of advanced swimmers into the deeper end and ended up at the bottom of the pool, only to be retrieved by his mother. His mother tried lessons again several years later to no avail.
This past offseason, Metcalf joined Russell Wilson for some training time and bonding together in Mexico. It was there that Wilson convinced the 22-year-old to try and learn how to swim. 
"God is the next-best option, in my mind," Metcalf told ESPN's David Fleming when discussing Wilson as his swim instructor. 
Slowly but surely, Metcalf's trust in Wilson and his instructions converted into belief in himself. The fear that had once overwhelmed him when he got anywhere near a body of water vanished. His athletic ability took over. 
"In a couple years, I'll be looking to take down Michael Phelps," he joked.
Seahawks duo has bright future together
Their bonding time together both in and out of the water proved to be exactly what Russell Wilson had envisioned when he invited DK Metcalf to join him in Mexico. 
"There's a whole other level of the game that we thought we could really go to, me and him," Wilson admitted. "We want to make it one of those special Joe Montana-Jerry Rice type relationships. We've spent a lot of one-on-one time just putting the extra work in, and it's definitely shown up in so many different ways so far."
The results have been nothing short of impressive. Through nine games, Wilson has targeted Metcalf 72 times. They have completed 45 of them for 816 yards and an impressive 18.1 yards per catch. Metcalf has caught eight touchdowns, including the game-winner with just seconds remaining against the Minnesota Vikings, and has already surpassed his 2019 touchdown total. 
For Seattle Seahawks fans, it's evident Russell Wilson and DK Metcalf have a special connection. They've proven it time and time again during the past two NFL seasons. And the scary part is, they're just getting started.