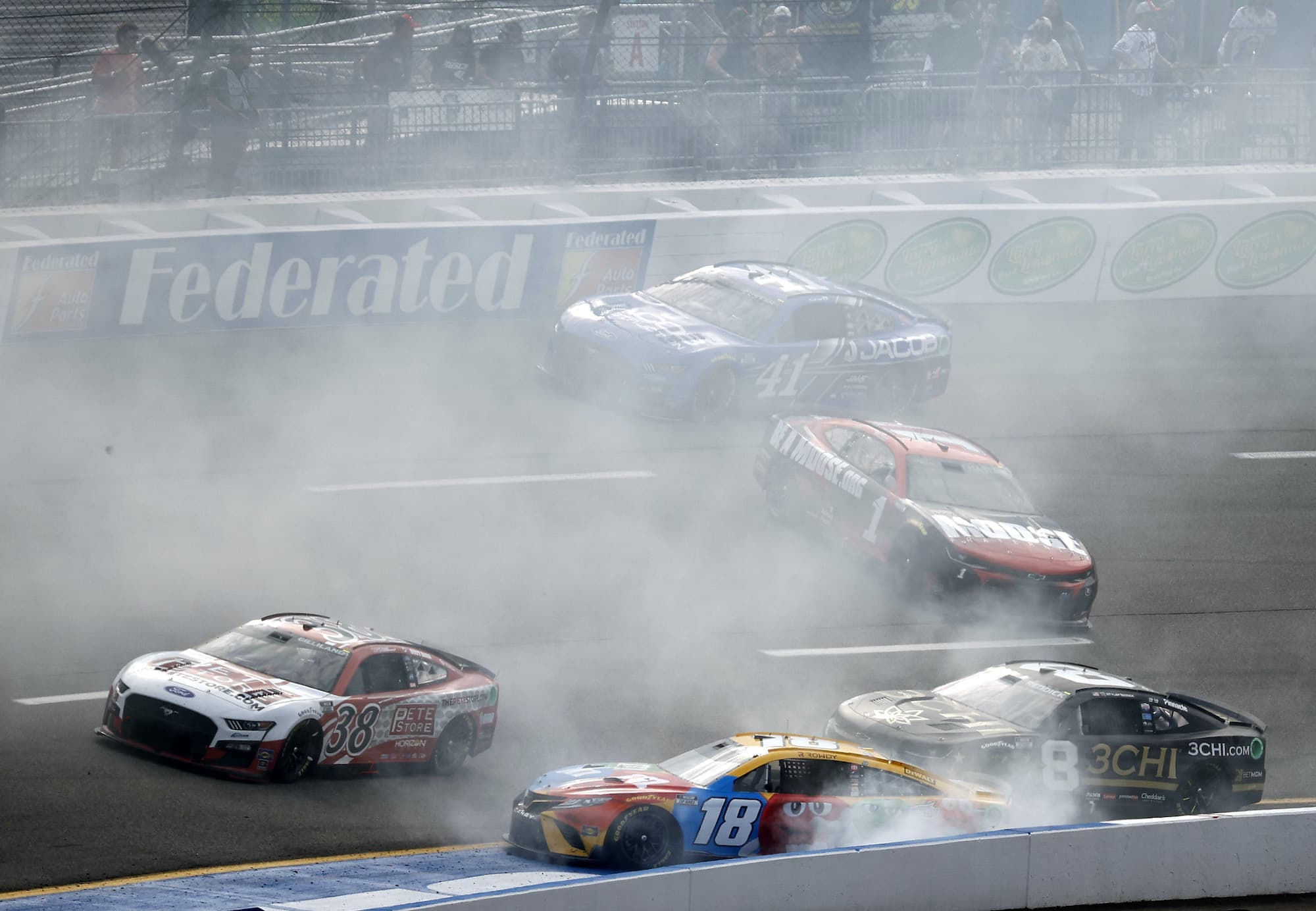 Ryan Blaney Disagrees With Kyle Busch and Defends Ross Chastain in Latest Incident at Richmond
Ross Chastain got into Kyle Busch at Richmond this past weekend and the JGR driver blamed the No. 1 car for the contact. Ryan Blaney doesn't agree.
Ross Chastain has made his mark on the 2022 NASCAR Cup Series season. On the positive side, he won the first two races of his Cup career at Circuit of the Americas and Talladega. Unfortunately, on the flip side, he's ruffled more than a few feathers along the way.
This past weekend at Richmond the Trackhouse Racing driver had a run-in with Kyle Busch. The two-time champion, who is just the latest Joe Gibbs Racing driver to have an issue with the watermelon farmer, humorously came up with a description for what happened to him as being "Chastained." During his latest appearance on NASCAR Race Hub this week, Ryan Blaney talked about the incident and disagreed with Busch. 
Ross Chastain makes contact with Kyle Busch at Richmond
Following the restart to begin Stage 3 at Richmond, Ross Chastain drove hard into Turn 3 and began moving up the track. Kyle Busch, who was slightly in front of him and on his outside, never saw him coming. 
The No. 1 car got into the left rear of the No. 18, sending it for a spin. Ironically, with Chastain attempting to slow down from Busch wrecking in front of him, he was hit in his left rear by Erik Jones, which then caused the Trackhouse car to spin.  
After the race, Busch provided his version of events on what happened.
"We were looking OK and in a good spot just coming up through there, working our way methodically through the field with our M&M's Toyota Camry," Busch said. "We got Chastained this week. We were his victim this week."  
Ryan Blaney defends Chastain
This week on NASCAR Race Hub, the contact between Chastain and Busch was a topic of conversation. Show host Shannon Spake asked guest Ryan Blaney how long Chastain has to deal with drivers blaming him for every incident, even when it might not be his fault. 
"I have no idea. Me and Ross actually haven't gotten into it this year," Blaney said. "I have not got Chastained. That one to me, honestly, that looked like a racing incident of Ross was kind of middle of (Turn) 3, and the space just kind of closed up. And you're on new tires so, you kind of get in the corner a little bit harder than you probably should. New tires at Richmond were such low air pressure. They seemed to chatter hard. That looked like a racing incident to me."
When Spake pressed the driver on what's happened in the past with Chastain, Blaney agreed it wasn't a good look. 
"It makes it look definitely worse from what has happened earlier this year, especially with the Gibbs camp," he said with a smile. "He seems to be attracted to those. That kind of snowballs it into, OK, when he has racing incidents and things happen, people just revert back to all of the things he's done earlier in the year."
Multiple JGR drivers have been victims this season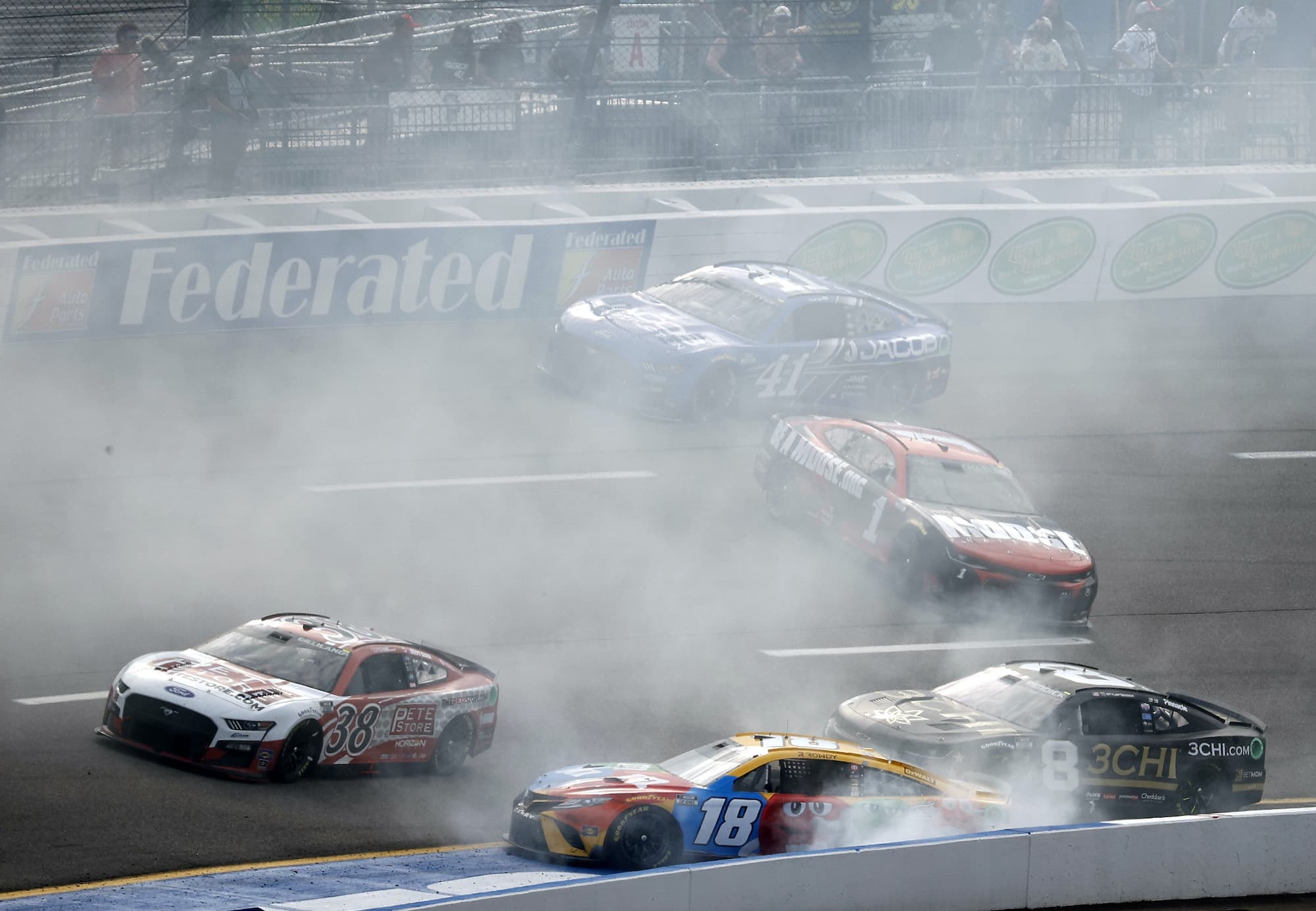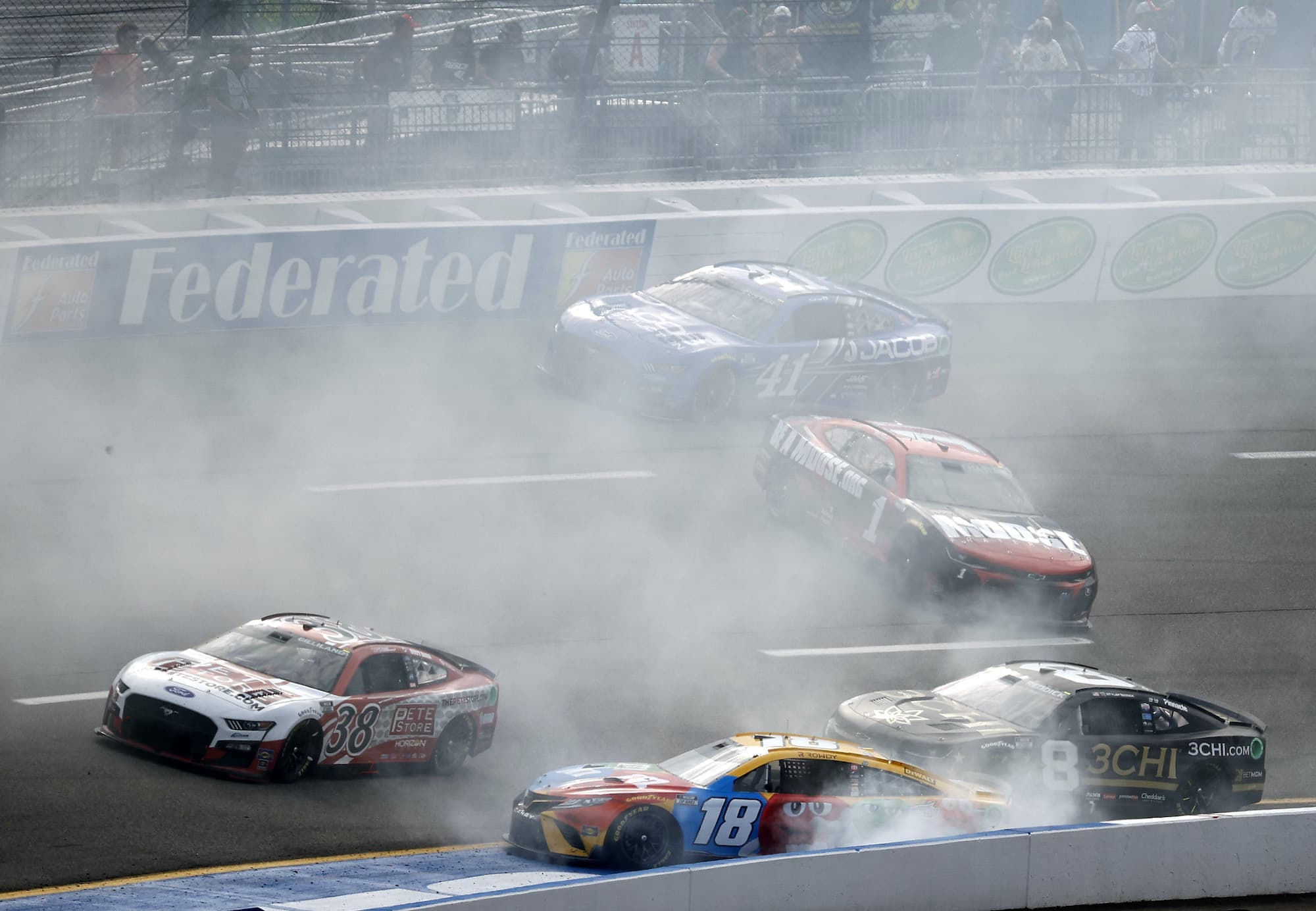 Blaney is 100 percent right. Chastain has, after Sunday's race, been involved in incidents with three of the four JGR drivers. While Denny Hamlin has been the most notable with several incidents, Martin Truex Jr. has also been victimized by the Trackhouse car on a couple of occasions and voiced his displeasure.
Interestingly, just this past weekend before the race at Richmond, the only driver not to have a noteworthy run-in with Chastain, Christopher Bell, was vocal himself about the No. 1 team and talked about a move he made the previous week at Michigan, where he blocked him.
"Made a mistake and misjudged on being clear and not being clear," Bell told reporters. "With that being said, I've been put in that exact same position on the flip side probably 30, 40, maybe 50 times this year, and I've lifted. I made a mistake, but he had an option to lift and cut us both a break. He didn't. We wrecked." 
When a reporter asked if Bell made that move knowing it was Chastain behind the wheel of the other car, the 27-year-old driver didn't hesitate.
"Absolutely," he said. "This sport is a game of respect and I try and race people how they race me."
Chastain should expect everyone to race him as he's raced them this season and that could get ugly in the playoffs when it matters most. Fortunately, for Blaney, it's just been clean, hard racing. He hasn't been Chastained yet.  
Like Sportscasting on Facebook. Follow us on Twitter @sportscasting19 and subscribe to our YouTube channel.