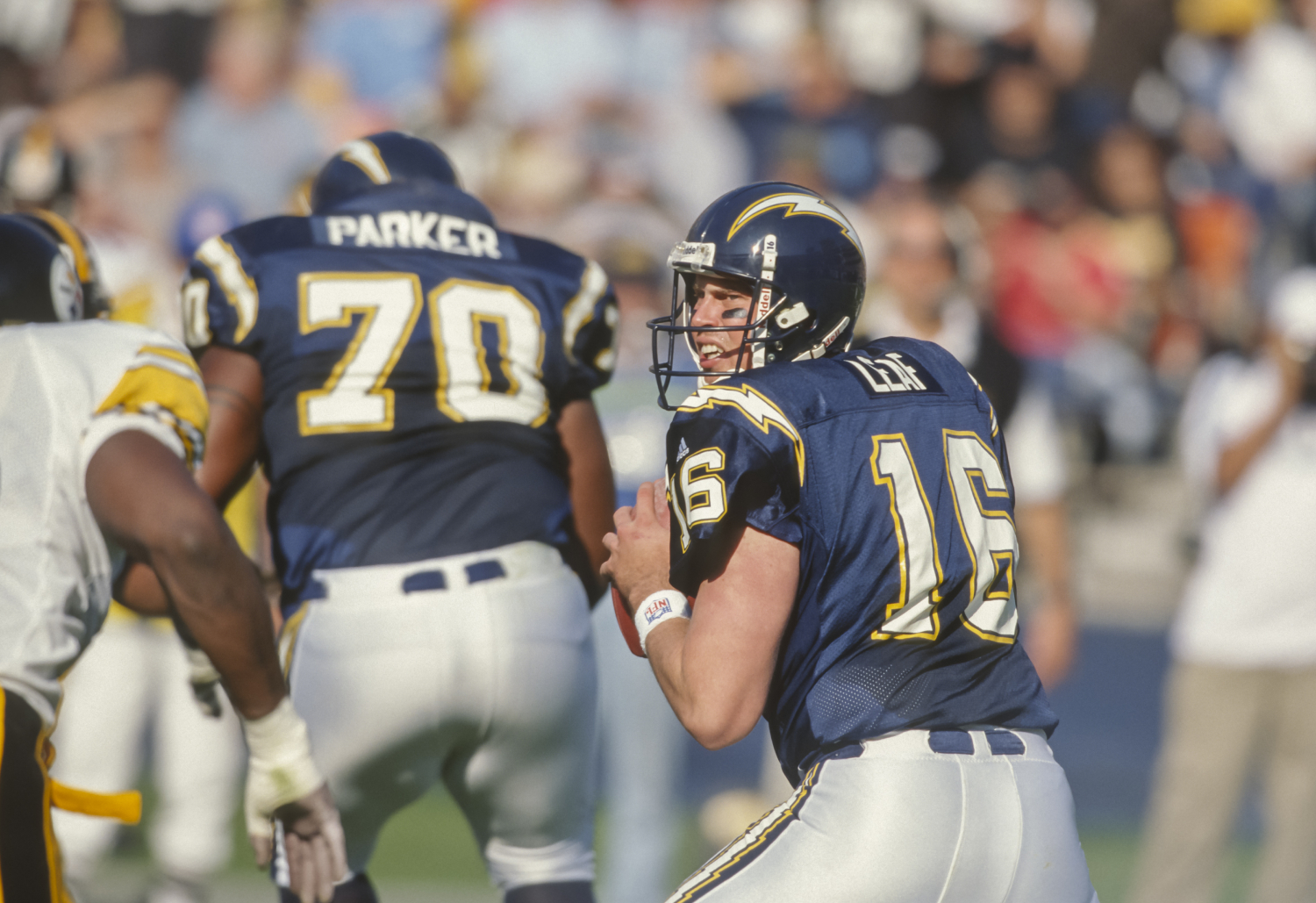 Ryan Leaf Sees Himself in the Dwayne Haskins Situation
Former San Diego Chargers quarterback Ryan Leaf weighed in on the release of Washington Football Team quarterback Dwayne Haskins.
Ryan Leaf knows a thing or two about being one of those NFL players with high expectations who becomes labeled a bust. He realizes now he's the one to blame for his professional football failures. After the Washington Football Team surprisingly released 2019 first-round pick, Dwayne Haskins, this week, Leaf weighed in.
Ryan Leaf's football career
The biggest question heading into the 1998 NFL draft was whether the first pick would be Tennessee quarterback Peyton Manning or Washington State quarterback Ryan Leaf. Both had outstanding college careers. Manning was the safer choice, but Leaf was more athletic. The Indianapolis Colts went with Manning with the top pick and it turned out to be a franchise-altering decision.
The San Diego Chargers selected Leaf with the second pick and it turned out to be a decision that stunted the franchise's growth. Leaf was a disaster in his two seasons with the Chargers. In 18 starts, Leaf went 4-14. He had 13 touchdown passes and 33 interceptions. After his two seasons with the Chargers, Leaf made three starts for the Dallas Cowboys, going 0-3.
Leaf's biggest problem was himself. He admits he had an attitude problem. Nobody could tell him what to do. Leaf had several outbursts with the media and teammates. After his NFL career, he spent time in prison on felony drug charges.
Dwayne Haskins released by the Washington Football Team
In a surprising move earlier this week, the Washington Football Team cut ties with its first-round pick in 2019. Quarterback Dwayne Haskins was released the day after he was benched in a loss to the Carolina Panthers. Haskins hasn't even finished two full seasons with the team before he was let go.
Haskins struggled as an NFL quarterback. After an outstanding season at Ohio State, Washington took Haskins with the 15th overall pick in the 2019 NFL draft. Haskins went 2-5 in seven starts as a rookie. He sat out the first three games, playing behind veteran Case Keenum. When Keenum struggled in Week 4, Haskins replaced him for his first professional action.
For his career, Haskins went 3-10 as a starter in Washington. He had more interceptions (14) than touchdowns (12). His off-the-field antics compounded his struggles on the field. During his first victory as an NFL quarterback, Haskins missed the final kneel-down as he was taking a selfie with a fan. He also broke the league's coronavirus (COVID-19) protocol when he was partying without a mask earlier this month.
Leaf weighs in on Haskins' situation
Last week, Tom Pelissero of the NFL Network reported the Washington Football Team was aware of then-quarterback Dwayne Haskins partying maskless in a strip club. Haskins' actions violated the NFL's COVID-19 protocol and appeared to be the final straw regarding his time with the team. Haskins was released Monday.
Former NFL quarterback Ryan Leaf, labeled by many as one of the league's biggest busts of all-time, responded to Pelissero's report via Twitter. Leaf had issues both on and off the field and saw many similarities to his and Haskins' behavior.
"Listen, this is exactly what you think it is," Leaf wrote. "Utter ignorance. There's something about the brain chemistry of an elite athlete that has everything & feels slighted & hurt. You have zero impulse control, no one will tell me what I cannot do. I swear it's like looking in a mirror!" Haskins is still just 23 years old. He'll have to learn from these mistakes if he wants another shot at a job in the NFL.
Statistics courtesy of Pro Football Reference.