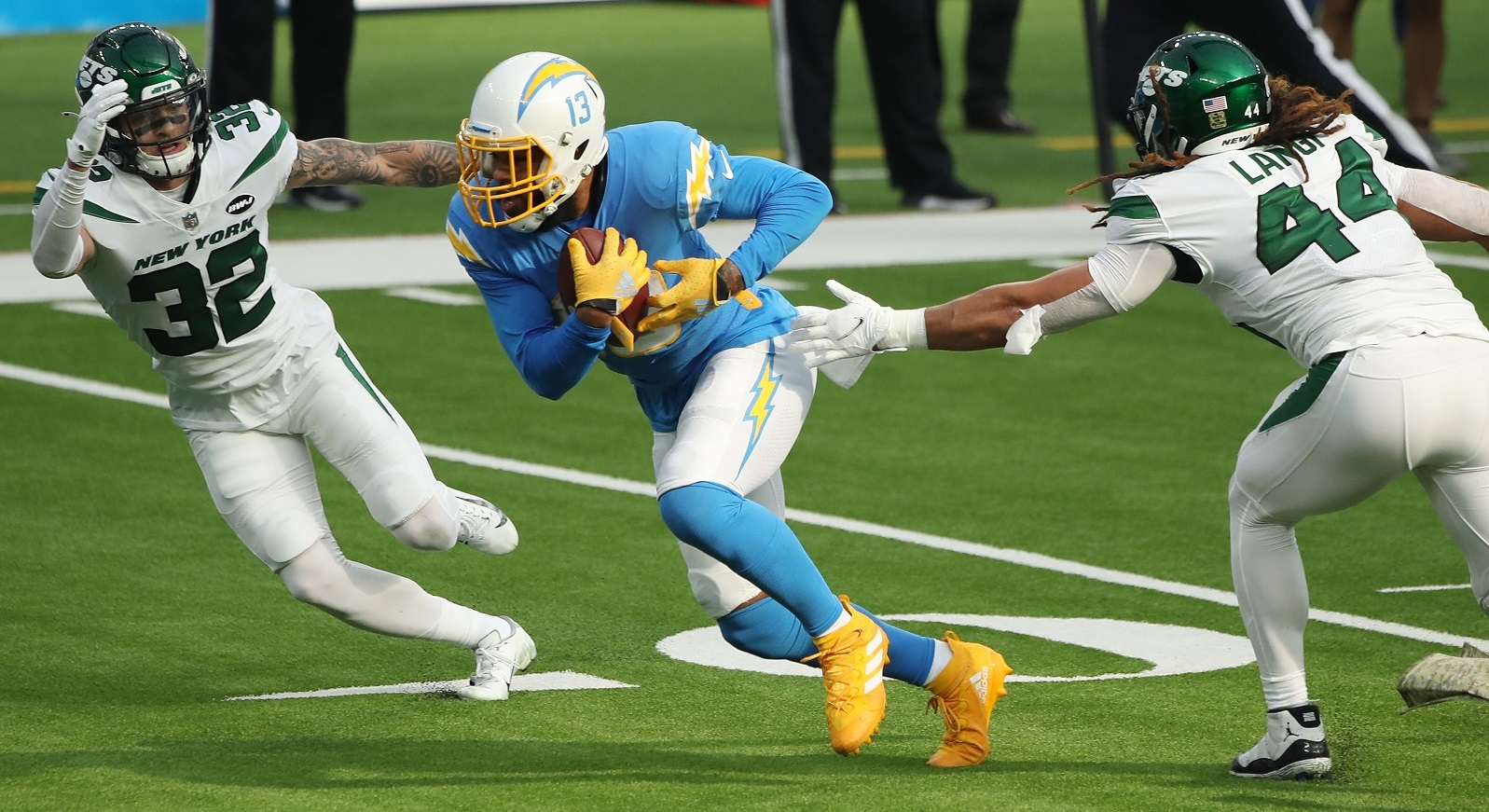 Keenan Allen Was 1 Snap Away From Quitting as a Chargers Rookie
Keenan Allen was so discouraged after not playing in his rookie debut that he nearly quit the Chargers after one game. Now, he holds an NFL record for catches in his first 100 games.
DeAndre Hopkins was a wise first-round NFL draft pick in 2013, and Robert Woods was a solid choice in the second. But credit the San Diego Chargers with an even more savvy move by plucking Keenan Allen out of the bargain bin despite coming perilously close to botching it. Afterward.
Just like the Chargers made a move, from San Diego to Los Angeles, Allen came close to making a move of his own – straight out of the NFL and back to school – before playing a single down.
Keenan Allen just broke Antonio Brown's record
He only picked up 52 yards on nine receptions, but Los Angeles Chargers receiver Keenan Allen entered the record book in NFL Week 14. Playing in his 99th pro game, Allen upped his total to 623 catches. That's one more than all-time 100-game leader Antonio Brown had made from 2010-16.
The achievement was the continuation of a career that has been superb even if Allen hasn't received the attention of some other top wideouts. Playing for a franchise that rarely appears in nationally televised games, Allen simply goes about his business week after week.
Despite missing half the 2015 season and nearly the entire next year, Allen's career numbers through Week 14 stand at 623 catches and 42 touchdowns with an average pickup of 11.8 yards per reception. He is coming off a 104-catch season in 2019 and stands at 99 with three games to go in the current season.
In addition, three of his 14 catches in four playoff games have gone the distance.
It hasn't been an easy journey to stardom
Possibly the best part of the Keenan Allen success story is that he has twice overcome injuries that threatened to derail what has turned out to be an impressive football career.
Allen, who initially committed to the Alabama Crimson Tide to play safety, had a late change of heart in high school and instead signed with Cal-Berkeley to play receiver alongside Zach Maynard, his half-brother. He was an immediate impact player for the Golden Bears, making 46 catches and scoring five touchdowns as a freshman in 2010.
Allen racked up 98 catches in 2011 and then 61 in his junior year, after which he made the decision to enter the NFL draft. Regarded as a likely first-rounder throughout most of his final college season, Allen sustained a posterior cruciate ligament sprain that kept him from working out at the NFL Scouting Combine. He wasn't in top form for his pro day workout, and Allen's slow 40-yard dash time scared off scouts.
The San Diego Chargers were deep at the receiver position but used a third-round pick on Allen. The move proved wise as Allen gave the Chargers 215 receptions in his first three 2 ½ seasons. However, a kidney injury cost Allen the final eight games in 2015, then he tore an anterior cruciate ligament in the 2016 opener and missed the remainder of that season.
Keenen Allen nearly quit the Chargers as a rookie
Keenan Allen was a star in high school and college, with each level preparing him for the next. What neither prepared Allen for, however, was waiting to get on the field.
When the San Diego Chargers drafted Allen in 2013, they were returning receivers Malcolm Floyd (56 catches in 2012), Ronnie Brown (49), Danario Alexander (39), and Eddie Royal (23). Tight end Antonio Gates (49) and running back Ryan Mathews (39) were also favorites of quarterback Philip Rivers.
Allen couldn't crack the rotation during training camp and then became frustrated when he did not get any snaps in the 2013 opener. He was ready to quit football and go back to college to finish his degree.
"After I didn't play after that first game, I was about another snap away of not playing from quitting," Allen recalled to the San Diego Union-Tribune.
He remembers calling his mother.
"'I need help. I'm losing. I'm about to quit,'" Allen recalled telling her. "(I wasn't) living up to my expectations of starting. I've never been a role player-type guy. Not easy at all. … I've never had to do it before. I never had to adjust."
Fate intervened the following week. Floyd suffered a season-ending injury, and Allen got into the mix with two catches for 34 yards against the Philadelphia Eagles. Two weeks later, he made five catches against the Dallas Cowboys, and that was followed by back-to-back 100-yard games.
By season's end, he made 71 catches – a league-best for rookies — for 1,076 yards and eight touchdowns. It earned Allen recognition from several sources as the league's top offensive rookie, putting him on his way to stardom.
All stats courtesy of Pro Football Reference.