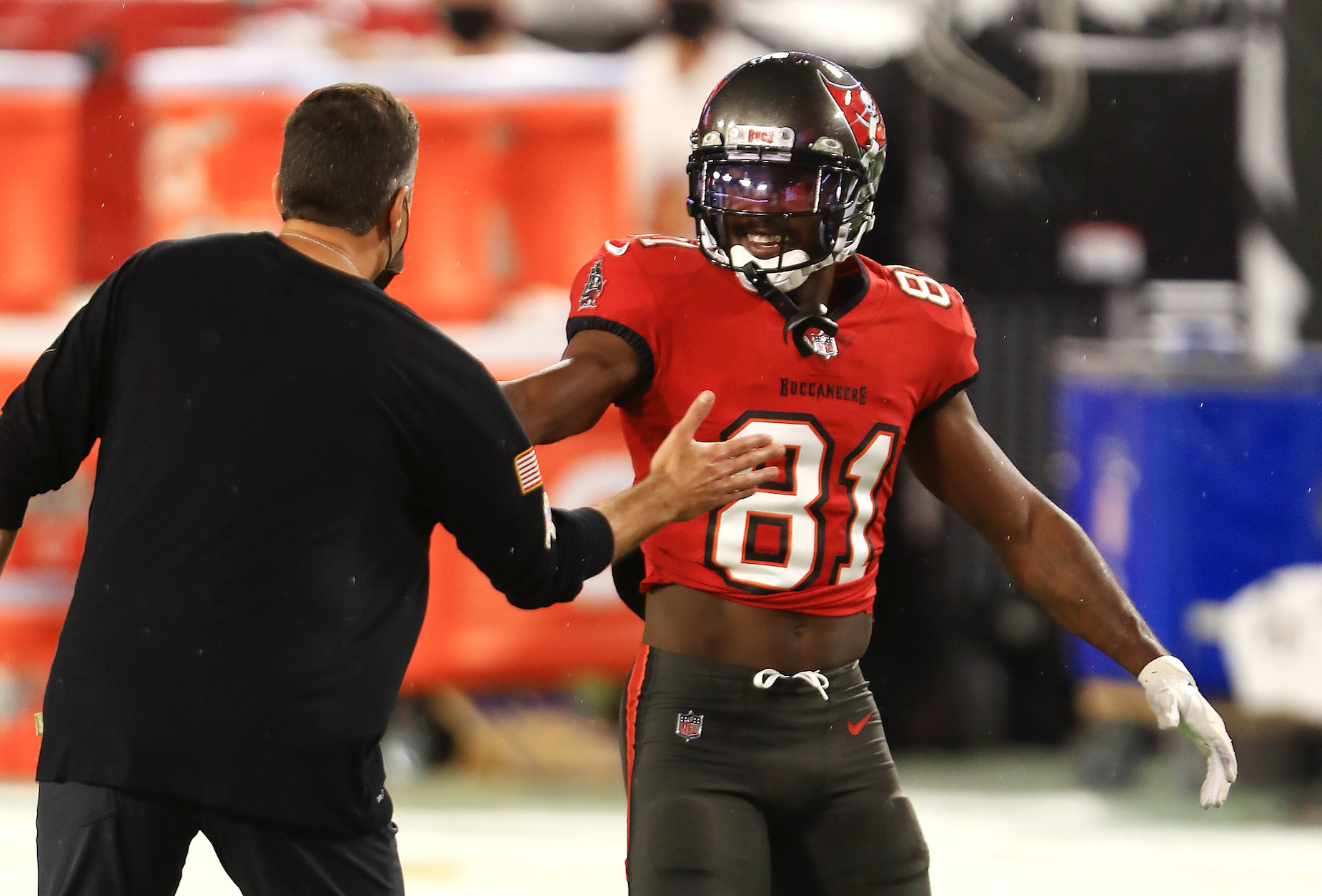 Antonio Brown Keeps Receiving Rave Reviews From the Tampa Bay Buccaneers' Coaches
While everyone knows about Antonio Brown's previous issues, the Tampa Buccaneers coaching staff has been impressed by their new receiver.
When the Tampa Bay Buccaneers acquired Tom Brady and Rob Gronkowski during the offseason, it became clear that they were going all-in to win a championship. Ahead of Week 8, however, the club doubled-down and signed Antonio Brown to a one-year deal. That move looked like a major gamble; while the receiver could strengthen Tampa's offense, he could also cause a rift in the locker room.
Although Antonio Brown didn't exactly stuff the box score in Week 9, he's apparently been on his best behavior during his time with the Buccaneers. In fact, the receiver keeps receiving compliments from the coaching staff.
Antonio Brown hasn't always been a model citizen during his NFL career
Purely from a talent perspective, no one could question Antonio Brown's NFL career. Unfortunately for the receiver, that's not the entirety of his story.
While Brown became a star with the Pittsburgh Steelers, he ultimately wore out his welcome in western Pennsylvania; that set the stage for his move to Oakland, where things got even worse.
During his time with the Raiders, Brown was the walking definition of a distraction. He showed up to training camp with frostbitten feet; he then threatened to retire over a helmet-related grievance. Things ultimately culminated in a verbal blow-up with general manager Mike Mayock, and the receiver found himself without a job before the regular season had even kicked off.
Brown ended up joining the New England Patriots but only lasted a single game on the roster. As documented by an ESPN report, the receiver was accused of sexually assaulting his former trainer and reportedly sent her intimidating texts after she came forward. Without a job, Brown found himself in more hot water, ultimately earning himself an eight-game NFL suspension.
Bruce Arians already praised his new receiver
Despite that checkered past, the Tampa Bay Buccaneers decided that Antonio Brown was worthy of a place on their roster. Shortly after he joined up with the team, the receiver had already impressed Bruce Arians.
"He looks fantastic. I think we had really good conversations today, he and I," Arians said at the time, according to Jenna Laine of ESPN. "He was in the meetings and everything. And he's working with Anthony Piroli and the strength staff. He looks in great shape. Yeah, ready to go next week."
While Brown's Buccaneers debut didn't go according to plan, the head coach still paid him a compliment after the game, saying the receiver "fits in quickly," as reported by Greg Auman of The Athletic.
Antonio Brown has also impressed the Buccaneers' receivers coach
Bruce Arians isn't the only one impressed with Antonio Brown. The newest Buccaneer has also won over the team's receivers coach.
"He's done everything that I've asked him to do," Kevin Garver said, according to Joey Knight of the Tampa Bay Times. "We're in communication every day. We talk every morning, we talk all throughout the day. We have extra meetings that we do, and he's done everything that I've asked him to do up to this point."
Garver, like everyone else, knows all about Brown's reputation. The coach, however, hasn't seen anything but effort from the receiver thus far.
"My approach with people is, really, I allow them to determine who they are, so I don't worry about all that stuff from the past," he continued. "I've been with him for two weeks, so really that's what I'm going to make my judgments based off. … I think that he really did a great job coming in, putting the time in. Really a lot of extra meetings, extra walk-throughs, really handled himself extremely well from a mental standpoint."