27 Million Reasons the Titans Must Cut the Ryan Tannehill Contract
The Tennessee Titans are at a crossroads in the 2023 NFL offseason, especially when it comes to quarterback Ryan Tannehill. The veteran QB will be 35 at the start of next season, and it's clear to most he's taken the team as far as he can. Tannehill is in the final year of his deal, and if the Titans move on from the Ryan Tannehill contract, it will save up to $27 million. However, if they do this, the Titans better have a plan at QB.
The Ryan Tannehill contract
Ryan Tannehill went from playing defensive back in high school to quarterback. Then to wide receiver in college and back to quarterback. Finally, he stuck at QB in the NFL but went from a prospect to a bust to a Pro Bowl signal-caller.
It's been a long strange trip for Tannehill in football, but the Titans owe a lot of their recent success to the excellent game manager. As good as he's been, though, we've seen Tannehill's ceiling and the ceiling of his team with him at the helm.  
Tennessee is not winning a Super Bowl with Tannehill at QB, so it is time to start figuring out the next step (more on that below).
For now, the best course of action for Tennessee is to free itself of the Ryan Tannehill contract.
In the 2020 offseason, the Titans signed Tannehill to a four-year, $118,000,000 contract with a $20,000,000 signing bonus, $91,000,000 guaranteed, and an average annual value (AAV) of $29,500,000.
In 2023, the signal-caller has a base salary of $27,000,000 with a cap hit of $36,600,000 and a dead cap number of $18,800,000.
The Titans are in an OK salary cap situation this NFL offseason, with $9,973,265 in space, which is just above the league average of $9,155,736.
Still, cutting Tannehill before June 1 will save the team $17.8 million in salary cap space, while cutting him after June 1 will free up $27 million in cap room. And that's what the Titans need to do.
What should the Titans do at QB?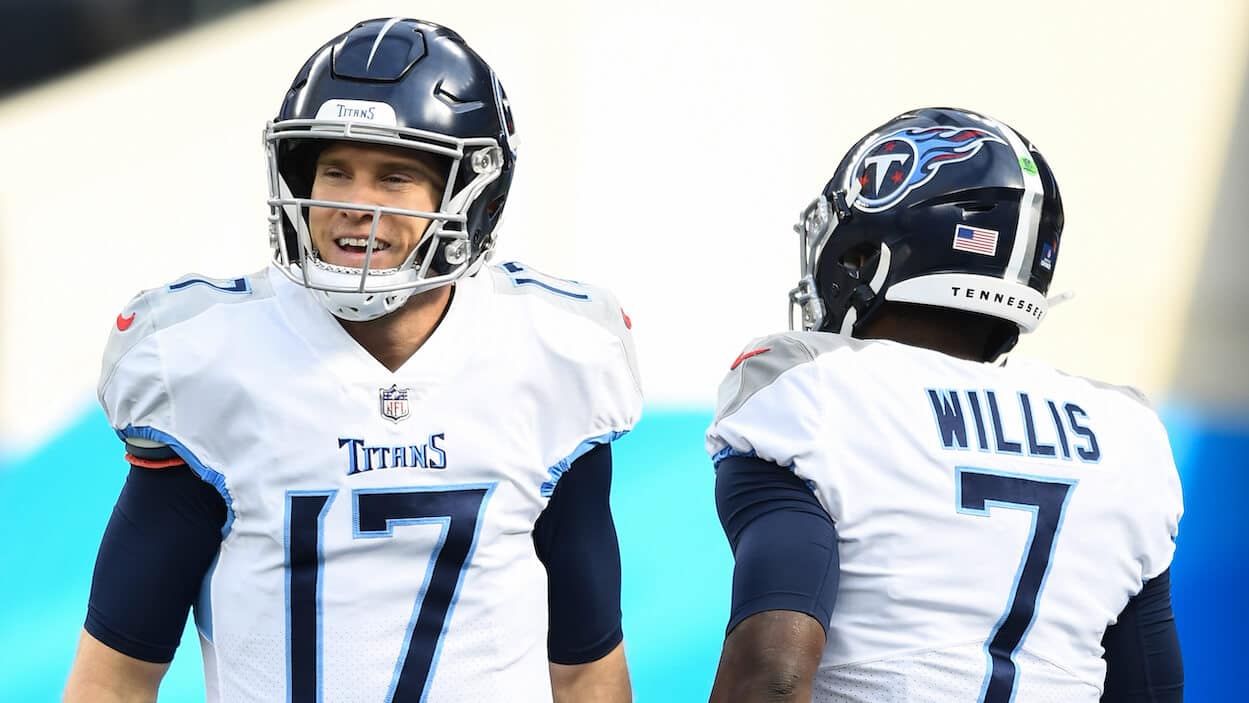 The Titans are in the middle of a soft rebuild, which is why they need to jettison the Ryan Tannehill contract.
The roster has good players on it, and by freeing up more salary cap space, the team can add even more good players around the QB while they try and find their signal-caller of the future.
Malik Willis, last year's third-round pick, is already in the building. While he decidedly wasn't ready from primetime in the 2022 season, a year in the NFL plus an entire offseason could get him ready to show off some of his potential in 2023.
Additionally, the Titans need to sign a young-ish veteran QB in the hopes he can step in and start if Willis isn't ready and possibly become a real starting quarterback if given the opportunity, ala Ryan Tannehill four seasons ago.
Free-agent quarterbacks who fit this bill in the 2023 NFL offseason include Gardner Minshew II, Cooper Rush, Mike White, Jarrett Stidham, and Brett Rypien. Bringing in one or even two of these players is a worthwhile, low-risk gamble for Tennessee.
Finally, drafting another later-round QB is a smart move, too.
At pick No. 11, maybe Florida signal-caller Anthony Richardson is still on the board, but it's more likely that the team will wait for the later rounds. In that case, Hendon Hooker from Tennessee, Jaren Hall from BYU, Tanner McKee from Stanford, and Dorian Thompson-Robinson from UCLA could all be options.