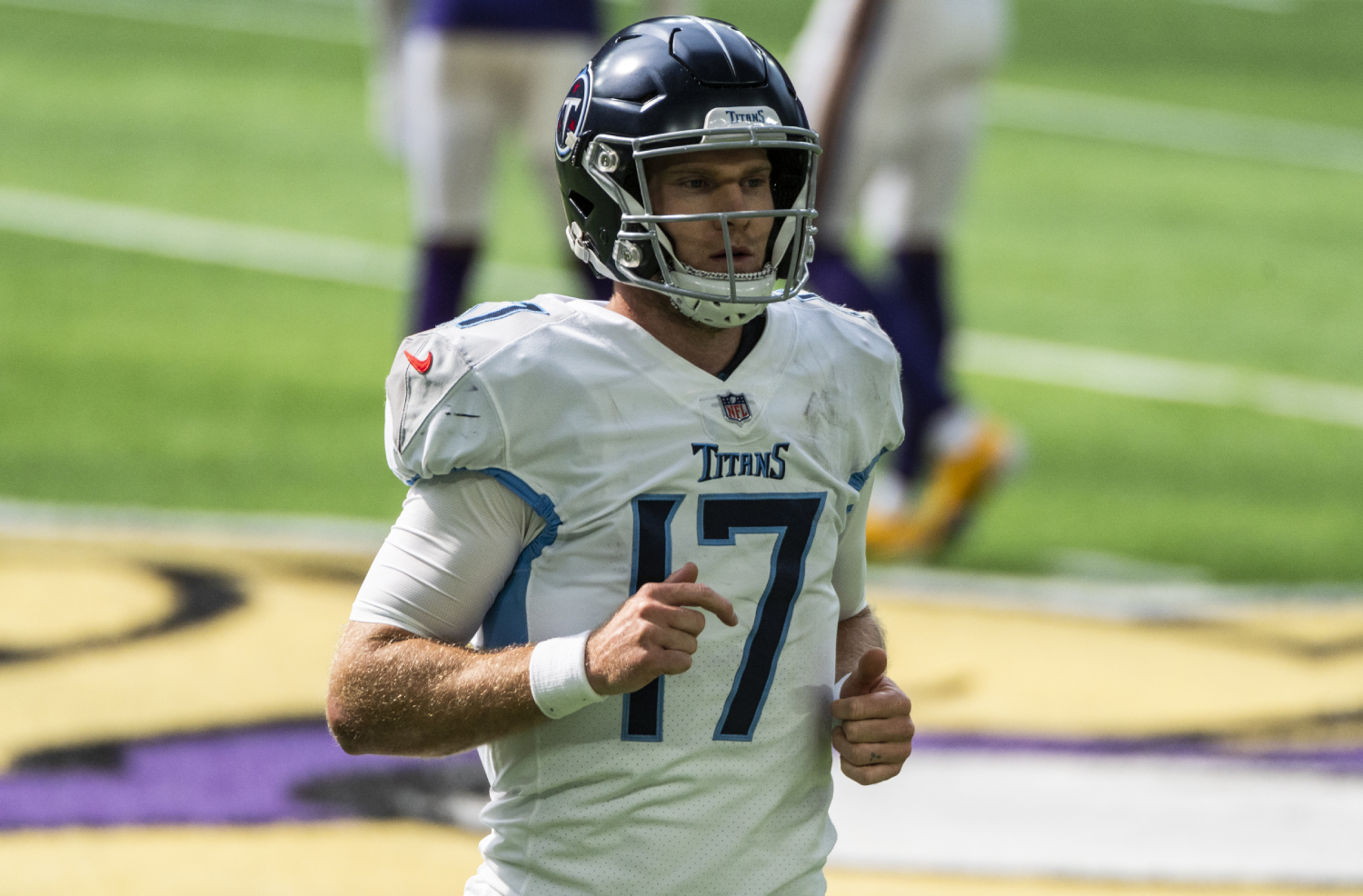 Ryan Tannehill Had a Bizarre Message to the NFL Regarding COVID-19 as Titans Close Facility Again
Tennessee Titans quarterback Ryan Tannehill had a bizarre message to the NFL regarding its COVID-19 testing.
The Tennessee Titans have been hit the hardest by the coronavirus (COVID-19) and the hits keep on coming. On Sunday, another Titans staff member tested positive for the virus, bringing the total number of 24 for positive Titans tests since Sept. 24. The facility has once again been shut down in Tennessee. On Saturday, Tennessee quarterback Ryan Tannehill had a very strange message regarding the NFL's COVID-19 testing.
The Titans' rescheduled game in doubt again
It's been the NFL schedule maker's nightmare. The 2020 season has seen NFL games scheduled for 5 p.m. this Monday and also had a game set for Tuesday night this week. Both of those games are in jeopardy of being moved again. The Tennessee Titans already had their originally scheduled game with the Buffalo Bills pushed to Tuesday after more positive COVID-19 tests were discovered earlier this week.
Now with another member of the Titans staff testing positive for Sunday, Tuesday's game is in doubt. Thirteen players have tested positive, while 11 staff members did as well. The Titans' office had been closed because of the multiple cases but had reopened Saturday.
"I, along with the players and staff, would like to tell you how excited we are to be back in the building to continue our prep for Buffalo," Titans coach Mike Vrabel said Saturday, according to ESPN.
Both the Titans and New England Patriots facilities shut down again
The Tennessee Titans weren't alone in having to see their facility get shut down again because of COVID-19. The New England Patriots, who had been shut down last week after quarterback Cam Newton tested positive, were closed again Sunday. Another Patriots player tested positive Sunday, according to the NFL.
"The Denver Broncos at New England Patriots game scheduled for Monday, October 12 at 5:00 p.m. ET has been postponed," the league said in a statement. "Details on a new game date and time will be announced shortly. Both teams will now have a Week 5 bye. This decision was made to ensure the health and safety of players, coaches and game day personnel and in consultation with medical experts."
Newton and Stephon Gilmore have already tested positive for the Patriots. Practice-squad player Bill Murray was placed on the COVID-19 list. Now a fourth player tested positive, forcing some more reshuffling of the NFL schedule.
Ryan Tannehill's bizarre comment
NFL reporter Paul Kuharsky broke the news that members of Tennessee Titans had scheduled their own workouts when their facility was originally closed. Members of the team, including quarterback Ryan Tannehill, got together to work out at a local school. The gathering went against league protocol and the league is expected to hand down excessive punishment.
On Saturday, Mike Giardi of NFL Network posted a tweet from Tannehill. Tannehill was quoted as saying, "unfortunately, we really probably lost faith in the testing systems" because of "everything we've been thru over the last week and a half."
There isn't a whole lot of context to go with this tweet so it's somewhat tough to decipher. In any case, Tannehill seems to be implying there are flaws in testing system despite the fact he had his team gathering for illegal workouts. The Titans, by far, have the most positive case and are the only team to have been known to gather illegally for a workout after their facility was shut down. The flaw seems to be with the Titans' players.