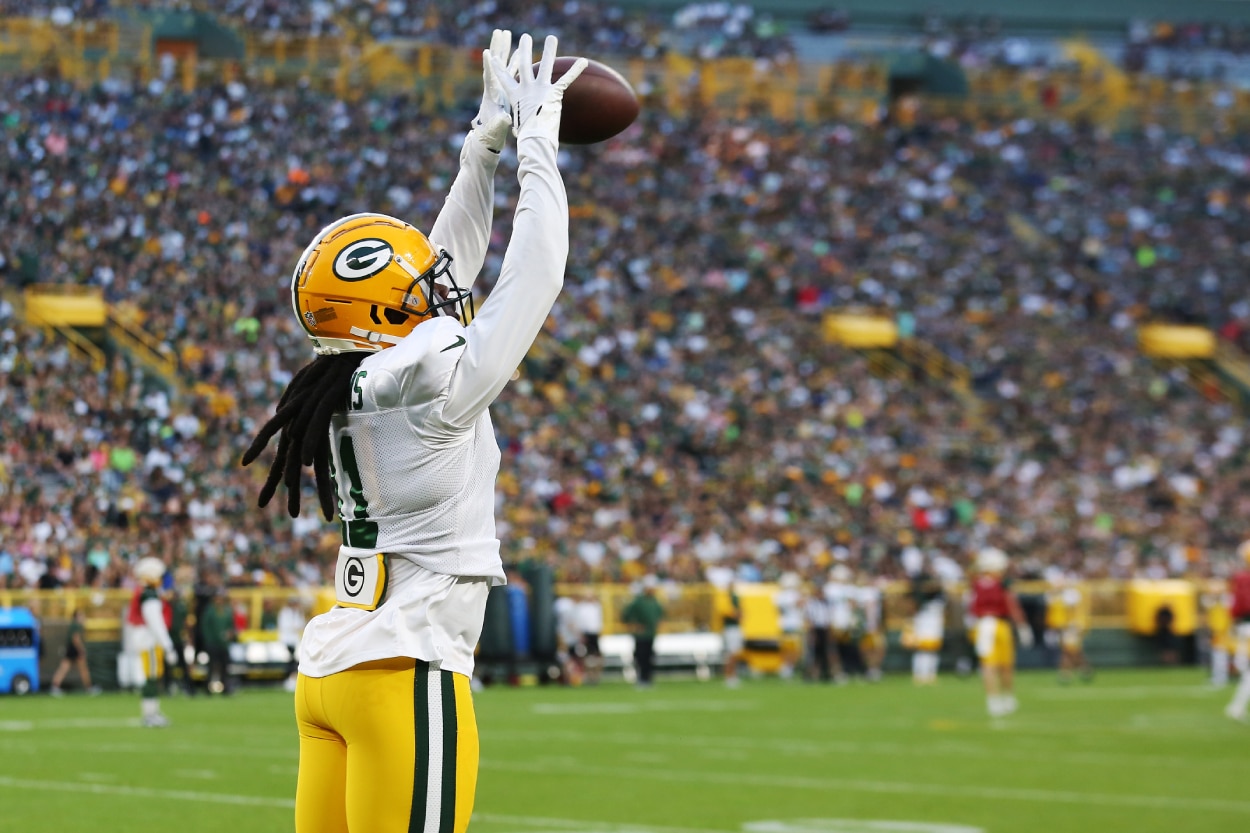 Sammy Watkins Is 'Super Reliable,' but Is That Enough for the Green Bay Packers?
Sammy Watkins gives the Green Bay Packers a veteran presence among the wide receivers.
Sammy Watkins has not lived up to expectations during his eight years in the NFL. The Buffalo Bills traded a big part of their future to move up five spots in the 2014 NFL draft to select the Clemson wide receiver with the fourth overall pick. Eight years and five teams later, he enters the 2022 season with the Green Bay Packers.
He's looked good in training camp. Packers quarterback Aaron Rodgers recently referred to Watkins as "super reliable." Is super reliable good enough for Watkins to make an impact in Green Bay?
Sammy Watkins joins an unproven group of wide receivers with the Green Bay Packers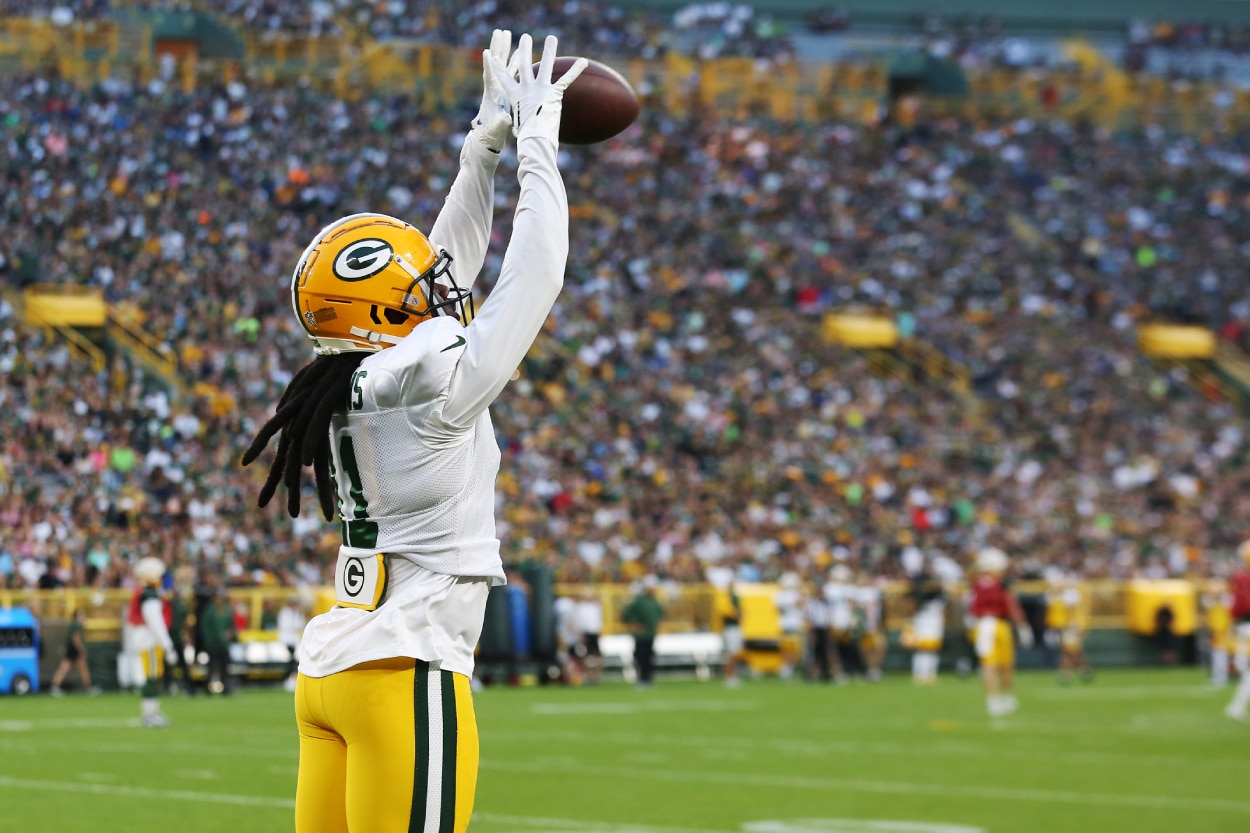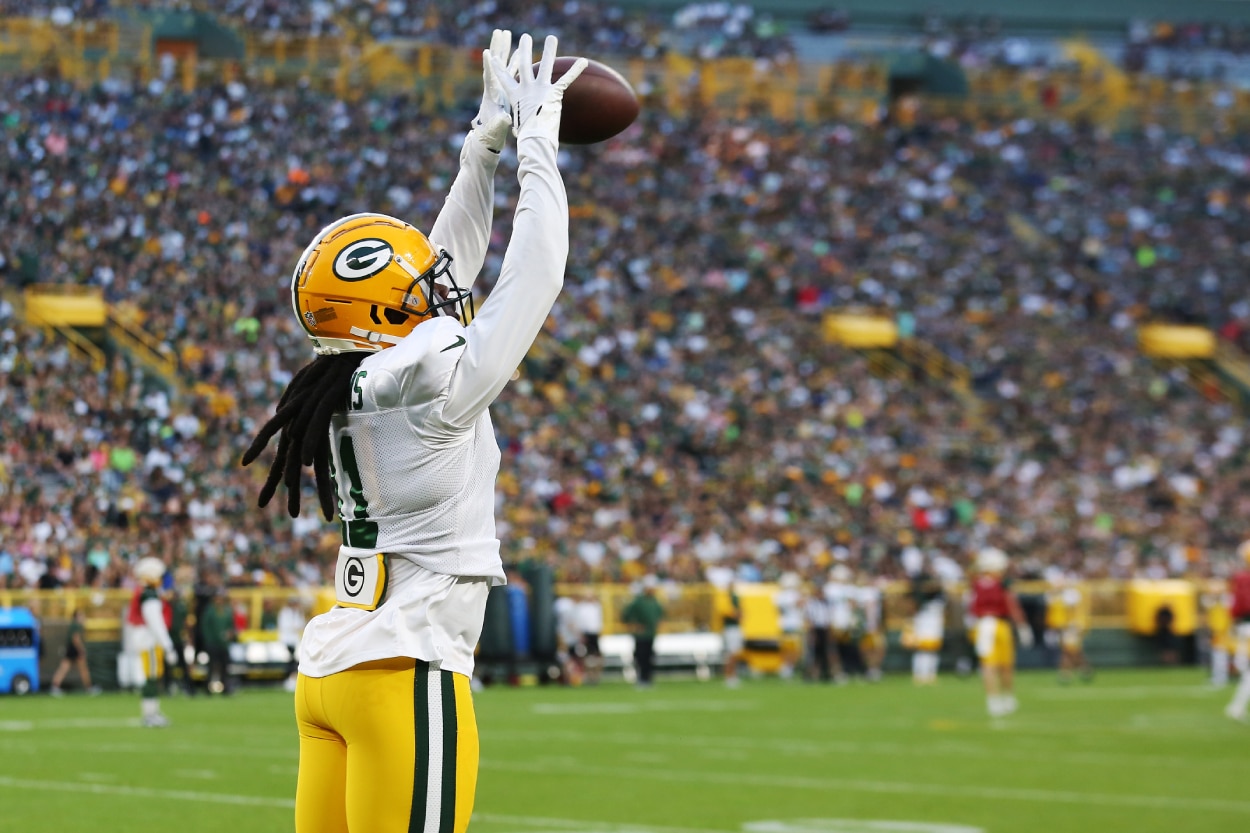 Watkins' failure to live up to his hype in Buffalo certainly isn't all on him. As a rookie, his quarterback was EJ Manuel, a player they took in the first round in 2013. Manuel didn't work out, and the Bills shuffled through quarterbacks Kyle Orton, Tyrod Taylor, and Matt Cassel in Watkins' three years in Buffalo.
Despite the inconsistency under center, Watkins had the best year of his career in 2015 when he recorded his lone 1,000-yard season, catching 60 passes for 1,047 yards and a career-high nine touchdown receptions.
After stints with the Los Angeles Rams, Kansas City Chiefs, and Baltimore Ravens, Watkins hooked on with the Packers this year. With the departure of All-Pro wide receiver Davante Adams, Watkins joins a group of young, unproven receivers looking to make their mark.
Allen Lazard, who has never had more than 40 receptions in any of his four NFL seasons, is the likely candidate to lead the team in targets. Watkins joins Randall Cobb as the two veterans of the group that will be forced to rely on young players such as Romeo Doubs, Christain Watson, Amari Rodgers, and Samori Toure.
Aaron Rodgers labels Watkins as 'super reliable'
It wasn't long ago when Rodgers sent a message to those young receivers, who had a tough time in camp. Many ran wrong routes, and there were several dropped passes. Rodgers gave them an earful.
"You keep dropping the ball, you're not going to be out there," he said, per The New York Post. "It's going to be the most reliable guys that are out there. The preparation and the job responsibility is most important."
One of those reliable guys is Watkins. In fact, Rodgers referred to him as "super reliable" after a recent practice.
"I'll tell you what: Every since the Saints practice, the first one, Sammy has been a different player," Rodgers said, according to Zac Kruse of The Packers Wire. "He's been super reliable. Every practice he's made a bunch of plays. Today, made a bunch of plays again."
Reliable in the pass-catching department is great, but is he reliable enough to stay on the field? Watkins' biggest problem throughout his career has been staying healthy. He played all 16 games as a rookie but never repeated that.
A foot injury forced him to miss half the season in 2016. He's missed a total of 12 games in the last four seasons.
Watkins wasn't signed to save the day for the Packers. He gives the young group a strong veteran presence. His reliability shouldn't be based on making plays. It should be based on being available in order to make those plays.
Like Sportscasting on Facebook. Follow us on Twitter @sportscasting19 and subscribe to our YouTube channel.