Seahawks Rookie Tariq Woolen Piles on to 'Sack of Potatoes' Russell Wilson
There is a long history of Seattle Seahawks defensive players taking shots at Russell Wilson that goes back to the quarterback's infamous goal-line interception in the Super Bowl in 2015. Wilson may play for the Denver Broncos now, and the Legion of Boom may be retired, but the tradition of Seahawks secondary members disparaging Wilson continues in the 2023 NFL offseason. This time, it's a player who never even played with the QB in Seahawks rookie cornerback Tariq Woolen.
Seahawks Rookie Tariq Woolen Piles took an unprovoked shot at Russell Wilson
Seahawks 2022 fifth-round pick, Tariq Woolen, had a fantastic rookie season. He started all 17 games, tied for the league lead in interceptions with six, made the Pro Bowl, and finished third in Defensive Rookie of the Year voting.
In many ways, Woolen became the successor to the vaunted Legion of Boom secondary of Richard Sherman, Kam Chancellor, Brandon Browner, and Earl Thomas.
Apparently, that holds both on and off the field, as Woolen continued the Legion of Boom's time-honored tradition of putting down Russell Wilson.
The Seahawks beat the Broncos 17-16 in Week 1 of the 2022 season, and Woolen discussed his experience on the 2 Up 2 Down podcast.
"Seeing [Russell Wilson] in person, it was pretty funny 'cause on TV you see him from college, and you're like, OK, he look in shape on TV,'" Woolen shared. "But when you see him in person, it's like, weird. He's like a sack of potatoes."
The Seahawks rookie didn't stop there, either.
"He's athletic, and he's a good player, but, literally, when I seen him, I'm like, 'Dang, I didn't know he was built like that,'" Woolen said. "And he was short. I'm tall anyway, but I was like, 'Damn, he's that short?!'"
Tariq Woolen shouldn't have any personal beef with Wilson as they never played together, but maybe he knew about the Russell Wilson-Pete Carroll story that would break a few days later.
Wilson allegedly wanted Pete Carroll fired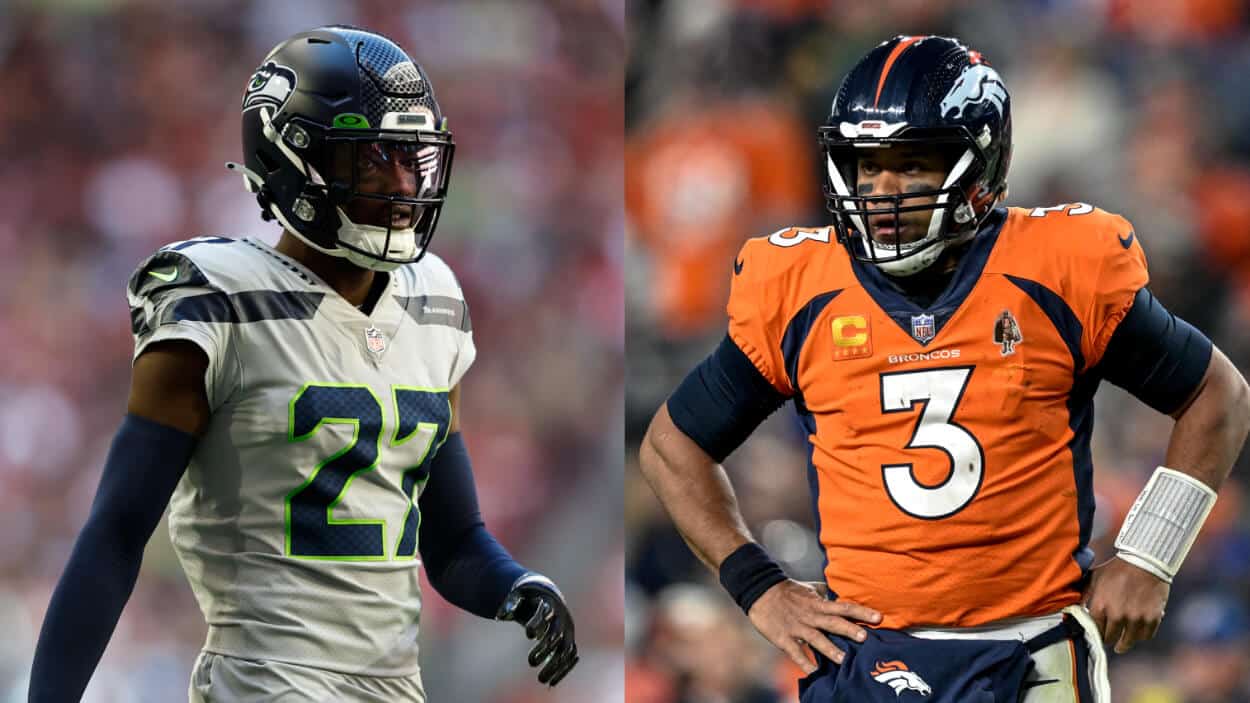 The main thrust of the Seahawks defense's dislike of Russell Wilson is that he was bigger than the team and didn't take responsibility for his shortcomings, while the defense got more of the blame for the team's failures.
And it apparently wasn't just the defense. There was reportedly beef between Wilson and head coach Pete Carroll as well.
On Friday, The Athletic reported that Wilson and Carroll didn't speak before that Week 1 matchup. Moreover, at the end of the 2021 season and before the Russell Wilson-Broncos trade, the QB made a massive power move to get Carroll, and general manager John Schneider fired.
"Convinced that Carroll and Schneider were inhibiting his quest to win additional Super Bowls and individual awards, Wilson asked Seahawks ownership to fire both of them, according to league sources who spoke to The Athletic on the condition of anonymity because they were not authorized to discuss the details," claimed a report by NFL writers Kalyn Kahler, Mike Sando, and Jayson Jenks.
They also reported that Wilson wanted Sean Payton, now his coach with the Broncos, to replace Carroll.
For his part, Wilson vehemently denied the accusation.
"I love Pete and he was a father figure to me and John believed in me and drafted me as well. I never wanted them fired. All any of us wanted was to win, Wilson tweeted on Friday. "I'll always have respect for them and love for Seattle."
And the Russell Wilson-Seahawks drama continues.