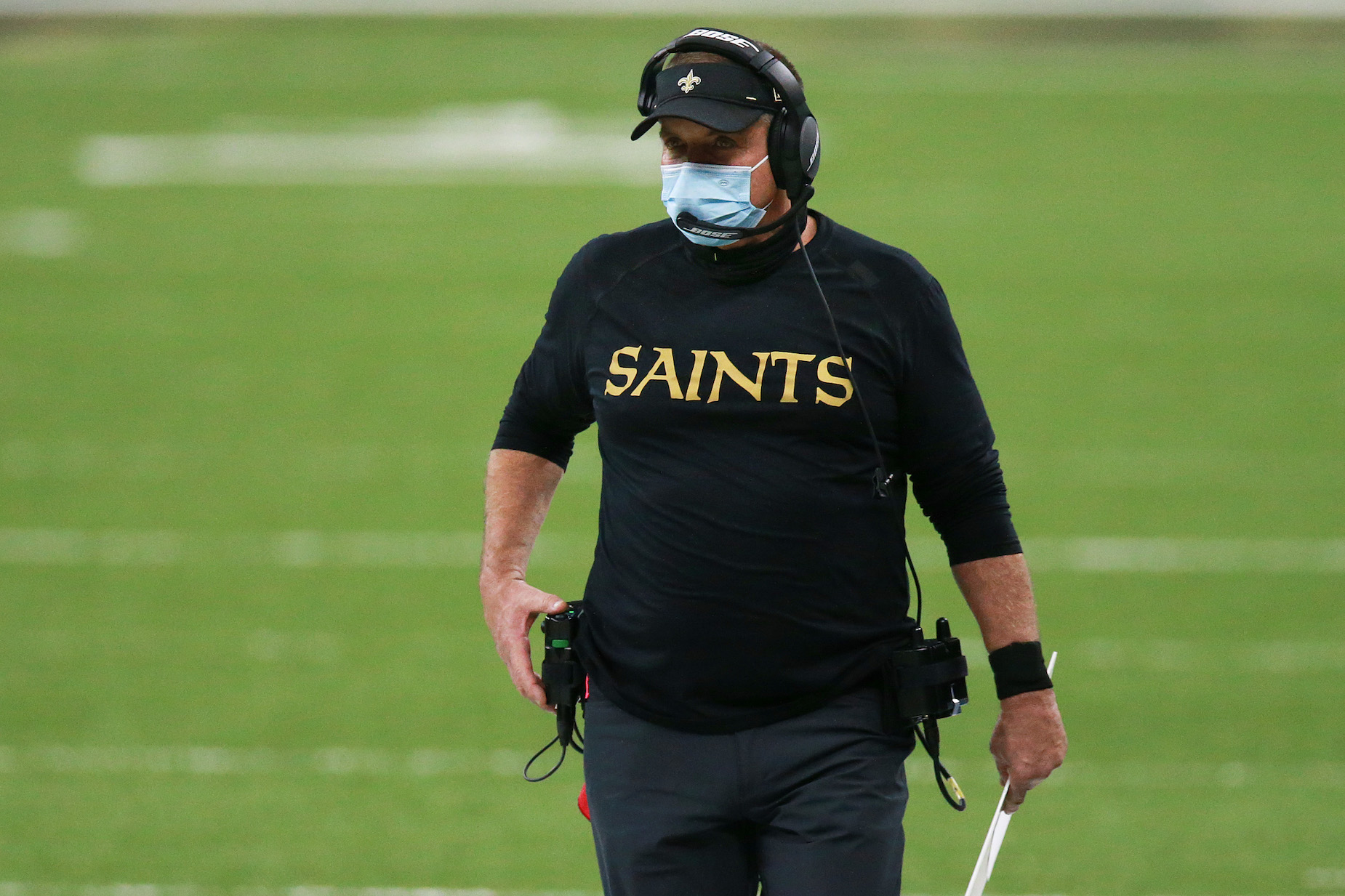 Sean Payton Is Using a $2 Purchase to Protect His $24 Million Fortune From Roger Goodell
During his time in the NFL, Sean Payton has built up a $24 million net worth. He's now using a $2 purchase to keep that money safe from Roger Goodell.
While the likes of Drew Brees and Michael Thomas deserve plenty of credit, Sean Payton has been a key part of the New Orleans Saints' success. During his time in the Big Easy, the veteran coach has established himself as a top offensive mind; that reputation, along with his Super Bowl success, has helped him build up a sizable fortune.
Despite making millions each football season, Sean Payton doesn't solely rely on the finer things in life. In fact, he's relying on a $2 purchase to protect his bank account from Roger Goodell and the long arm of the (NFL) law.
Sean Payton's successful NFL career
For the most part, NFL players, rather than coaches, tend to monopolize the headlines. During his time on the sidelines, though, Sean Payton has established himself as one of football's top coaches.
After a brief playing career, featuring stops a few NFL appearances during the 1987 player's strike and a season on England, Payton hung up his helmet and started coaching. His first gig came at San Diego State; he spent two separate seasons with the Aztecs, in addition to stints at Indiana State, Miami (Ohio), and Illinois.
In 1997, Payton got his foot in the NFL door, taking a job as the Philadelphia Eagles quarterbacks coach; after a couple of years, he moved north and joined the New York Giants as their quarterbacks coach and, eventually, their offensive coordinator. He also spent some time with the Dallas Cowboys before heading down to New Orleans and taking over as the Saints' head coach.
While there were some bumps along the way, like the 'Bountygate' scandal, Payton's time in the Big Easy has been a pretty big success. Working alongside Drew Brees, the coach has led the club to 132 regular-season wins, plenty of divisional success, and a Super Bowl title.
Building up a $24 million net worth
Everyone knows that big-name NFL players like Drew Brees can command massive salaries. Sean Payton might not earn as much as his quarterback, but he still heads home with an impressive paycheck.
During September 2019, the New Orleans Saints inked Payton to a five-year contract extension. While the financial terms of that deal weren't revealed, it's believed that the coach was making between $8 and $9 million per season; Payton's new offer presumably came with a raise which reportedly puts his salary in the $10 million neighborhood.
In addition to that annual income, Sean Payton's time on the sidelines has allowed the coach to build up a nice nest egg. According to CelebrityNetWorth, the coach has an estimated fortune of $24 million.
Sean Payton is relying on a $2 face mask to protect his fortune from Roger Goodell's fines
Over the past several months, we've all had to adjust to wearing face masks during day-to-day life. Sean Payton is no exception.
While you might expect the coach would settle on a high-quality, reusable mask, or at least one with some NFL or New Orleans Saints branding, he's keeping things a bit simpler. On Sundays, you'll be able to see Payton rocking the same blue mask that anyone can buy at the drug store.
During Week 3, the Saints coach hit the field wearing a gaiter, but didn't have the best experience; it was hot and kept sliding down his face. With that in mind, Payton made the switch. "The simple, $1.75 surgical mask, just felt lighter, cleaner and also I think a little bit easier to talk through without any muffled sound than the material one," he explained, according to Amie Just of NOLA.com.
In addition to the safety aspect of wearing a mask, Payton's economical choice will also protect his bottom line. Earlier in September, the coach was hit with a $100,000 fine for failing to cover his face on Monday Night Football; the Saints were also hit with a $250,000 penalty.
While $100,000 isn't that big of a penalty when you're worth more than $20 million, it seems like Sean Payton has learned his lesson. If nothing else, it's easier to shell out $1.75 every time he needs a new mask than it is to cut a check to the NFL.