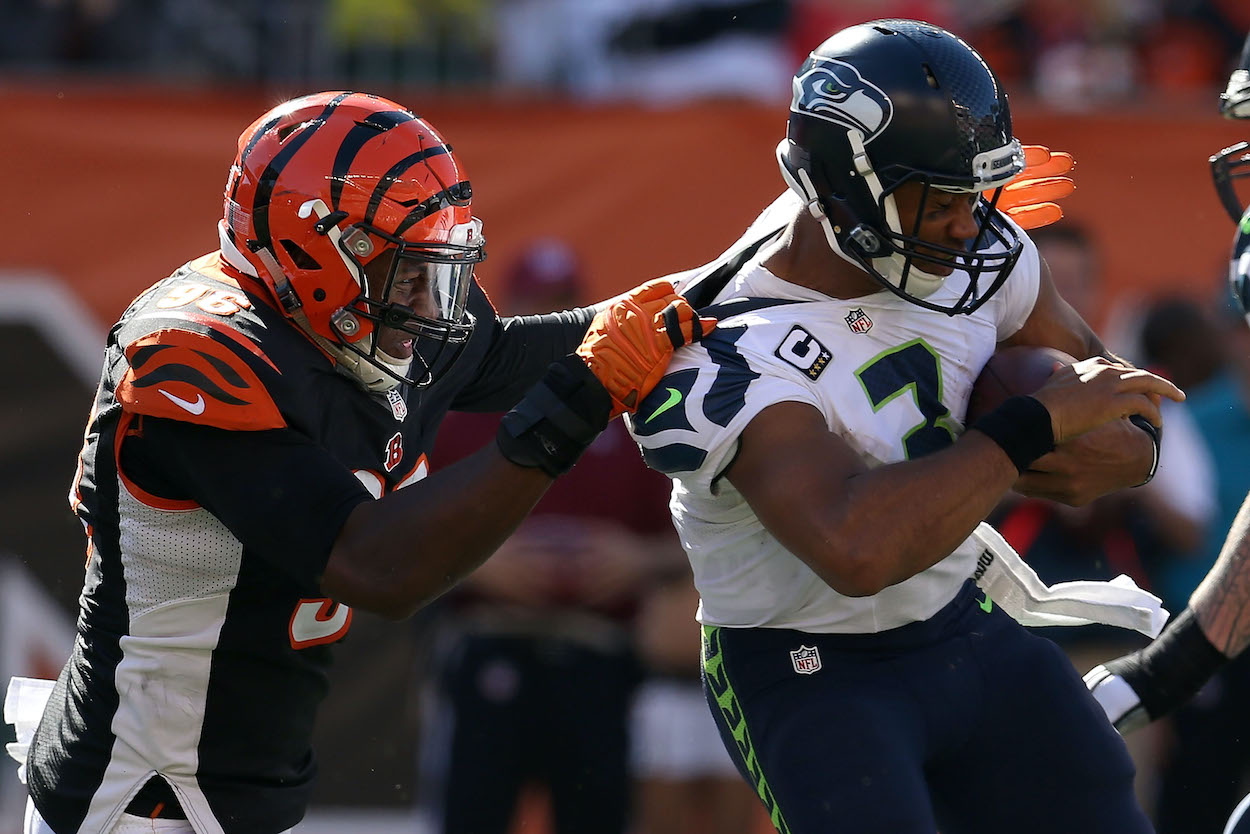 The Seattle Seahawks Just Took a Crucial $14 Million Step Toward Repairing Their Relationship With Russell Wilson
The Seahawks have a Russell Wilson problem, but they just took a huge step toward winning him back by creating $14 million in cap space.
The Seattle Seahawks have found themselves in a precarious position with star quarterback Russell Wilson. After nine seasons with the team, Wilson is expressing interest in leaving Seattle for another contender. The seven-time Pro Bowler is fed up with carrying the load for a team and a front office that has failed to surround him with Super Bowl-caliber talent, especially along the offensive line.
There's much to be done to repair the relationship between the Seahawks and Wilson if Seattle doesn't decide to trade him this offseason. They need to show Wilson they hear his concerns and are willing to do everything possible to make him happy. By cutting Carlos Dunlap and freeing up $14 million in cap space Monday, the Seahawks have a golden opportunity to do just that.
The fractured relationship between the Seahawks and Russell Wilson
The Seahawks entered the 2021 NFL offseason with numerous issues to address, but they never thought Russell Wilson would be one of them. Wilson is only two years into his four-year, $140 million contract with the team, and Seattle was convinced its Pro Bowl quarterback would finish his career with the franchise.
But after a demoralizing loss to the LA Rams in the NFC wild-card round, Wilson decided he might want to move on from the Seahawks. Reports have surfaced that Wilson is fed up with the front office and head coach Pete Carroll for their inability to build a Super Bowl roster and execute a winning game plan. Seattle hasn't finished a season with a losing record since Wilson took over as the starter, but they haven't gotten past the NFC divisional round since 2014.
Wilson masks most of Seattle's problems with his incredible playmaking ability. Most notably, the offensive line has been atrocious for years, but it would look far worse if Wilson wasn't the one taking the snaps. Even with his elite escapability and knack for extending plays, Wilson has been sacked 43.8 times per season in his career, which is more than any other quarterback in the NFL since the 1970 merger. He's on pace to become the most sacked QB in league history in three years.
Wilson is tired of eluding constant pressure behind a makeshift offensive line. He's finally crying out for some help up front, and the Seahawks would be wise to listen.
The Seahawks cut Carlos Dunlap, save $14 million in cap space
On Monday afternoon, Adam Schefter of ESPN reported the Seahawks released Carlos Dunlap just five months after trading for the star defensive end. Dunlap transformed Seattle's defensive front from a pushover group to a ferocious pass-rushing unit heading into the playoffs.
As much as the Seahawks would've liked to keep Dunlap around for another season, his $14 million salary was just too much to keep on the books. By releasing Dunlap on Monday, Seattle saved that $14 million in cap space for the 2021 season. Now, it's time to put it to good use.
The Seahawks need to use that $14 million to repair their relationship with Russell Wilson
The Seahawks now have a franchise-altering decision to make regarding their star quarterback. Trade Wilson now for a historic package and begin the rebuild with a search for a new quarterback, or do everything in their power to make Wilson happy to be a Seahawk again.
If Seattle is committed to making it work, the front office needs to cater to Wilson's most simple demand. Get the man some protection!
By cutting Dunlap, the Seahawks freed up $14 million in cap space for next season. You know what would show Wilson you're committed to repairing the relationship? Use that money on a stud offensive lineman. Brandon Scherff, Joe Thuney, and Trent Williams are the best and most expensive free agents out there this offseason, but even a middle-tier starter such as Richie Incognito or Alejandro Villanueva would be an upgrade.
Grabbing one of those names should be Seattle's first priority when the league year officially begins on March 17 if the Seahawks want to keep Wilson around for the foreseeable future.