Shams Charania Continues to Push Kyrie Irving Agenda, Reports 3 'Suitors' are Still Interested
Insider Shams Charania says 'several suitors' are pursuing the Brooklyn Nets Kyrie Irving but that sounds like it's coming from Irving's camp.
NBA insiders get great information because they have great relationships within the league. To create and maintain these relationships, sometimes these media members must help a player/agent/general manager/etc. out. That seems to be what The Athletic's Shams Charania is doing as he continues to push the narrative that multiple high-profile teams are interested in the Brooklyn Nets' Kyrie Irving.
Shams Charania reports that Kyrie Irving has 'several suitors'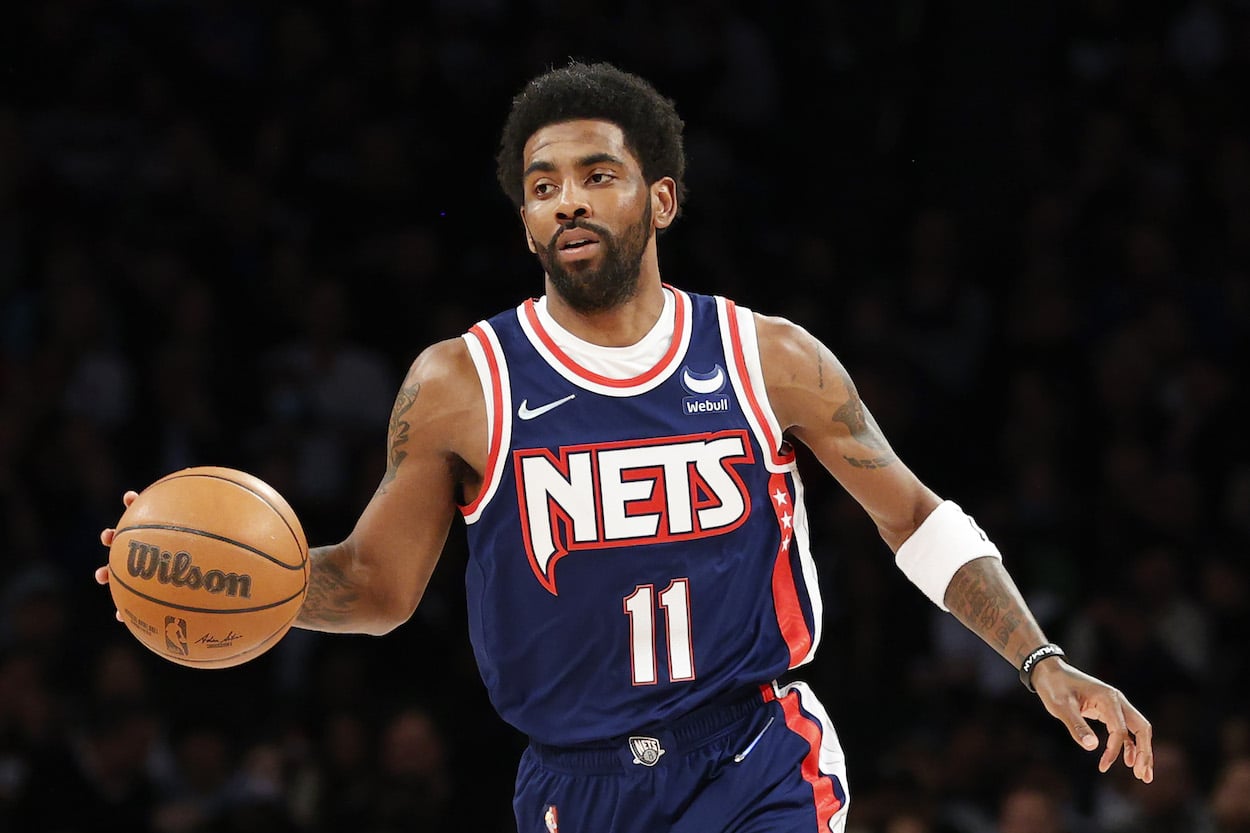 NBA insider Shams Charania spoke on Bally Sports' The Rally about where the Kyrie Irving situation stands in early July. Charania told his co-hosts:
Kyrie Irving is one guy who I think we gotta pay attention to. He has several suitors involved when you talk about Lakers, Sixers, Mavericks. I would keep an eye on Kyrie Irving over the next couple weeks as well, as a guy that is likely going to potentially get moved.

Shams Charania on Kyrie Irving
Charania is the insider that initially broke the story about Irving potentially opting out of the last year of his current deal amidst interest from the Los Angeles Laker, Los Angeles Clippers, and New York Knicks.
The Knicks rumor, especially, was quickly dispelled. Irving opted-in, but after the Kevin Durant trade request rocked the Brooklyn Nets, it seems Irving might be on his way out as well.
The problem is, as ESPN's Brian Windhorst reported (h/t Hoops Central), "the value of Kyrie Irving in a trade has absolutely plummeted."
That does add credence to Charania's report in one way but also undermines it in another.
Calling the teams Charania mentioned "suitors" seems a bit much. That implies that these teams are aggressively pursuing Irving and lining up serious trade packages for him. Looking at the three teams the insider mentions, that isn't likely the case.
Philadelphia 76ers GM Daryl Morey and Dallas Mavericks owner Mark Cuban are two of the shrewdest operators in the NBA. They operate like stock traders or CEOs more than basketball execs. When they see a distressed asset (which Kyrie is), they will definitely have some level of interest. If they can pay 10 cents on the dollar, that is.
For the LA Lakers, after the Anthony Davis trade and other moves in the last few years, they can only afford to pay 10 cents on the dollar for Irving. So, of course, there is interest there.
In the end, Charania is probably right mentioning the teams he mentioned. However, he's definitely presenting the situation in a Kyrie-centric light. Right now, the Brooklyn Nets have all the leverage, and it would be hard to imagine they'd let Irving go for next to nothing, especially in "the next couple weeks."
Like Sportscasting on Facebook and subscribe to our YouTube channel.