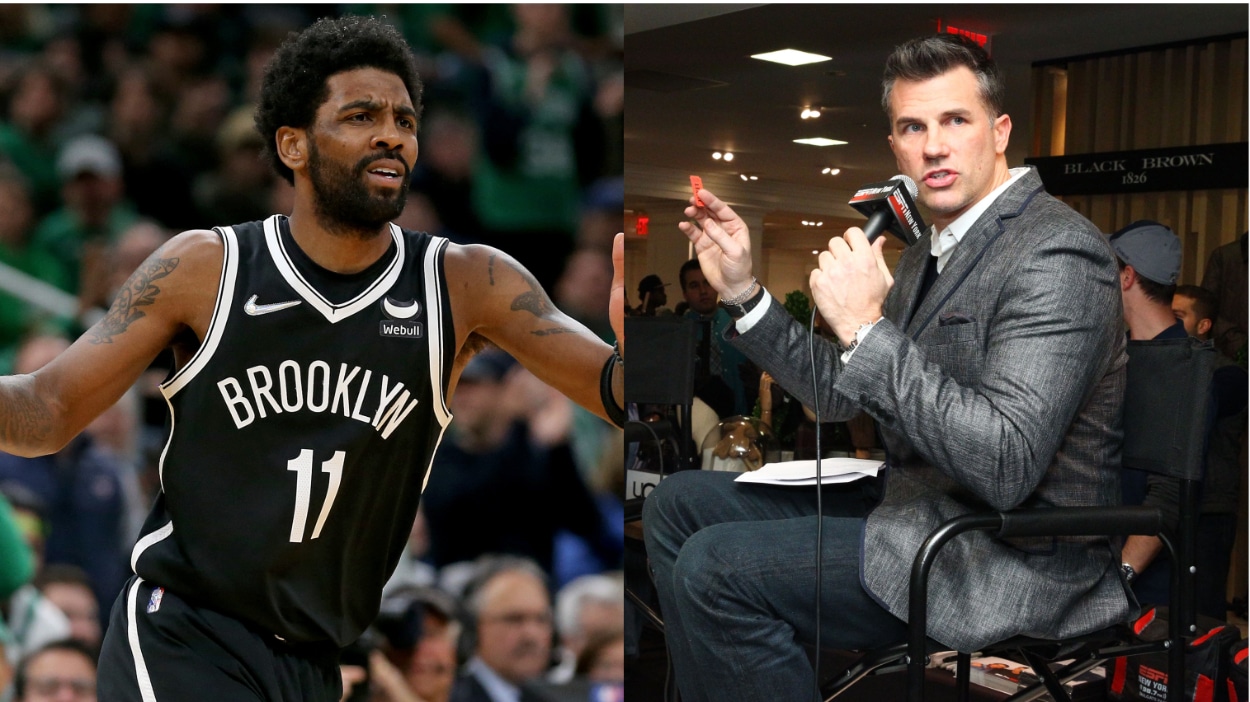 NYC Sports Radio Host Alan Hahn Goes off on Kyrie Irving to the Knicks Rumors: 'It's a Bunch of Garbage!'
ESPN Radio host Alan Hahn says Kyrie Irving has no leverage with the Brooklyn Nets and is desperately using the New York Knicks to get some.
Alan Hahn has been a fixture in the New York sports media scene for over 20 years. The ESPN Radio host and MSG analyst is as plugged-in to the NYC sports scene as anyone. That's why it's noteworthy that the Bart & Hahn host has no time for Brooklyn Nets guard Kyrie Irving to the New York Knicks rumors that he calls "BS" and "garbage."
Alan Hahn explained why the New York Knicks aren't interested in Kyrie Irving 
On Monday, June 20, The Athletic's NBA insider Shams Charania reported that Kyrie Irving and the Brooklyn Nets "are at [an] impasse in conversations about his future in Brooklyn." Furthermore, this might cause the polarizing point guard to opt out of his 2022-23 $36.9 million player option.
Charania wrote that the New York Knicks, Los Angeles Lakers, and Los Angeles Clippers were the teams Irving could go to if it didn't work out in Brooklyn.
Alan Hahn doesn't believe any of this.
Hahn went off on his ESPN Radio show, Bart & Hahn, saying these rumors came directly from Irving's camp. He does not believe Irving has any leverage with the Nets and explained why:
[Kyrie Irving's camp] is going to go public, and we're going to tell you that there's other teams that would want me, and you're going to lose me for nothing. And one of those teams [the Knicks] doesn't have any cap space! And the other team [the Lakers] has no way to get you! The whole thing is a bunch of BS! It's a bunch of garbage! It's superficial. It tells you how out of touch he is, and his side is about his value and who wants him!

Alan Hahn on Kyrie Irving
And Hahn is right. If Irving opts out, there's no way the Lakers or Clippers could bring him in. There is a slight possibility the Knicks could, but they'd have to gut their team to do so.
Irving has little to no leverage in this situation, at least for next season. However, the one point Hahn doesn't mention is that if there is one player in the NBA who will cut off his nose to spite his face and make next season miserable for his team, it's Kyrie Irving.
Like Sportscasting on Facebook and subscribe to our YouTube channel.