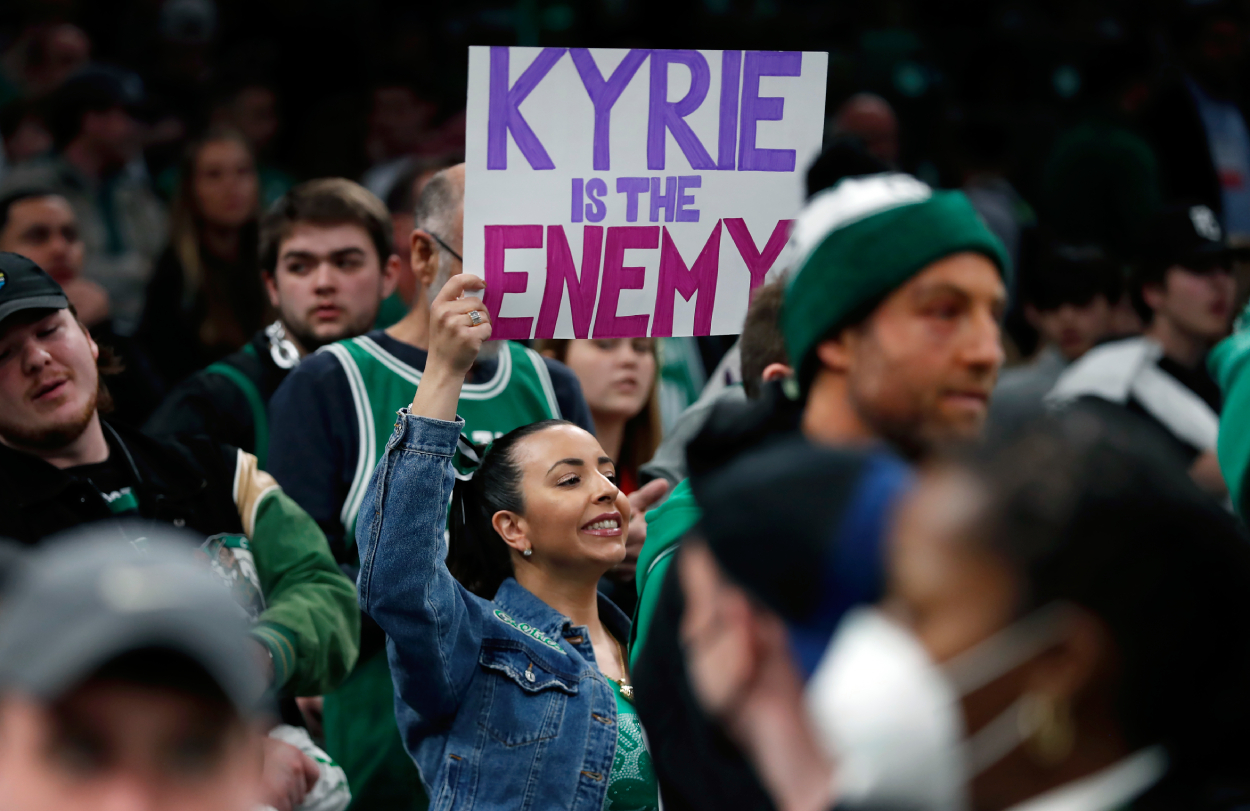 Kyrie Irving Isn't the Most Hated Boston Celtics Opponent Ever
Boston Celtics fans will likely be all over Kyrie Irving again Wednesday night.
When Brooklyn Nets guard Kyrie Irving makes his way to TD Garden, you know there will be pure entertainment — and that's off the court. Irving and Boston Celtics fans don't mix. After spending two seasons wearing the green and white, Irving bolted town and has been public enemy No. 1.
To put it mildly, Irving is not liked in Boston. Every time he touches the ball, he's booed. When there's a stoppage in play, the "Kyrie sucks" chant kicks up a notch. Celtics fans hold a grudge and can be ruthless. It's been going on for quite some time now. In fact, Irving isn't even the most hated Celtics opponent ever.
Kyrie Irving fined $50,000 for flipping off and swearing at Boston Celtics fans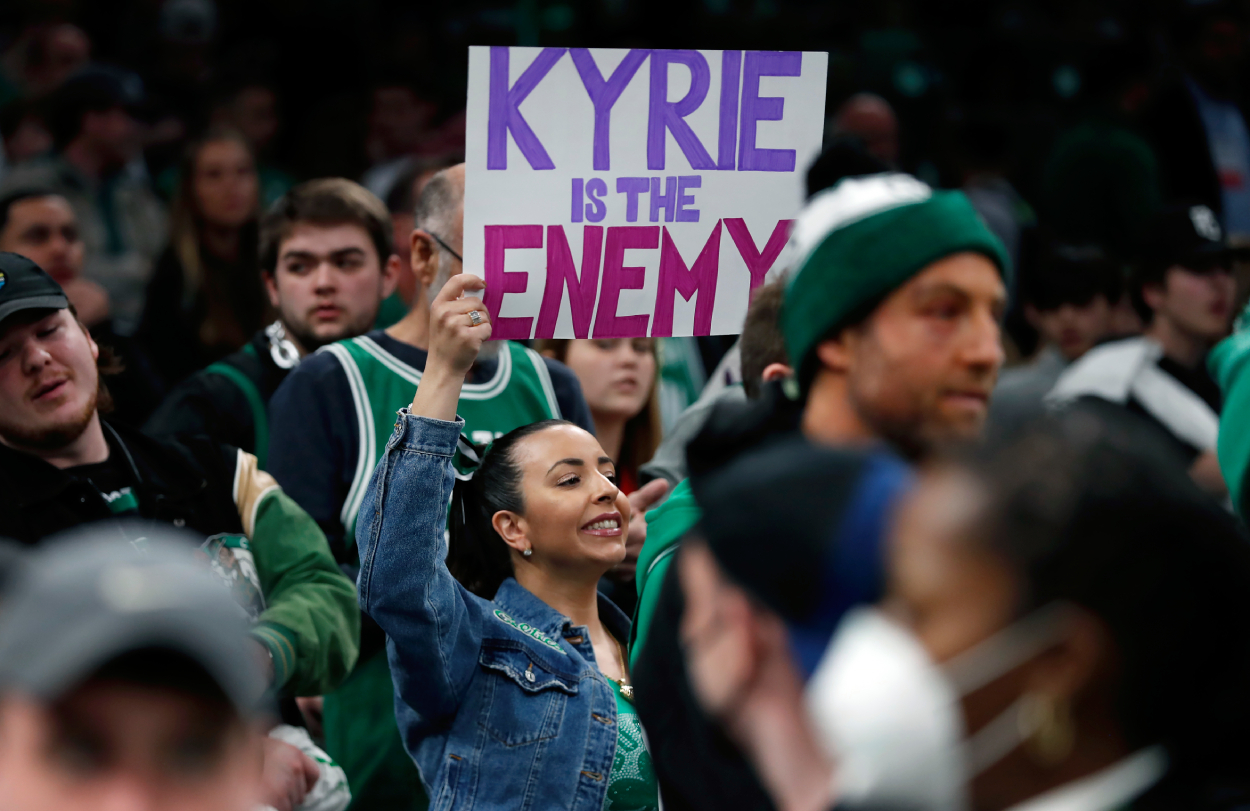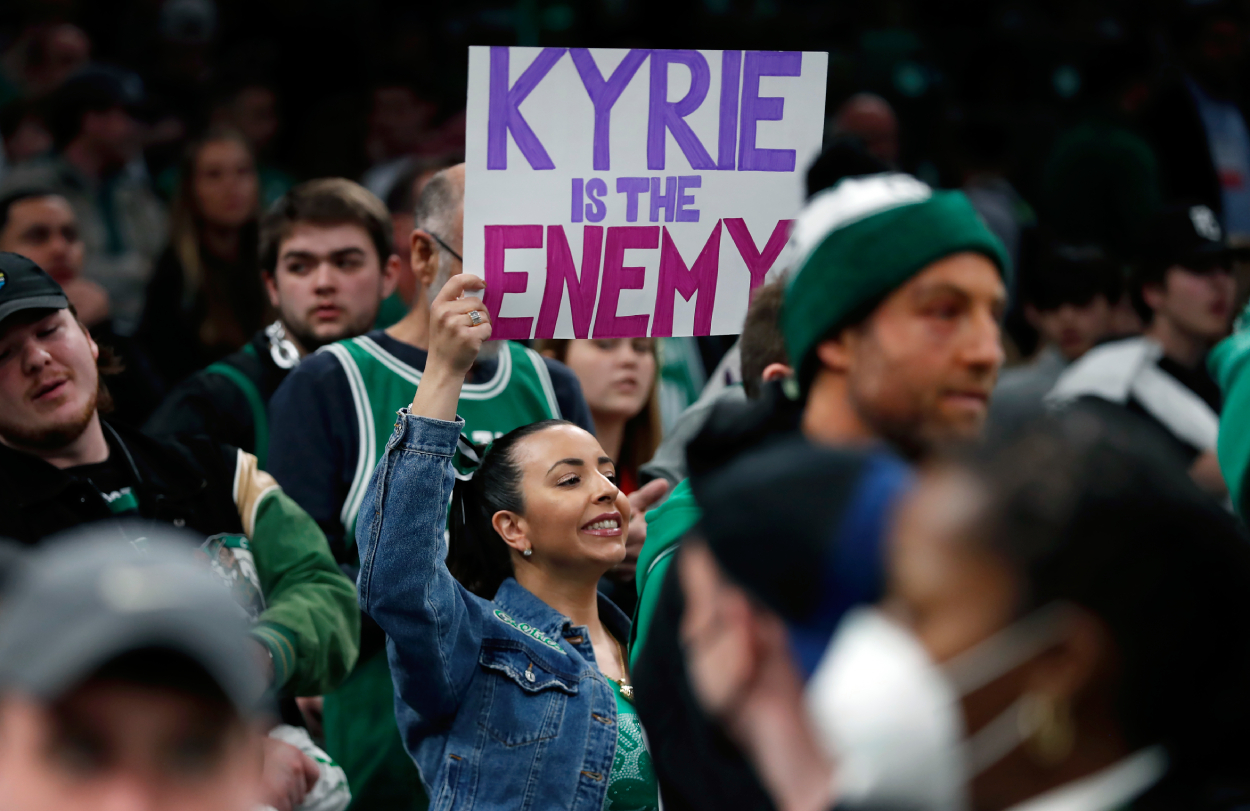 Irving made his way back to Boston on Sunday for his first playoff game in the city since he stomped on the Celtics logo after his Nets posted a Game 4 victory last season. That win gave the Nets a 3-1 series lead and came after Celtics fans booed Irving all night.
He knew what he was getting into when he came back this season for the playoffs. He said he hoped fans would move on and reflect on some of the highlights he left in Boston. Celtics fans wanted none of that.
From the opening tap, fans were all over Irving. They laid into him all game. It reached a point where he fired back, flipping off fans during the game. He said he was just using the same energy he was getting from the fans and giving it right back to them.
"It's not every fan," he said postgame, per House of Highlights. "I don't want to attack every Boston fan, but when people start yelling pu***, b**** and f*** you and all that, there is only so much you can take as a competitor.
"We're the ones expected to be docile and humble and take a humble approach. Nah, that's the playoffs. It is what it is. I know what to expect in here, and it's the same energy I'm giving back."
On Tuesday, the league fined Irving for $50,000 for "making obscene gestures on the playing court and directing profane language toward the spectator stands."
Kyrie Irving isn't the only player disliked by Boston Celtics fans
Through the years, Celtics fans have learned to hate some other opponents. It rarely appeared to be a hatred for personal reasons. In many cases, it was a respect type of thing.
Members of the Los Angeles Lakers of the 1980s were often booed and mocked when they came to town. Magic Johnson and Kareem Abdul-Jabbar were far from favorites in Boston. That stemmed from being stars on the Celtics' biggest rivals.
That was passed on to Kobe Bryant when his Lakers and the Celtics met in the NBA Finals in 2008 and 2010. That Celtics/Lakers rivalry carried over, and Byant starred on the Lakers. It also happened during the Bill Russell years in Boston. Celtics fans didn't play nice to Wilt Chamberlain.
It always seemed to be a rivalry issue. LeBron James got a taste of it when he played for the Cleveland Cavaliers. The Celtics and Cavs usually battled it out in the Eastern Conference Finals.
With Irving, it's personal. He played nice early, promising to re-sign with the team. Two years later, he bolted. He left after not living up to his leadership role as the experienced veteran on the team. His poor play in the only postseason year in Boston didn't do him any favors.
Coming back last year and stomping on the Celtics logo after a playoff victory also didn't do him any favors. Irving can't ignore the noise. Celtics fans know this and simply get louder each time he returns.
Bill Laimbeer has to be the most hated Celtics opponent of all time
Irving is the biggest target of Celtics fans now, but he's not the player they loathe the most. That has to go to former Detroit Pistons center Bill Laimbeer.
Not only was Laimbeer a Celtics rival in the mid-to-late '80s, but his dirty play made him Boston'sbiggest enemy. It wasn't just the fans who disliked him. Players also had no use for him.
The typically mild-mannered Robert Parish lost his cool during the 1987 Eastern Conference Finals. While going for a rebound in the paint, Parish just lost it and began punching Laimbeer. Earlier in the series, Laimbeer's hard foul on Bird resulted in Bird's ejection after the Celtics star fired the ball at Laimbeer for his dirty play.
Laimbeer wasn't overly talented, so he needed to find other ways to gain an advantage, and that usually resulted in cheap shots.
Irving is extremely talented, but it's his logo-stomping, finger-flipping, and his lack of success while in Boston that make him a Boston target.
Laimbeer wins Most Hated Boston Celtics Opponent by a landslide.