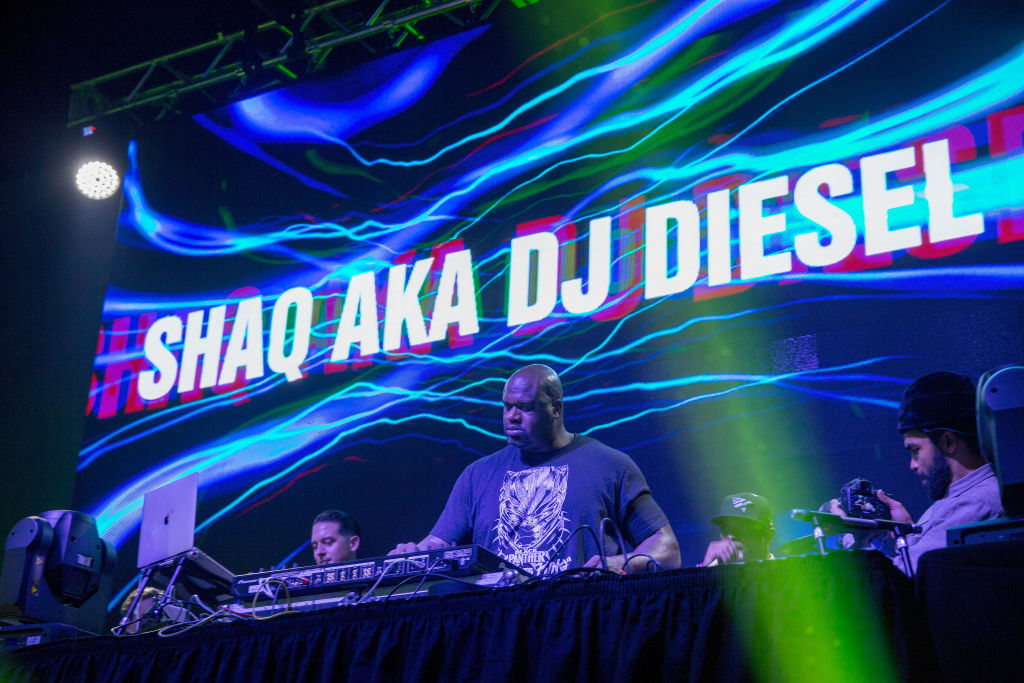 Shaq Stars as the DJ of His Quarantine Family Dance Club
With no NBA to talk about an no clubs to party in, Shaq had no choice but to turn his home into a mini dance club. He does not take requests.
Shaquille O'Neal loves to party. Nothing is going to keep Shaw from having fun, not even a global pandemic. Current and former athletes have hunkered down in their homes spending time with their families and practicing social distancing. Some players, such as LeBron James, have started making TikTok videos. Some have used the time to practice trick shots, and some players are just enjoying their time off peacefully.
But Shaq? He's still partying. The NBA Hall-of-Famer turned his home into a mini dance club last week, with himself as the DJ.
Shaq turned his kitchen into a quarantine family dance club
Shaq posted a video to his Instagram account last week showing how his family is passing the time during the coronavirus lockdown.
O'Neal stood in the kitchen in front of his portable DJ booth while his sons huddled together across the counter. It was like he was performing a personal concert for a small group of fans.
Shaq starts the music off slow to build the momentum. You can tell this isn't his first time. He lets the beat build, and build, and build, until BOOM. Shaq drops the beat so hard it makes the house shake. His "fans" go wild in the background, with two of them taking their shirts off and jumping on the kitchen counter, or "stage."
Going nuts with the rest of the group is Shaq, fist-bumping and dancing to the beat. You'll want to quarantine at Shaq's house after seeing his makeshift club.
Shaq loves clubbing in Las Vagas and Miami on the weekends
Shaq is a hard worker who takes his NBA analyst job at TNT seriously. He shows up every day he's needed and puts on a show for the viewers while offering thoughtful insight into the league.
As hard as Shaq works on his current role, he goes equally as hard at the clubs during his off days. O'Neal frequently goes viral online when fans videotape him DJing at large concerts or jumping into a mosh pit. The dude lets it all loose on the dance floor.
Shaq has created the name "DJ Diesel" for himself. He joins some of the most famous DJs on stage for their sets at concerts. He even played a full hour at the Tomorrowland festival in Belgium in 2019.
Now DJ Diesel has a new venue for the time being — his own home.
O'Neal is one of the best dancers in the world of sports
Shaq's fist-bumping dance routine took the internet by storm last week, but it isn't the first time O'Neal has gone viral.
The most famous incident was Shaq's dance-off with LeBron James and Dwight Howard at the 2007 All-Star weekend. Complete with twerking and an attempt at the worm, Shaq's routine made fans go crazy.
Two years later, Shaq came out at the 2009 All-Star game with the popular dance group, the Jabbawockeez. He took front and center as him and the professional dancers hit a mean robot. He even wore their famous white mask.
Whenever Shaq isn't working, he's most likely dancing. With no NBA for at least the next few months, expect to see a lot more of DJ Diesel in the near future.